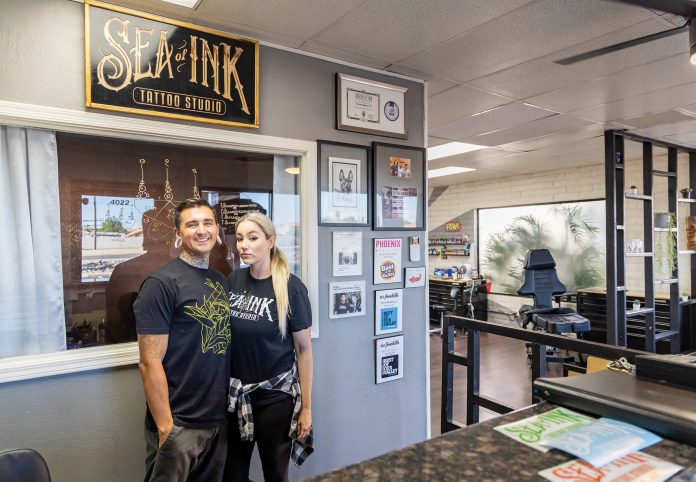 Sarah Edwards-Bradley, a Salt River Pima-Maricopa Indian Community member from the Lehi Community, and her husband Kevin Bradley Jr. together operate Sea of Ink Tattoo Studio, which is located on Main Street just east of Val Vista Drive in Mesa.
We spoke with Bradley, while the couple was on the road heading to an art tattoo expo in Texas. She talked about how tattoos and an artistic vision came together to form this unique tattoo studio with her husband.
What was your main influence for getting tattoos?
Bradley said, "I personally have only a few tattoos, and each has its own special meaning to me. My husband Kevin, master tattoo artist of the studio, has a full body of tattoos that represent his outgoing, fun, charismatic character." She said tattoos are [a medium of] expression, [whether it's] one small tattoo or a full body.
How did you get started in tattooing as an artform/profession?
I focus on my art through painting and drawing, which has always been a favorite pastime for me, even as a child. Together we have made a successful tattoo/art studio that we call Sea of Ink Tattoo Studio.
What are the common themes for your tattoos?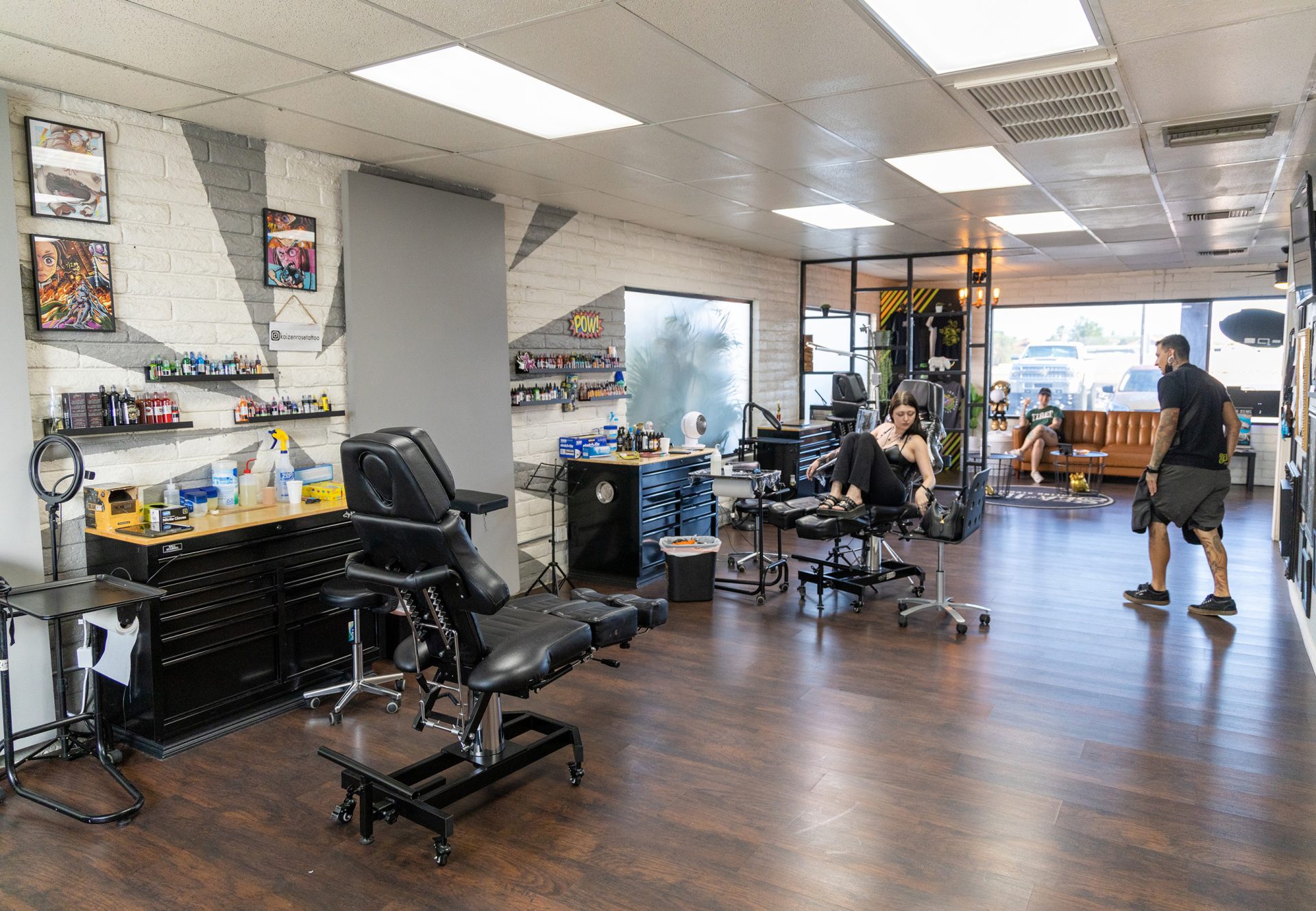 Much of the tattoos created at Sea of Ink, consists of realism, portraits and vibrant colors. Bradley and her husband's artistic vision have led to several accolades, such as the [Arizona Foothills magazine named Kevin the Best Tattoo Artist in the Valley for 2020, 2021 and 2022.] "Sea of Ink's gallery wall is made up of many different artistic [themes] which are ever-changing as the art pieces are sold to the public," said Bradley.
Now that you operate a tattoo shop, what have you learned from being in the business?
A tattoo shop is like any other business. One must do their due diligence, maintain proper business education, and keep in mind that a service is being provided, so customer care is important.
Bradley added that for many who consider opening a tattoo business, should work in a tattoo shop and get an idea of how the business is run in order to see if it is feasible for them.
What is your advice for those interested in getting into tattooing?
Each shop has its own stipulations; as for Sea of Ink, we require an inquiring apprentice to be proficient in art. [They should] make art, in whatever medium they are interested in. If you can make art, you are on your way to being able to hold your value as a future tattoo artist.
What is your advice for individuals who want to start their own tattoo shop?
We believe that if you are thinking about opening your own shop, you should already be an accomplished artist. Just as with any other employment position, one must put in the effort and time. At this stage, [future tattoo shop owners] should be aware of all the different [aspects of] this industry and make sure that they have the capability to go above and beyond what is expected. Think about what you provide for your community. Some situations and lifestyles don't call for opening a shop; tattoo artists are already independent, and the industry is small, so working at an established tattoo shop with other artists can be an amazing experience. Together, a team of artists can accomplish great things.
What is your advice to customers for choosing a tattoo artist?
We get a massive amount of people who want "cover-up" tattoos. Why? Because they don't want to pay high dollar for a good artist, or they don't want to wait for an appointment to open up for a good artist. In the past few years, Arizona has seen many new tattoo shops and tattoo artists, some who are quite skilled and others who are not. We recommend doing your research on the artist. What does their work look like? What does the shop look like? At Sea of Ink Tattoo Studio, we begin with personal consultations so that the client and artist can have a one-on-one conversation to see if they are the right choice for the tattoo project.
Sea of Ink Tattoo Studio is located at 4022 E. Main St. in Mesa. For more information, call (480) 830-9237.