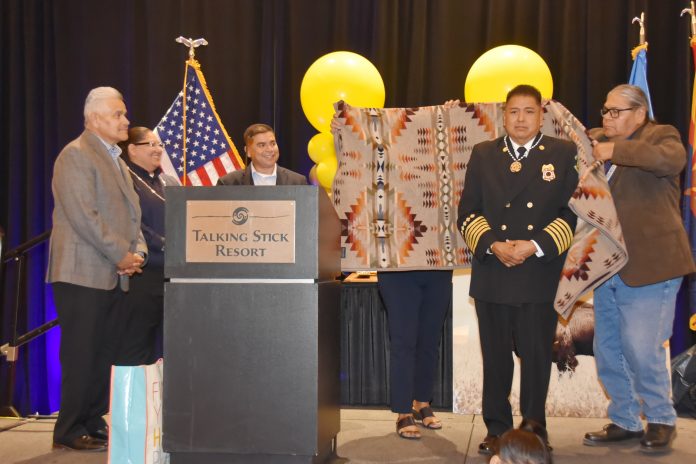 Community with an outgoing retirement luncheon at Talking Stick Resort.
The room was packed with dignitaries, members of other fire departments, SRFD crew members, families, coworkers and SRPMIC leadership, many of whom came up to the podium to share their stories about Dash and present gifts, including a retirement axe and a plaque.
"Thirty-five years. It's been a pleasure; it's been great. There's been a lot of triumphs and tragedies that we've all seen within the department. A lot of service. A lot of late nights," said Dash as he received his axe.
"I want to thank everybody for showing up, all my staff and firefighters, for everything. I could not be as successful as I am with everything we've gone through without you. There's still so much to get done within the fire service."
Dash rose through the ranks from firefighter to fire chief, becoming the first Community member and Native American fire chief in the history of the department. In 2000, Dash was promoted to captain, and then in 2016, he became fire chief.
According to newly appointed SRFD Deputy Chief Mike Mink, before Dash worked for the fire department, he originally wanted work with water in a completely different way: as a plumber.
The story goes that Dash was working in the Community's internship program as a plumber, working on jobs at many buildings. One day, as he was finishing up some plumbing at the Fire Administration building, Community Manager Frank Mertely tapped him on the shoulder and said to Dash that he noticed he was often working at that building and that he would make a good firefighter.
The rest is history.
"With all of his experience over the previous years, from the entry level to the highest office in the organization, [Dash] was well aware of what he wanted to do for his Community and how he was going to get there," said Mink.
Upon growing into the leadership role, Dash hit the ground running by developing operational groups and teams to help him with his strategic planning to get the resources that SRFD needed to enhance lifesaving services to the Community.
In his time, Dash improved fire and emergency response times and built a solid core of staff, as well as put together a comprehensive cancer prevention program, EMS bike teams, wildland firefighting teams and more.
"Chief Dash got what was needed [for the Community]—trucks, ambulances …." He is a strong-willed person, and I'm glad that he fought for the department," said executive secretary Corrina Burke, who has worked for the Community for 25 years. "Not only that, but he also fought for the Community, the residents. He always had an open-door policy, where we were free to go in to tell him what's up or [give] him what for."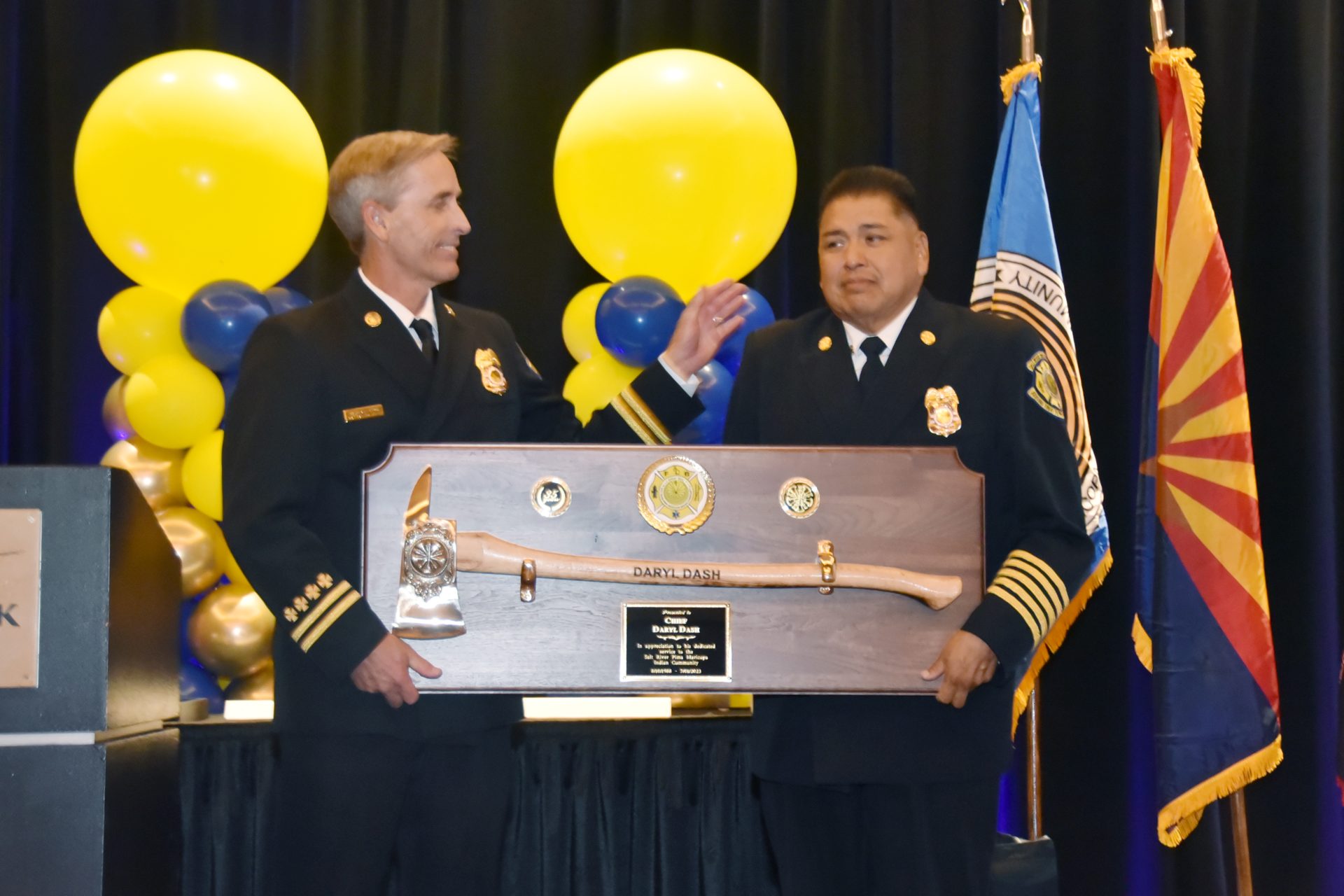 Gila River Indian Community Governor Stephen Roe Lewis was on hand to give Dash a special gift, but not before Dash could get a word in about Lewis first.
"For those who don't know, Governor Lewis and I found out we're related. We used to play basketball together. Look at us now, we're all washed up," Dash said with a laugh.
Lewis responded by asking if this was a roast or a retirement.
"He could have passed me the ball a little more," said Lewis. "I never thought I'd be governor of Gila River, he would be the [fire chief] of Salt River, and I would be attending his retirement luncheon. Wow, that's heady right there. But I'm so proud of everything he has accomplished. The longevity and the dedication and the time away from the family—it takes so much out of you. You poured your dedication into every shift."
The acting fire chief for the department is Tsosie Wood.