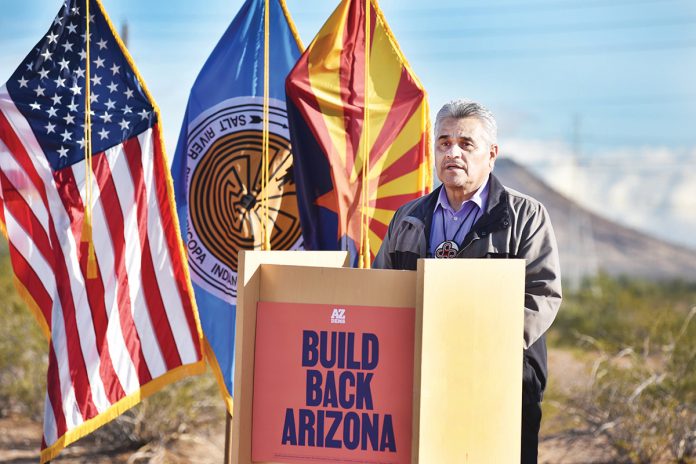 On Friday, December 10, Salt River Pima-Maricopa Indian Community President Martin Harvier, Ak-Chin Indian Community Chairman Robert Miguel and Gila River Indian Community Governor Stephen Roe Lewis held a press conference in Bunnyville, located on the Community, to discuss the tribal benefits from President Joe Biden's Bipartisan Infrastructure Law (the Infrastructure Investment and Jobs Act). On November 15, President Biden signed the more than $1 trillion bill into law.
The law is designed to fund much-needed infrastructure improvements across the United States. This money will go toward improving aging roads and bridges, providing high-speed internet access for all, improving water infrastructure and replacing lead pipes, improving freight and passenger railroads, investing in public transportation, and more. The funding is expected to be distributed over five years.
Between $20 billion and $30 billion will go to tribal communities for infrastructure improvements. President Harvier explained that in our fast-growing region, the Bipartisan Infrastructure Law will help provide adequate maintenance for the existing infrastructure of the Community, especially in the areas of clean water, broadband coverage, surface transportation and public transportation improvements.
"I have had the opportunity on a number of occasions to comment on the infrastructure needs of our Community," said Harvier. "An illustration that stands out is that each day nearly 600,000 vehicles use the highways and roadways through our Community. There is a great need to provide adequate maintenance to the existing infrastructure of the Community and to provide necessary improvements."
While the Community uses its own revenue to support infrastructure needs as it can, the Bipartisan Infrastructure Law will provide potential funding opportunities in a variety of infrastructure categories specifically for tribal communities:
• Clean water—Although all SRPMIC homes have access to clean drinking water, some water infrastructure is undersized, decades old and in need of replacement.
• Broadband coverage—The Community has made it a priority to provide internet access for all members. Funding in this area could help speed up that process.
• Surface transportation—The SRPMIC was the first tribal community to receive a $50 million grant from the U.S. Department of Transportation, for improvements of the Pima Road Corridor. In addition, the Community will benefit by continuing to receive tribal transportation formula funds and other grant-funded opportunities to pave dirt roads and add capacity to the ability to repair existing infrastructure.
• Public transit and EV charging network—The Community is constantly seeking to improve public transportation for members and is exploring the option of converting the Community's government fleet to electric vehicles, which would require a series of charging stations.
The Ak-Chin Indian Community has more than 1,000 members and is located 40 miles south from Phoenix.
"President Biden and Congress have finally have delivered on what politicians have promised for generations: true infrastructure investments in Indian country," said Chairman Miguel. "My tribe, like all my brother and sister tribal leaders in the room, has been forced to address our needs while the BIA construction backlogged list grew to the point where my great-great-grandchildren would have not seen action. We have constantly addressed these challenges ourselves with our own dollars. My community has invested in water systems, detention centers, courts, roads and bridges where our trustees fell short."
Chairman Miguel outlined that the Bipartisan Infrastructure Law would help the Ak-Chin Community make improvements on outdated canals, water lines and pipes; institute road improvements; and deliver reliable high-speed internet to every household.
"The digital divide has hit Native communities the hardest. Our children have had to apply to college from a McDonalds parking lot because the connectivity to participate in the modern world hasn't reached our communities," said Miguel. "That is why the $65 billion to expand broadband and $2 billion in dedicated funding for a long-overdue expansion of broadband for Native people is a game-changer. It will allow all of our residents to expand job opportunities and our students to be able to do their homework at night."
The Gila River Indian Community occupies more than 325,000 acres just south of the SRPMIC. Governor Lewis explained that his community has a continued focus on improving infrastructure in the areas of broadband, housing, transportation and especially water projects.
"Our large land base means we have vast infrastructure needs, and our needs are diverse. We have hundreds of miles of unpaved roads, a lack of utility infrastructure, and we must modernize our entire wastewater treatment center," said Lewis.
One of Gila River's big takeaways from the new law will be to accelerate progress on its Pima Maricopa Project, the construction of their irrigation system. On Gila River Indian Community's Water Rights Day, Lewis explained that the funds from the Bipartisan Infrastructure Law will help in completing the water infrastructure and help Gila River to be good partners with the state, region and federal government as they work together in combating the resurgent drought on the Colorado River and completing the Water Settlement Act.
"The funding will allow us to complete large-scale, long-term water projects while creating jobs for our community. And there is an added benefit to this Bipartisan Infrastructure Law funding: The separate funding source means federal funding used to carry out water settlements is sustained at the Department of the Interior, and that funding will be available for an extended period of time to allow the United States to meet its trust responsibility to tribal governments and to tribal nations themselves," said Lewis. "… [T]he community has other innovative plans in place that will utilize funding from the Bipartisan Infrastructure Law. We hope to start construction next year on a new water conservation tool, solar-covered canals. This tool will provide power for our irrigation system and will help to conserve water by substantially reducing evaporation in our canal system."
Visit www.whitehouse.gov/bipartisan-infrastructure-law/ to learn how the $1 trillion in the Bipartisan Infrastructure Law will help all communities in the United States improve their infrastructure.