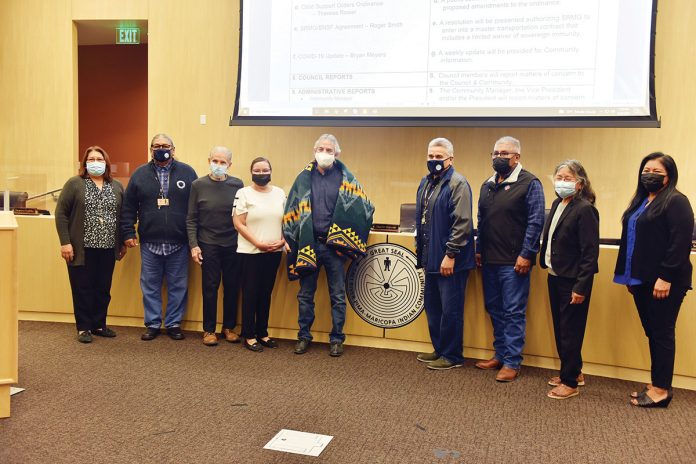 During the Salt River Pima-Maricopa Indian Community's Council meeting on Wednesday, December 6, Council acknowledged Bryan Bowker of the Bureau of Indian Affairs for his work with the Community. Bowker retired from the BIA at the end of December, and before he left the Community wanted to acknowledge him for his years of partnership.
"The Bureau of Indian Affairs is like a family to tribal communities, from improving leases and other administrative items to implementing important policy," said Special Assistant to Congressional and Legislative Affairs Gary Bohnee as he introduced Bowker to Council.
"It's been an interesting career, and one of the highlights that I tell everyone is that the fun is working with the tribes and the tribal leadership," Bowker said. "People always ask, 'Who is doing a great job in Indian Country? Who can we use an example?' Salt River is one of the places I always refer to. I appreciate the time I had to work with you folks, and I am a little bit sorry the time is coming to an end, but on the other hand it's time to move on and focus on family. I thank you for inviting me; I really appreciate it and I wish you nothing but success in the future."
Bowker has been working for the BIA for the last 33 years. In 1995 he moved to Phoenix, and in 2010 he was named the Western Region Director.
SRPMIC President Martin Harvier highlighted some of the projects that Bowker has worked on with the Community over the last 11 years. He was helpful in assisting the Community with its self-governance compact; implementing the Cobell land buy-back, which led to the Community purchasing fractionated land; implementation of the 2013 change of leasing regulations and the 2016 right-of-way regulations; signing off on many vital economic development actions for the Community; and countless other issues.
"We appreciate your support," said Harvier. "I appreciate your willingness to work with staff. I felt like the door to your office was always open. I really appreciate you having that open-door policy."
Council presented Bowker with a Pendleton blanket embroidered with the Man in the Maze and a thank-you message from the SRPMIC.
When asked to name some of his biggest accomplishments working with the Community, Bowker said, "The big leases. They were always interesting and challenging." He also mentioned setting up the Land Titles and Records Office. "Getting the data lines in and getting all that stuff worked out was fun too; it was an interesting project."
Bowker added, "I appreciate working with the tribe. I always had fun working with the SRPMIC Council and the staff."