On Friday, January 20, the U.S. Department of the Interior's year-long "Road to Healing Tour" made a stop at the Gila River Indian Community's Gila Crossing Community School outside Laveen to hear stories from survivors, families and descendants of the federal Indian boarding school system. The event was a listening tour so government representatives could hear from those who had experienced the trauma of Indian boarding schools in past years. This was the fourth stop on the tour.
The Gila Crossing school was built by the GRIC for its students. It's a Bureau of Indian Affairs school built in partnership with the Department of the Interior—which, GRIC Governor Stephen Roe Lewis said in his greeting to those in attendance, is a far cry from a boarding school.
"It's a school where our children feel safe, protected and embraced, not only by our Community, but by our sacred Estrella Mountains. This is the federal school today," he said.
Lewis opened the listening session by addressing the generational trauma of the boarding schools.
"Today's gathering is a solemn one, because we will be focusing on a very painful history, a period of federal Indian policy, the boarding school era, when many of our children were forcibly removed from our tribal communities and our families for one singular purpose: to transform our children by taking their culture, their language, their hair, their community and their sense of belonging," said Lewis.
Lewis thanked Arizona Governor Katie Hobbs and Arizona Representative Ruben Gallego, who attended the listening tour event, for showing their support. He also thanked U.S. Interior Secretary Deb Haaland (Laguna Pueblo) for making the gathering possible.
He said, "Our secretary prioritized shining a light on this failed federal policy instead of burying it, burying this painful period and the residual effects of history. This is what it means to have a Native Secretary of the Interior."
Haaland, who visited the Phoenix Indian School the previous day, said that federal Indian school policies have touched every single Indigenous person she knows.
"My ancestors, and many of yours, endured the horrors of the Indian boarding school assimilation policies carried out by the same department that I now lead," said Haaland. "This is the first time in history that a U.S. cabinet secretary comes to the table with this shared trauma."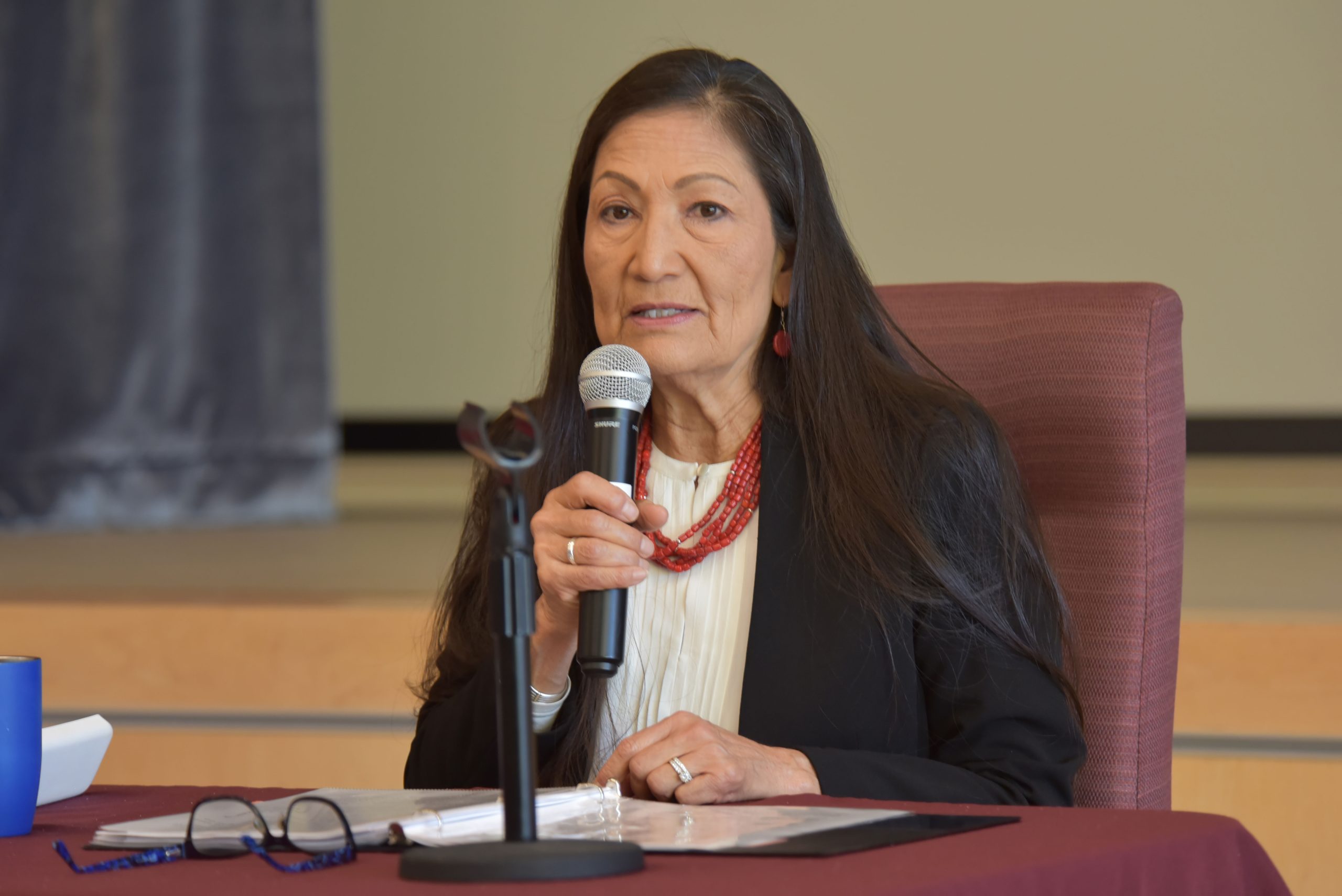 Haaland and Assistant Secretary for Indian Affairs Bryan Newland (Ojibwe) took turns conveying their support and explaining the intentions behind the healing tour, and for the first hour they listened to Community members and relatives who described their truths and pain stemming from the boarding schools on the record.
During this time, the media was allowed to be present. After a meal break, Haaland and Newland listened to more Community members share their stories off the record. Trauma-informed support was available on-site for those who needed it.
Tohono O'odham Nation member April Ignacio provided testimony on behalf of her family before the break. Her family's origin stories told over generations involve U.S. "boots"—Army soldiers—visiting villages in Mexico in the late 1800s with wagons to round up O'odham children. One of those children was her maternal great-grandfather. He was sent to the Carlisle Boarding School in Pennsylvania, where his name was changed to José Ignacio.
As Ignacio and others continued to tell their truths, many in the school's gymnasium were in tears.
"I think [the healing tour] gives a lot of people the opportunity to [speak] these truths and histories," said Ignacio. "Let's get the truth, let's document it, because I think a lot of us are sitting in this sadness of historical trauma, and it's never being addressed by the federal government. Now it's really happening, it's here."
Before Arizona, the listening tour made stops in tribal communities in Oklahoma, Michigan and South Dakota. The following stop on the Arizona tour was on Sunday, January 22, at the Navajo Nation's Many Farms High School.