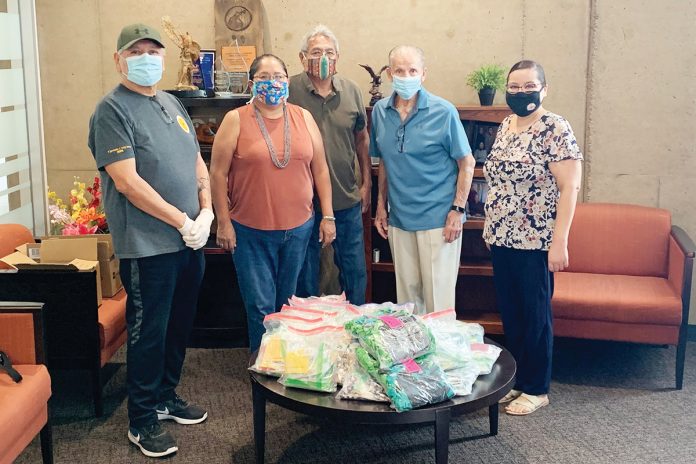 Debbie Nez-Manuel (D), who ran in the August primary to represent Arizona Legislative District 26, donated masks to the Salt River Pima-Maricopa Indian Community on Thursday, September 10. Receiving the donation on behalf of the Community were SRPMIC Council Representatives Wi-bwa Grey, Archie Kashoya and Tom Largo.
Council forwarded the masks on to the "Be a Hero, Stay Zero! Help Make Face Masks" campaign. SRPMIC Community Epidemiologist Dr. Nancy Mangieri and her team will distribute the masks to Community members.
"These masks are put to very good use. Whenever a new positive COVID-19 case happens, we offer and supply masks to the members of the home. They are part of the care bundles delivered to the COVID-19 patients and their families," said Mangieri about how important the donated masks are to the Community families. "During contact tracing interviews and follow-up, we stress the importance of using masks and how it can help slow the spread [of the disease]. The biggest reason to supply masks is to protect the COVID-19–negative members of the family and emphasize how effective mask wearing is for protecting all members of the household."
Nez-Manuel received the masks from various donors from around the United States, including:
• First Place (Phoenix)
• Heard Museum Guild (Phoenix)
• Summit Area Sewing Squad (New Jersey)
• Mary Hare (Tucson)
• Days for Girls International (Longhorne, Pennsylvania and San Francisco Peninsula teams)
• Day Worker Center (California)
• Pebble Creek Quilters (Arizona)
• Arizona Mask Project (Arizona)
• L. Judson (Oregon)
Mangieri explained that every donation of homemade masks lifts the spirits of those SRPMIC members who receive them.
"It shows that the Community cares for itself and each other," said Mangieri. "The Community is an amazing source of support and care."
To donate masks, please contact Angela Willeford at angela.willeford@srpmic-nsn.gov or Nancy Mangieri at (480) 362-3187. Stay updated on all new information on the "Be a Hero, Stay Zero!" campaign at www.facebook.com/SRPMIC.