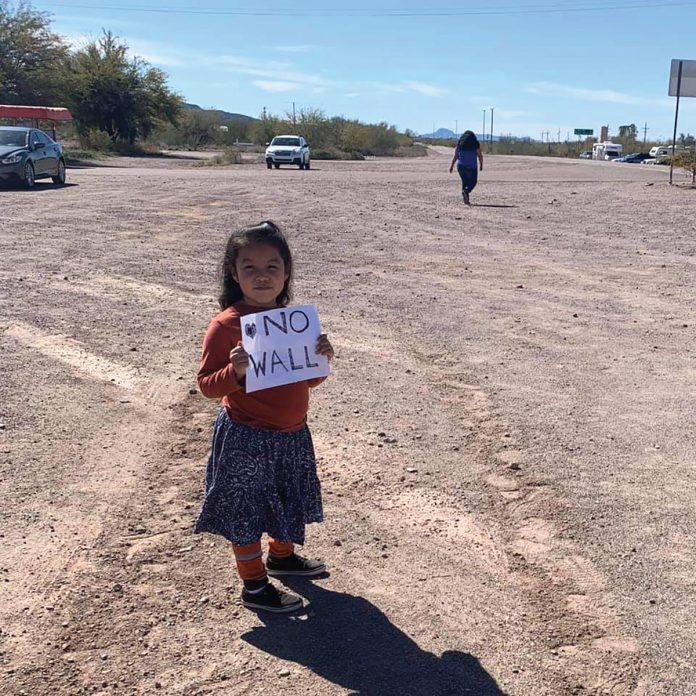 For the last two months, members from the O'odham sister tribes have come together to protest the construction of the border wall with Mexico where it crosses the Tohono O'odham Nation. Members from Akimel, Onk Akimel, Hia-ced and the Tohono gathered to peacefully protest. This protest came about because the construction contractor is using water from a sacred and rare oasis, Quitobaquito Springs at the Organ Pipe Cactus National Monument, to mix their cement for the wall. The water from this oasis is depleting naturally due to drought, and using it for a construction project may deplete the water level even faster.
Water, the land, the mountains, the wildlife—everything within the Sonoran Desert is important for the O'odham. For thousands of years, the land has provided for the O'odham, and it continues to till this day. The culture of the O'odham is deeply rooted within this land.
One Onk-Akimel O'odham protestor said, "As O'odham we have an inherent connection to this land. What happens to the land happens to us. When our ancestral and sacred sites are destroyed, we don't just lose them—we lose ourselves. In order to save ourselves and who we are as Indigenous people to this land, we must save Quitobaquito Springs. The only way to ensure survival is to come together. The power is with the people. Quitobaquito Springs is Motherhood. It is life-bearing and sustaining. It is a nurturer and teacher. It is home and a place of spiritual connection. It is everything that a mother is to a child."
According to reports, U.S. Customs and Border Protection has conducted environmental and cultural surveys to identify any sites that need to be protected in the construction area, and the National Park Service says it believes the construction is not impacting water levels at Quitobaquito. Two tribal members who physically protested at the construction site were arrested in early September and faced federal misdemeanor charges. They complained that U.S. Customs and Border Protection bypassed more than 30 environmental and cultural laws so it could speed up the pace of construction at the site.
The O'odham have adapted to the changes that have happened within the last 100 years, from the loss of water rights to the continuing expansion of urban areas near tribal land. Now, with the border wall, the O'odham have come together using social media to let each other know when any activity or construction is underway. The goal is to ensure that people are aware of what's going on, to spread awareness and to protect important areas of O'odham culture. This is important to protect not only the land and wildlife, but to protect O'odham history.
Note: National Geographic has published an article about the effects of border wall construction on Quitobaquito Springs. It's available online at https://www.nationalgeographic.com/science/2020/07/quitobaquito-springs-arizona-drying-up-border-wall/.