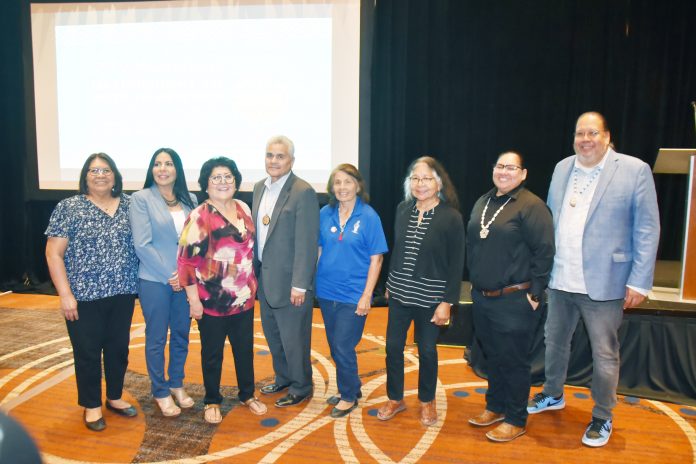 On July 15, 1948, the Arizona Supreme Court, for the first time ever, recognized the right of Native Americans to vote in the state.
This year marks the 75th anniversary of that important decision, and on July 14, the Inter Tribal Council of Arizona (ITCA) held a luncheon in honor of the anniversary at the Gila River Indian Community's Wild Horse Pass. The luncheon recognized members of local tribal communities who have made a difference by promoting voting initiatives. Salt River Pima-Maricopa Indian Community Intergovernmental Relations Project Manager Angela Willeford and Gila River Indian Community Director of Communications & Public Affairs Roberto Jackson were both recognized for their efforts at the luncheon.
"We're here to celebrate history. We're here to honor legacy. We're here to recognize the strength that we have within each other. It's a great day to celebrate," said Alex Castillo-Nuñez, ITCA civic engagement coordinator, as he opened the program.
Willeford thanked the SRPMIC Ad Hoc Get Out the Vote Committee for their work and told tribal leaders, dignitaries and colleagues who have worked in the trenches each election season that she was truly honored by the recognition.
"The reality is, there are still issues going on today [in regard to the Native vote] in Indian Country," said Willeford. "I want to thank our Council for being here, [and for providing] financial support and [standing] by our side to encourage everyone to vote."
SRPMIC President Martin Harvier and Council members Deanna Scabby and Mikah Carlos attended the luncheon to show their support for Willeford.
"Angela has always had the Youth Council involved in the vote and any kind of democratic process. When I was on Youth Council, that's when we passed the ordinance for no texting and driving. She's always been a champion for how government works and how we play a role in it," said Carlos.
Carlos also talked about how every single vote counts in an election.
"Some people have [been elected] by one vote, so it shows the power of one person to sway an election and [determine] who is sitting at the table to discuss things that are important to our longevity," she said.
Speaking at the event were ITCA Executive Director Maria Dadgar, Fort McDowell Yavapai Nation President Bernadine Burnette, and Gila River Indian Community Governor Stephen R. Lewis.
"When we talk about the significance of the Native right to vote, it's the O'odham tribes and the Fort McDowell Yavapai Nation," said Lewis. "We're tied to that. We're tied to this protection of our sacred civil rights, the right to vote. Protecting our voting rights doesn't end once you leave the borders of our sovereign nation. Protecting our rights on reservation is just as important as protecting our rights off reservation."
While the guests enjoyed lunch, a film was screened about the history of Indian voting rights in Arizona. Arizona Governor Katie Hobbs and Secretary of State Adrian Fontes sent in prerecorded messages recognizing the Native right to vote.