For the 2020 U.S. General Election, Salt River Schools students were able to make grown-up decisions by participating in a mock election through the nonprofit, nonpartisan, grassroots-driven voter education program called Kids Voting Arizona.
A total of 69 votes were cast for President and Vice President tickets, with 66.67% of the votes, 46 total, going to Democratic candidate Joe Biden. Republican candidate Donald Trump received 13 votes and 18.84% of the vote, while Libertarian candidate Jo Jorgensen came in a close third place with 8 votes and Green Party candidate Howie Hawkins took 2 votes.
The students also voted for U.S. Senator to represent Arizona; they chose Democratic candidate Mark Kelly, with 35 votes at 60.34%, over Republican candidate Martha McSally, with 23 votes at 39.66%.
Making the election experience more realistic, students could also make the decision to retain judges in office. With a 29-25 vote, Andrew W. Gould could keep his position, as well as John Lopez IV with a 31-23 vote. Unfortunately for Robert Brutinel, the students decided his time was up, with 23 yeas and 29 nays.
Youth were also encouraged to exercise their right to vote by putting a fun and yummy spin on the process by voting for their favorite meal and dessert. Pizza received more votes than hot dogs at 100-17, and ice cream beat out popsicles 79-39, with the winners being served on Tuesday, November 3.
"Being an active, informed and caring citizen isn't something you're just born with; these qualities must be taught in order to make communities strong," said Taté Walker, MSAS, communications and public relations director at Salt River Schools. "At Salt River Schools, we're committed to helping children find joy in their citizenship roles and responsibilities, and providing opportunities to vote that coincide with what adults experience is one way to accomplish this. I think what we saw this year are young people who will take more interest in their voting rights and responsibilities as they grow and are one day eventually able to vote in political elections."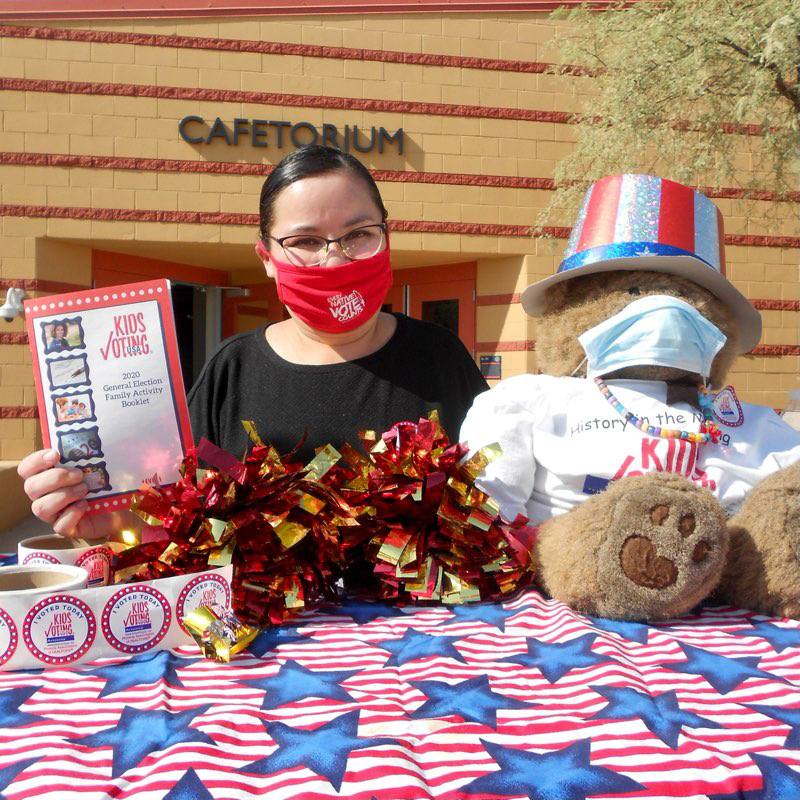 Salt River Elementary School teacher Dawn Meyers, who currently teaches music and movement and formerly taught kindergarten, said that they started the Kids Voting Arizona program at the school in 2004. "I even have the article that was in an Au-Authm Action News October 2004 edition. I keep other newspaper articles from all the other years it's been covered: 2006, 2008, 2012, 2016, 2018," Meyers said.
This year, Meyers reached out to the local Kids Voting Arizona chapter to create online ballots for all youth under 18 at the Salt River Pima-Maricopa Indian Community and who use the meal distribution program for weekday breakfast and lunch, so they would be able to vote and have their voices heard.
"My hope is for these young people to become the informed voters of tomorrow and to know that they have a voice," said Meyers. "We may have future presidents or Council members among these young people, and it all starts with learning about citizenship and voting."
A video of students voting on November 6, 2018, can be found on the Salt River Schools YouTube page, which shows what the whole process looks like. That year, 543 Salt River Schools students voted in the library, some with photo ID cards, on a new name for the Talking Stick Entertainment District shuttle: "Green Lightning."
Full election results can be found on the Salt River Schools website at https://sres.saltriverschools.org/s_r_e_s_news/announcements/kids_voting_2020.
Kids Voting Arizona also has a Leadership Council, composed of middle school and high school students, to ensure young voices are heard through educational election experiences. The council develops new ideas for increasing voting in their communities and engaging the next generation of citizen leaders.
Current sponsors of Kids Voting Arizona include the State of Arizona Supreme Court, Arizona Foundation for Legal Services & Education (the Arizona Bar Foundation), Maricopa County, and the Phoenix Association of Realtors.