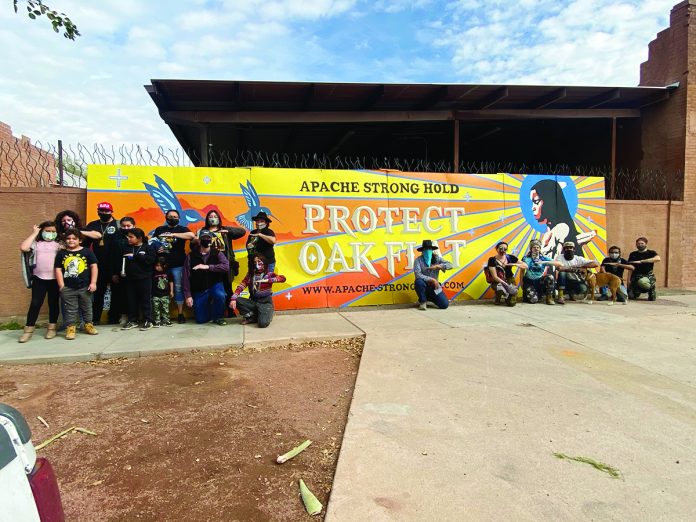 This coming February 25-27, the Apache Stronghold group is holding its seventh annual Oak Flat March. This event is a prayer run, starting from the San Carlos Reservation and finishing at Oak Flat. Resolution Copper Company has plans to expand its current mining operations, but doing so would obliterate Oak Flat, a central Arizona site which is considered sacred to the Apache. There recently has been an increase in activity from the Resolution Copper Co., which is planning to move forward on the project, and it has garnered loud protests from the Apache and many other tribal nations. The copper mine will be the largest in the United States.
Salt River Pima-Maricopa Indian Community member Marina Thomas will be participating and offered information on the upcoming event.
"For the previous six years, the Apache Stronghold has held an annual prayer run from the San Carlos reservation to Oak Flat in honor of the protection and spiritual significance of Chi'chil Bildagoteel(Oak Flat)," Thomas said. "The event has helped to raise awareness of Apache history and the fight for their ancestral homelands. This year, due to increased involvement with multiple tribes, the run is being organized to come in from all four directions. Coming in from the west would be the O'odham, Piipaash and Yavapai tribes, leading the run approximately 60 miles to Oak Flat."
Thomas went into further detail as to how people who participate in the run should prepare.
"While the Apache Stronghold has overextended themselves in political efforts, running requires a different kind of effort," Thomas said. "When an individual is participating in a prayer run, they are physically present with the land and dedicating themselves through the pain and suffering it takes to reach the holy land by foot. The runner has the Earth below their feet, the sun hitting their skin, and air flowing in and out of their lungs while the wind tells the runner to keep going. A prayer run involves individuals to be one with the elements. For Indigenous people, it also provides a way to re-root themselves, for them to leave their footprints in the dirt the way their ancestors once had."
The political situation that surrounds the Oak Flat area is controversial. Many tribal nations are there participating in this run as a healing action. As of right now, Thomas said, there is a hold on the construction of the new copper mine.
"A preliminary injunction hearing took place February 3, which, if it is approved, would mean that all movement with the land and the mining company would be put to a halt while Apache Stronghold proceeds in court to protect Oak Flat," Thomas said. "The judge will announce his decision on how to move forward by February 12, 2021."