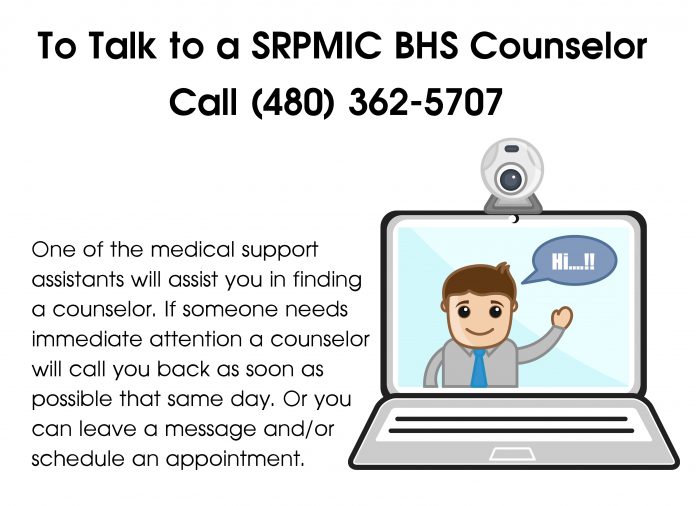 Counseling can benefit those who may be struggling with their mental health during these times of uncertainty due to COVID-19. Because of the pandemic, more people are dealing with emotional difficulties and life challenges. The Salt River Pima-Maricopa Indian Community's Behavioral Health Services (BHS) is offering telehealth sessions with a counselor to all SRPMIC members. These services help with grief, parenting, family struggles and couples counseling.
"Zoom with a Counselor" is a new service offered by BHS. It's a Zoom session open to all SRPMIC members and is held once a month.
Seeking mental health therapy used to carry a stigma; people would be embarrassed and didn't want others to know they were struggling. For the most part, that's no longer the case. Today, people understand the benefits of seeing a therapist to help them learn new skills and techniques such as stress management, coping skills and mindfulness activities like journaling. These techniques can help you feel more empowered and confident that you can take on the challenges that might be coming your way.
"A lot of our clients are dealing with financial stress and grief from COVID-19. We're all grieving in different ways; not only are we losing family and friends, but [our] whole lives are different," said Jessica Hunter, BHS manager for Adult and Family Services. "We have all types of counseling, from individual counseling for [stress management] to court-ordered counseling services." Counseling was done in person until COVID-19 made that impossible. "When [the Community] went to essential services, we were able to transition everything to Skype, Zoom or phone, including our group sessions," Hunter added.
In-person sessions are reserved for very acute cases, such as suicidal clients or people in crisis.
"We used to offer walk-ins for people who had something come up and they wanted to talk to a counselor right away," said Hunter. "Now we have the telehealth sessions for Community members, who can call in and talk to a counselor over the phone or video. They don't have to do the intake process, they can just call in and talk to a counselor who is available if they are having a bad day."
During the "Zoom with a Counselor" monthly group session, "Individuals log on to Zoom and listen. There are two counselors available who will answer questions, and participants can type in their questions. It's a good way to get to know our providers before scheduling a personal session," said Hunter. "You can see their face, get to know them and get a sense if you would want to talk to this person."
December's Zoom with a Counselor session covered COVID-19 stress, parenting during COVID-19 and grief. Hunter explained that if people have other questions, they are welcome to ask the counselors. If someone decides to move forward with personal counseling sessions, he or she is welcome to call and schedule an appointment.
More than 20 counselors for adults and children are available for counseling services. The crisis counselors and Journey to Recovery services are still available to SRPMIC members who may need them. The telehealth sessions will continue even after services return to normal.
"One of the benefits of this learning curve for us is we have found that people like to do telehealth sessions," said Hunter. "Especially for those who are court-ordered, they have requirements to fulfill, and sometimes it's just not convenient to make it to an in-person session. So, the evening online groups where people can call in have been helpful."
Another service being offered is outreach services for COVID-19 patients. Those who test positive are offered counseling to help them through the period of quarantining and being separated from their family. When they have completed their quarantine, they are welcome to continue to talk to a counselor.
"During this time, if you have a rough day and you just want to talk to someone, we're the perfect service right now for that," said Hunter.
The January "Zoom with a Counselor" telehealth session takes place on Thursday, January 14. To talk to a BHS counselor, call (480) 362-5707 and one of the medical support assistants will help you find a counselor. If you need immediate attention, a counselor will call you back as soon as possible that same day. Or you can leave a message and/or schedule an appointment.