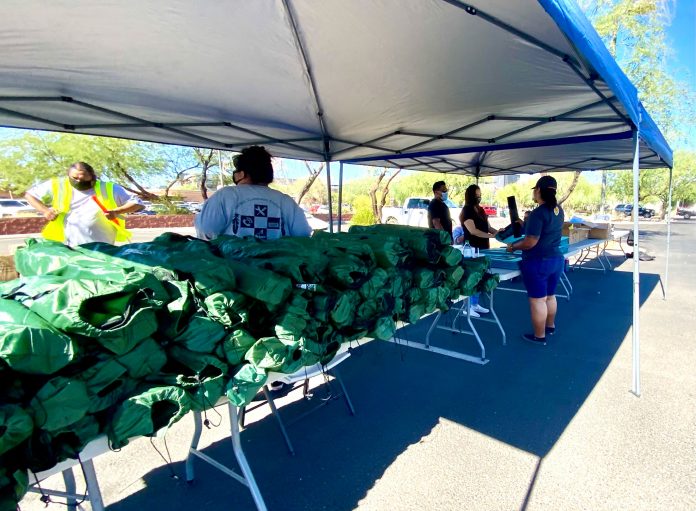 The Salt River Pima-Maricopa Indian Community Day celebration on June 14 carried on virtually, bringing Community members together to honor the existence of the O'odham and Piipaash tribes and the land the Community calls home.
Because the Community is in Phase 2 of the Return to Work Plan of the COVID-19 pandemic, there were no large-scale engagement opportunities available to Community members. However, several SRPMIC departments paid homage to the important day with giveaways and videos to create an opportunity to acknowledge ancestors while paying respect to the culture and traditional ways of life.
The Community Relations Office (CRO) Events Division produced all of the events throughout the week, from the creation of graphic design for flyers, promotional items and event signage to social media posts, videos and a small in-person event to hand out "swag" to the Community.
CRO kicked off the second annual Community Day Video Series on June 11 and 12 with "Salt River Presents: The Love & Passion in Nutrition and The Love & Passion in Events," showcasing Community-member businesses Good Life Nutrition AZ and Pretty Party Planners AZ. Members of the Young River People's Council read a special proclamation on June 12.
Videos and photos for a Virtual Community Member Talent Show were sent in beginning on May 31, with the contest ending on June 11. The winners were Erica and Israel Harvier in the adult division and James Schaaf in the youth division.
On June 12, approximately 1,000 items were distributed to the Community at the Promo Giveaway With Music at the Two Waters parking lot. Custom-branded folding chairs, doormats, wireless headphones and T-shirts were given away, as well as 350 "swag bags" for kids.
On Community Day, a special video presentation of traditional O'odham and Piipaash dances by the Community's traditional dance group Bird Singing and Dancing by the River was released on all SRPMIC social media as well as on SRPMIC TV.
Community Relations Manager Yvonne Schaaf said that the events were well received by the Community. "Thank you to the Community for continuing to support the SRPMIC's wishes of safe gatherings, mask wearing and overall understanding that in-person events, while paused for our safety, will come back stronger when it is time," said Schaaf. "We look forward to seeing everyone then!"