Basketball swept the Valley in July, and the 18th Annual Native American Basketball Invitational (NABI) added extra excitement to the atmosphere with youth playing high-octane basketball at eight indoor high school courts throughout Phoenix.
Boys and girls teams from more than 150 tribal nations gave their all in pool and bracket games, and the Salt River Pima-Maricopa Indian Community was represented well on a few different teams.
In 2020, the NABI was put on hiatus due to the COVID-19 pandemic. With games back in action this year, masks were still required for all in attendance, with the exception of players while they were on the court.
The NABI Educational Youth Summit presented by Phoenix College was held at the Phoenix College Auditorium on July 12 and 13. The Jr. NABI Basketball Camp was sponsored by the Phoenix Suns and Phoenix Mercury at the Phoenix College Gym July 15 and 16.
All teams received free tickets to an Arizona Diamondbacks game between July 16 and 18.
The championship games were originally scheduled to be held at the newly renamed Footprint Center; however, because the Phoenix Suns made it to the NBA Finals this year, that took precedence over the NABI games. The NABI championships were instead held at Camelback High School in Phoenix.
The boys and girls NABI championship teams were able to attend Game 5 of the NBA Finals with the Phoenix Suns hosting the Milwaukee Bucks, thanks to a donation from Valley-based construction company Rolling Plains Construction.
Gila River Indian Community Governor Stephen R. Lewis was presented the 2021 NABI Phil Homeratha Leadership Award.
Girls champions are NM Elite, who won in overtime 62-55 over N8V Soldiers. Boys champions are Young Guns, who came out on top over Oklahoma Runners 61-56.
Salt River Ba'ag 2024 Showcases Young Talent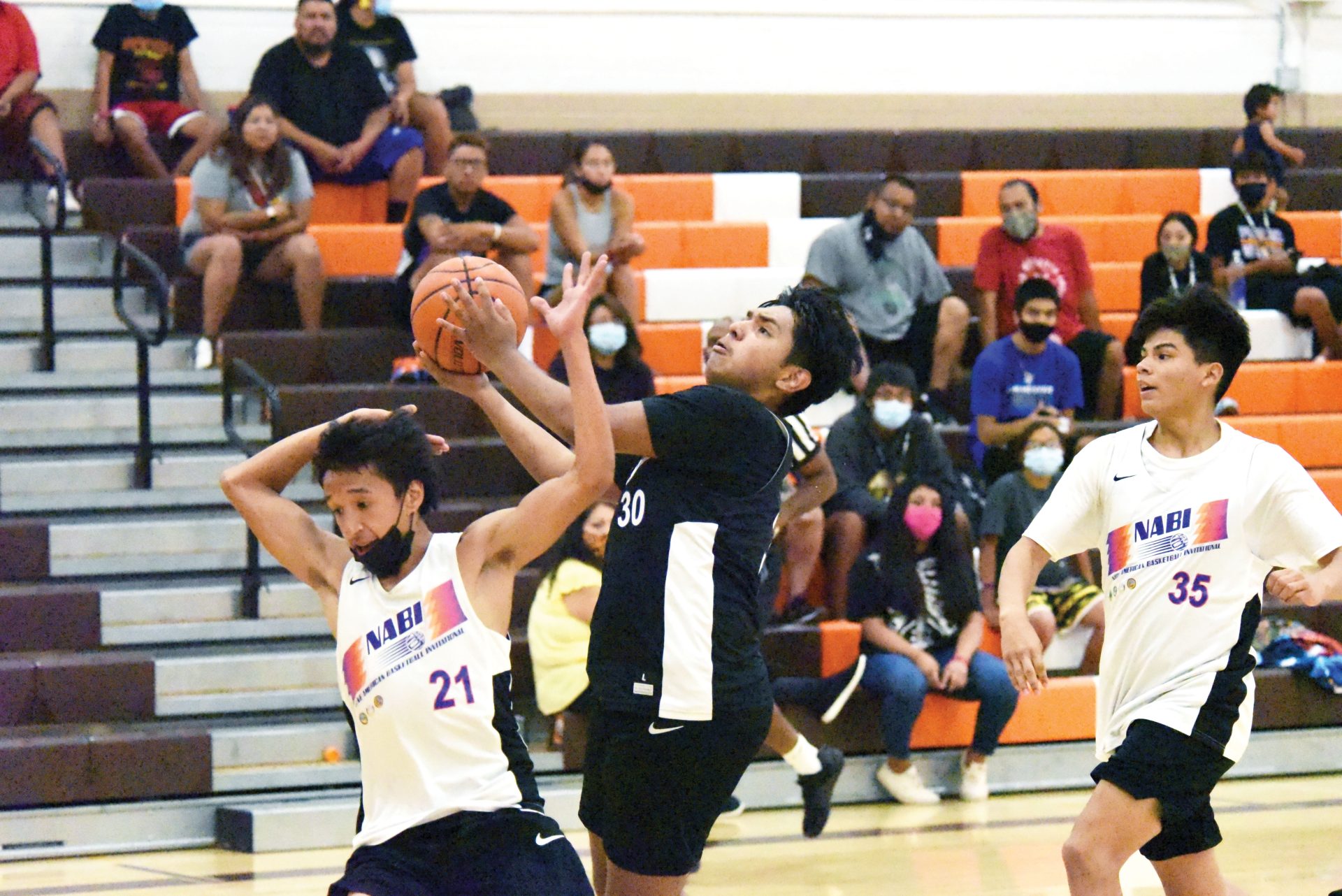 The boys team Salt River Ba'ag 2024 battled well in pool play and made it deep into the Boys Division bracket. Salt River Pima-Maricopa Indian Community members on the team were Joseph Schurz, JT Enos, Beau Burns Jr. and Sam Hill.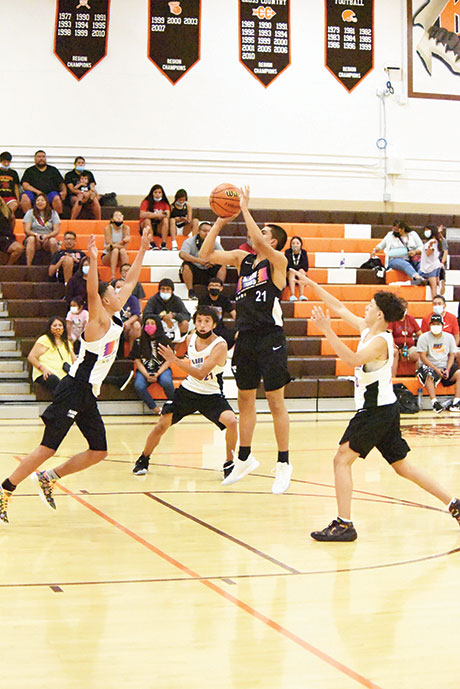 From the style of play and the playmaking O'odham Action News saw at Salt River Ba'ag 2024's matchup against Nexgen Warriors, the team is sure to have a bright future. Ba'ag played a solid game in the paint with a series of fast-paced full-court plays that kept the team ahead throughout the game.
Burns made a great play on defense at half court and took the ball for a smooth layup to keep the team up 28-18 with 12:30 on the clock in the second half. Hill had another steal for Ba'ag at half court two minutes later, and Ba'ag maintained their lead, coming out on top 53-36.
"It was a good game. We all passed the ball around and worked as a team. We had good defense in the beginning and finished it off well. They were talking a lot, but we didn't let it get to our heads," said Schurz.
Enos said that the team did well on both offense and defense.
Later in bracket play, Ba'ag 2024 edged out Rim Rockets 46-41 at Cesar Chavez High School and NAZ Elite later that day 51-45. N. AZ Footprint ultimately got the best of Ba'ag, beating them 59-34 at Betty Fairfax High School.
Unity Gold Features Youth From Around Northwest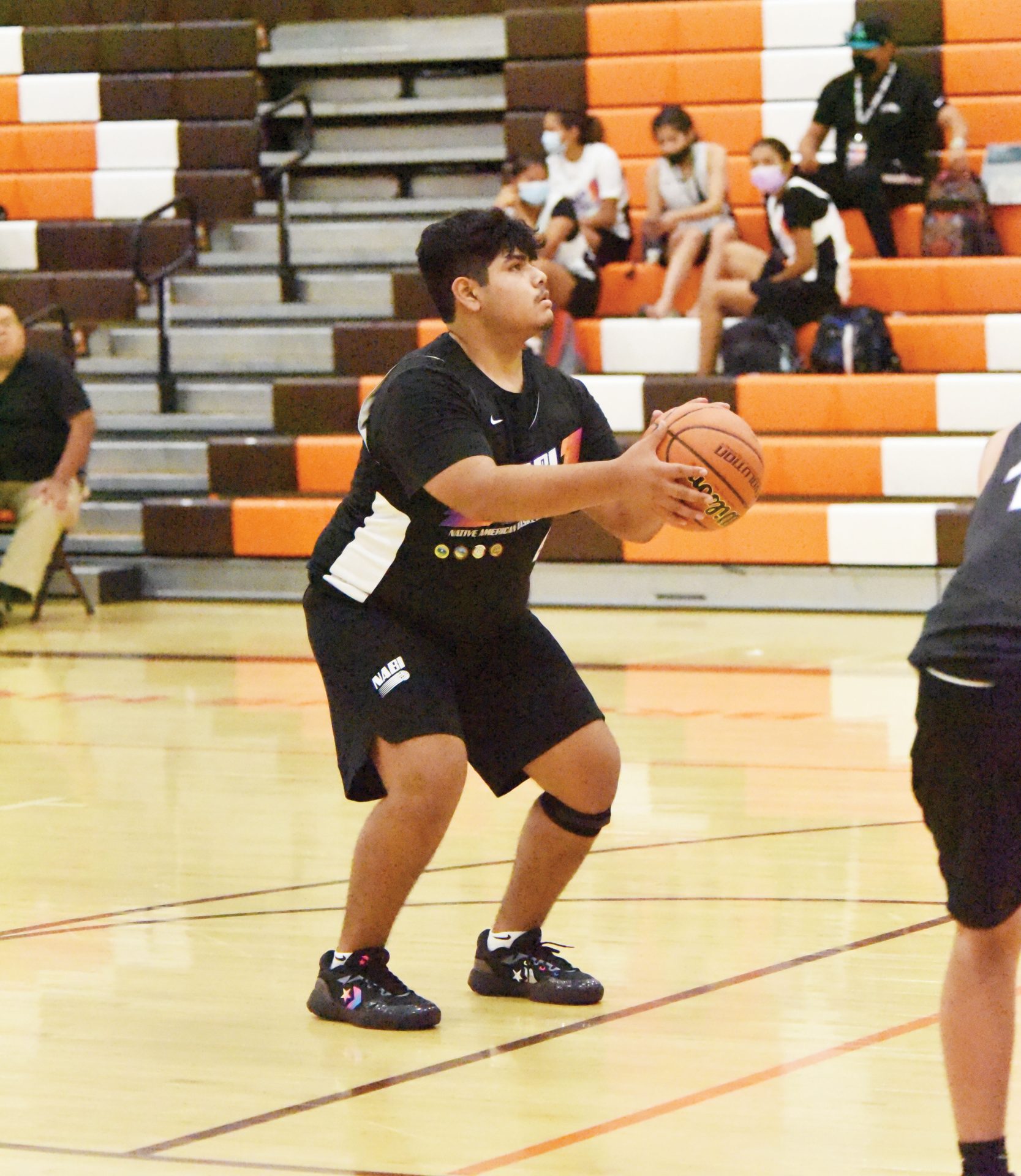 Salt River Pima-Maricopa Indian Community member Maceo Sundust plays for Unity Gold, a Washington-based team that comprises mainly players from the Northwest U.S.
Unity Gold kept the lead for most of their game on July 12 against We R1 at Trevor Browne High School and won 45-35.
"During the game we were kind of nervous because this is our first time playing together as a team. It was rough at first, but we gelled together as a team," said Sundust.
New coach Germaine Hart had some good things to say about Sundust. "Maceo is a good kid. He is knowledgeable and has really good energy for the team, and honestly that's what I'm really looking for the most with the team playing together for the first time," he said.
Unity Gold went 2-1 in pool play and won the first game of the Boys Division bracket, edging out Naz Soldiers 47-45 at Alhambra High School. Later that night, Unity Gold wasn't able to shake the high-scoring Warrior Movement team, which came out on top 85-45 at Cesar Chavez High School.
SR Ba'ag 2023
By Tasha Silverhorn
Due to the COVID-19 pandemic shutting down all major events, including the NABI Tournament, last year, this was the first time playing in NABI for many young basketball players. The Salt River Ba'ag 2023 team was no exception, playing its first NABI game this year.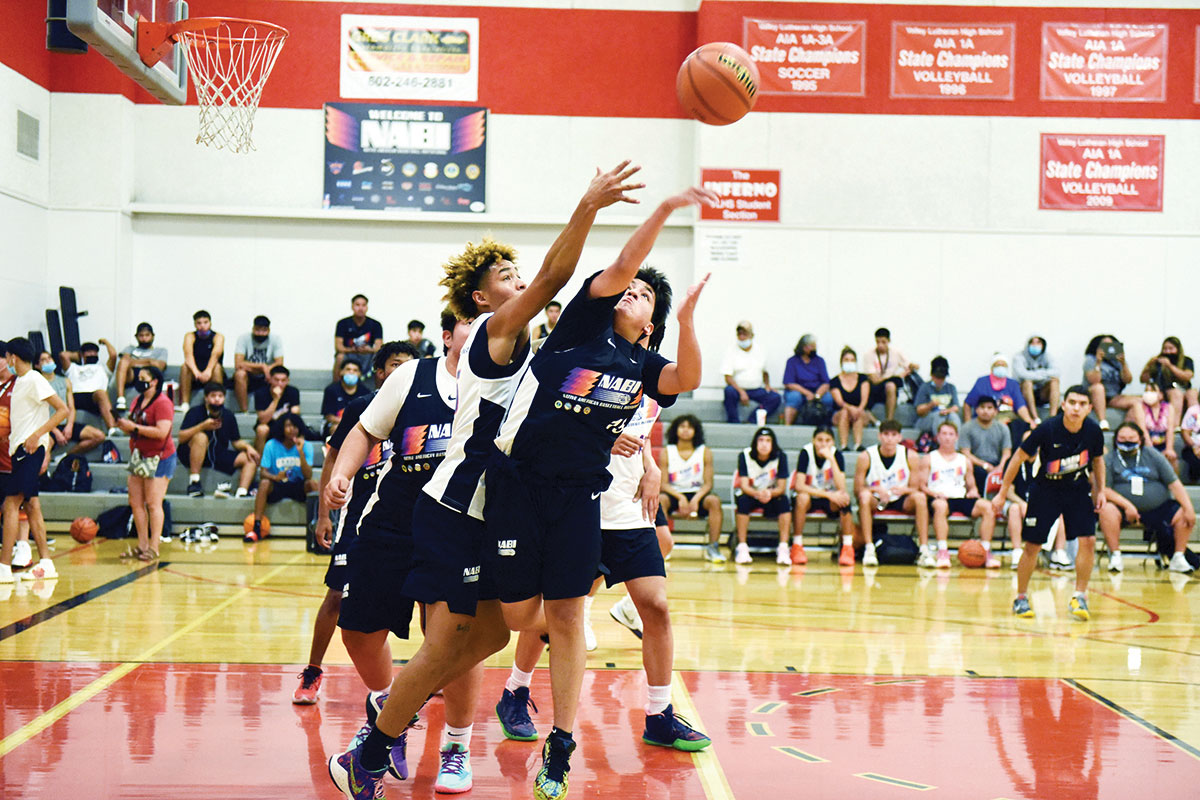 SR Ba'ag 2023 were 0-1 in pool play during the first two days of the tournament. In their first game they went up against seven-time NABI champions Oklahoma Runners from the Cheyenne and Arapaho tribes.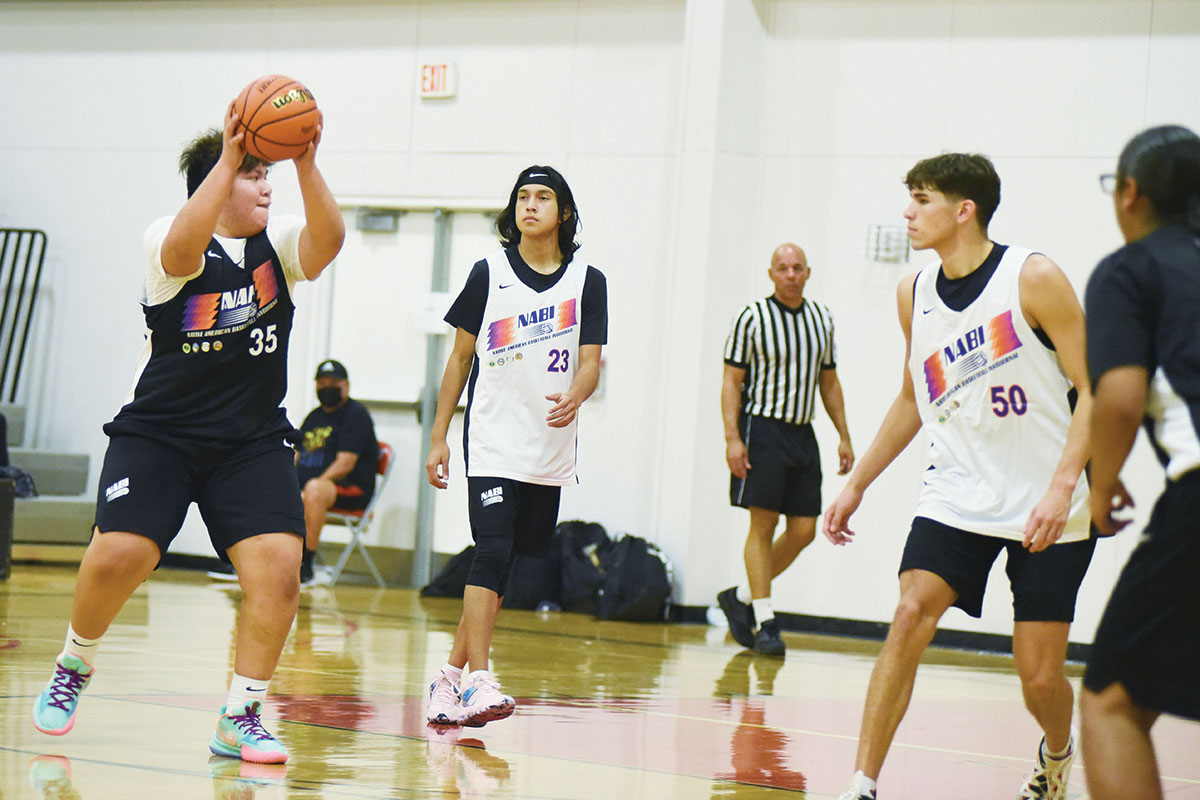 "This is their first time at NABI, and they got that piece of humble pie today," said coach LeRoy Eswonia after a tough loss against the Oklahoma Runners. "That's the good thing about pool play: It's just one game at a time. Hopefully we can turn it around tomorrow and get in the W column."
The team went on to the bracket and lost to the Smooth Natives, but they still had a shot: They were moved the losers' bracket, where they won by forfeit to Unity Silver. They went on to play SettBoyz but lost the game 58-93, ending their time in the tournament.
"The loss was pretty tough, but I had fun. I did my best. I was pretty nervous to begin with, but I got a few buckets," said Ba'ag player Ambrose Johnson after the game against Oklahoma Runners. "My mindset coming into this game was to do my best and have fun."
NWT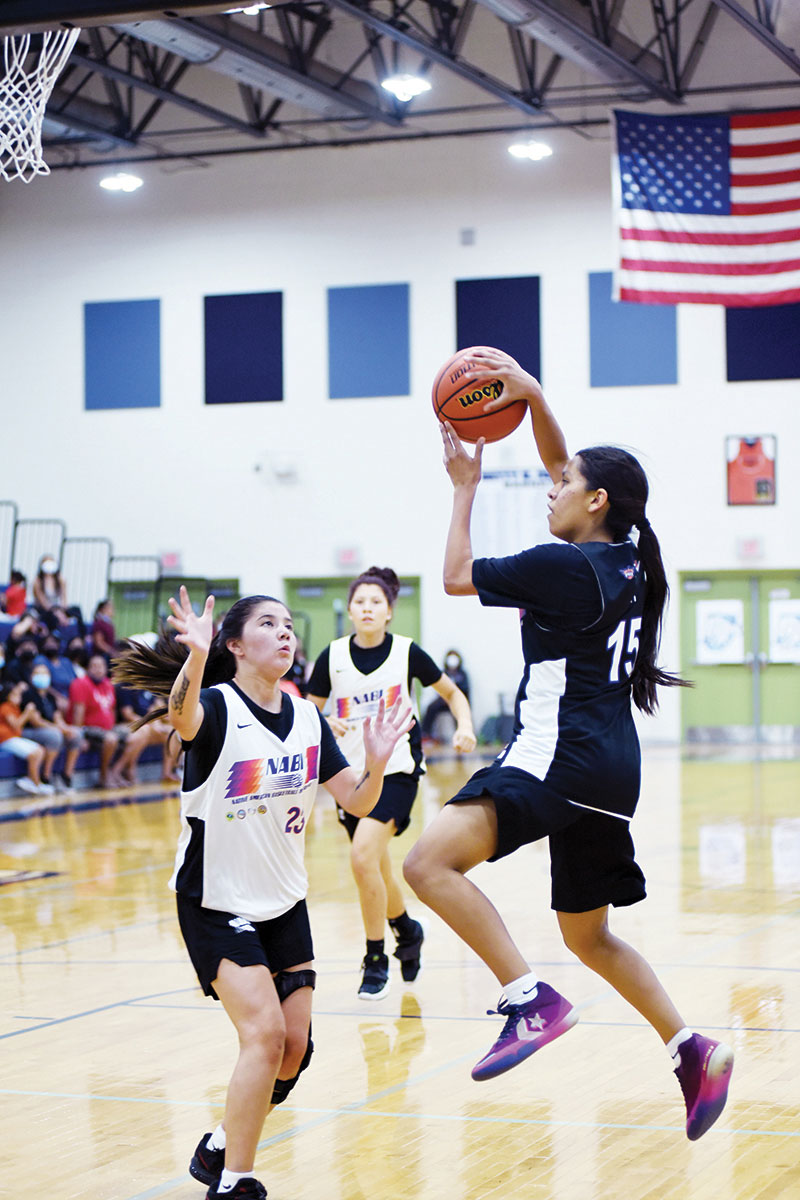 This is the second year that the Natives with Talent (NWT) team has played in the NABI Tournament. Two of their players were returning, and the rest marked their first time playing in the tournament. NWT started off with a win by forfeit, which was unfortunate for them, because they were ready to play and show their talent. But they were able to show the NABI audience what they had in their second game of the tournament; they blew out their competition, beating Team Hustle 66-35. They went on to beat their last team in the pool-play portion of the tournament. In the bracket play, they lost to Sipp Elite, bumping them to the losers' bracket. They beat out Arrow Creek, 505 Thunder, N-10 and Angie's Squad, but they lost their last game to Sipp Elite, ending their run for the NABI Championship.
"Right now, we're looking to have a good top seed. The better we play now, the more I think it's going to roll over into the tournament," said coach JJ Jones on what outcome he wanted for the team in the NABI tournament. "Coming off bad pool play games always takes a role in bracket, or it can go vice versa. I want to stay rolling good, confidence high and just coming up with maybe a No. 1 seed."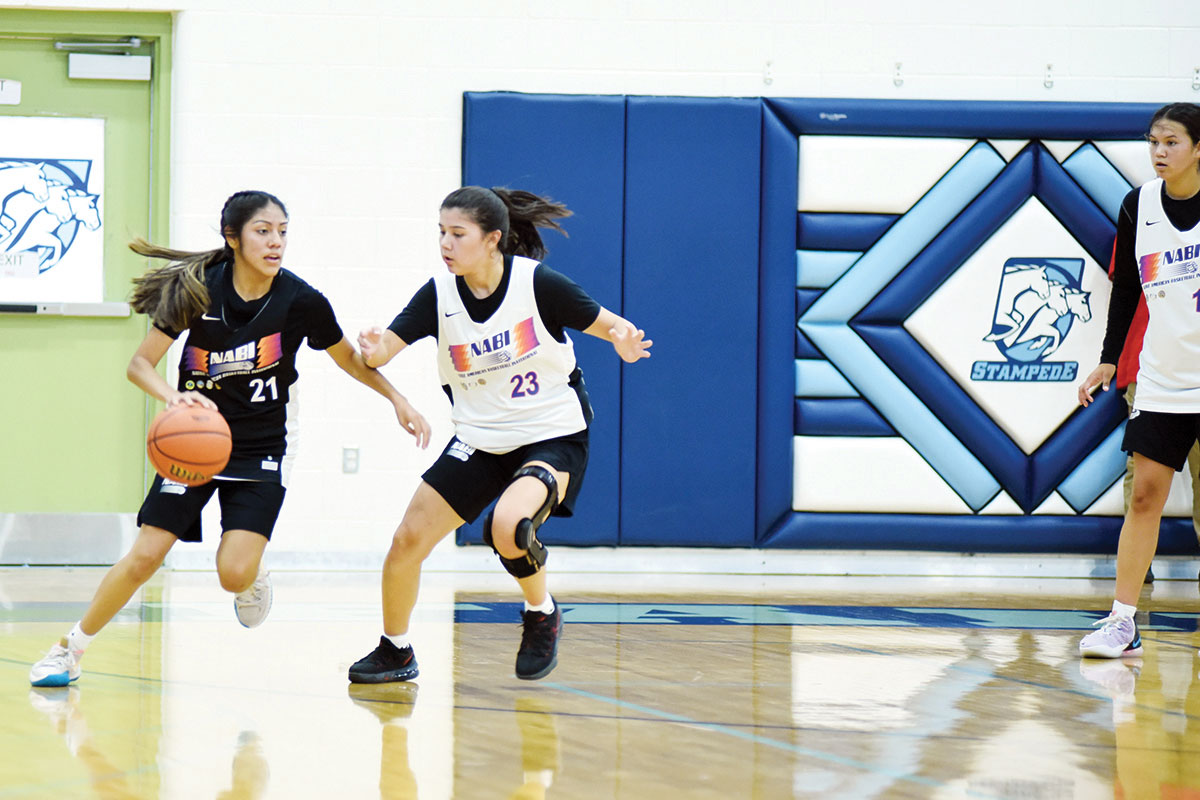 First-time NABI Tournament player Kristine Scabby was excited to play as she practiced shooting before the game against Team Hustle. She said that she hoped they would get far in the bracket and win the championship.
Coach Jones and the team looked forward to playing out-of-state competition.
"We want to see how other tribes play, because it's a lot of run and gun here in Arizona," said Jones. "We run a structured program where we slow it down if we get caught in a fast break; we slow it down. I want these girls to experience something they never experienced before, and playing in NABI is where they can get that."
AZ Lady Warriors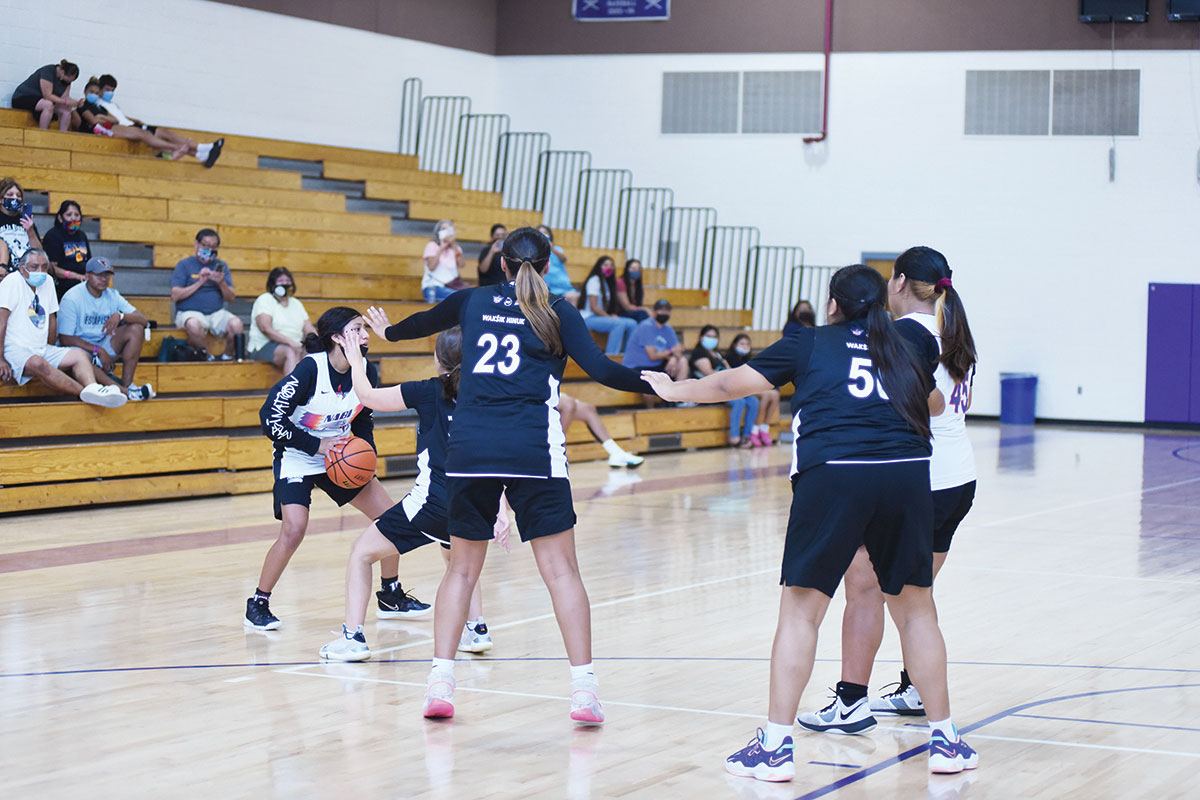 The AZ Lady Warriors team has played in the NABI Tournament in the past, but this year a group of new girls started working together to make a comeback in the all-Native American basketball tournament.
The Lady Warriors lost their first pool game against 505 Thunder. In their second game on the first day of the tournament, they lost by 4 points after going into overtime.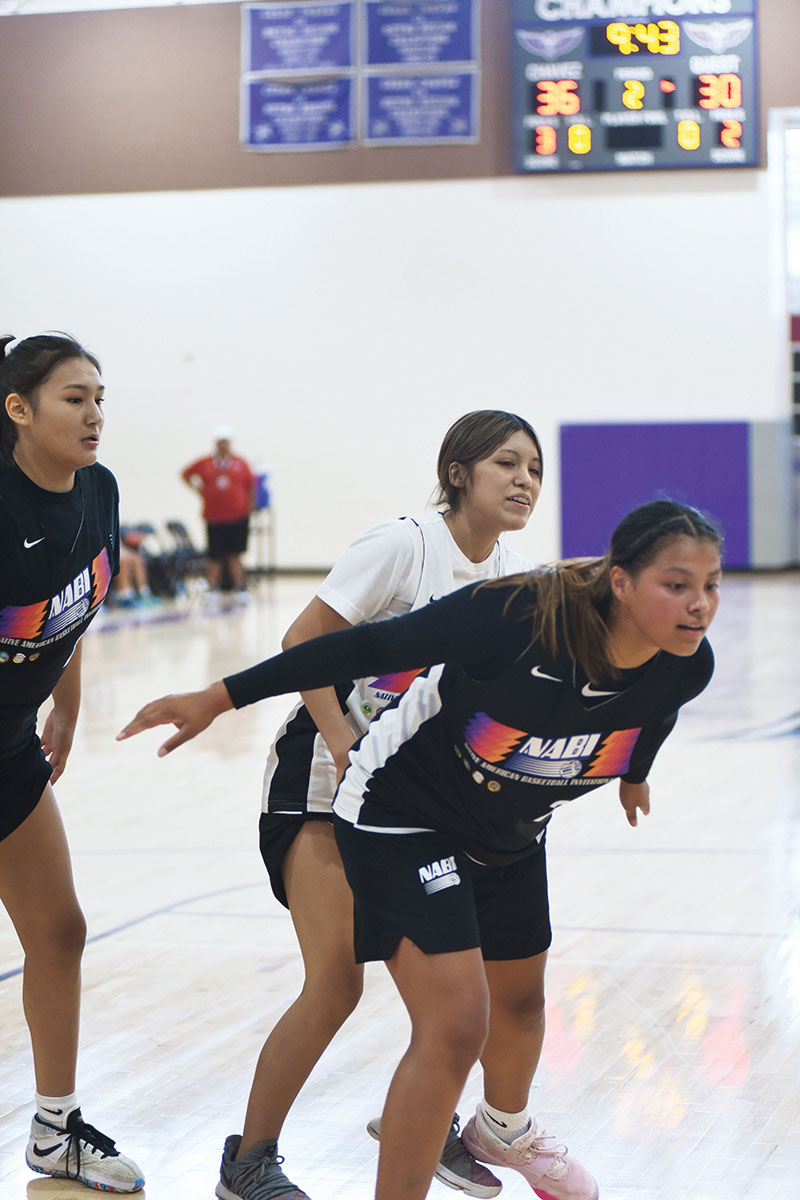 "It was unbelievable. These girls barely started out playing together a couple of months ago, and for them to come and unite and play together as one, it really showed today," said Coach Phillip King after their second game against Waksik Hinuk. "it was an unbelievable game and experience. We're happy with the outcome win or lose. It was a really close game; it was a nail-biter. I can't be happier than that."
The team went on to win their third game in pool play the next day. In the bracket play, they won against Team Hustle and lost their second game to N-10. In the losers' bracket they beat the Lady Unity White, but the Lady Warriors were beat out by the NM Braves, ending their run in the NABI Tournament.
"I was really excited to play with my friends and cousins and to be with them, have fun and laugh," said Dana Cooper about what she looked forward to the most at NABI. "I really like working with my team because we talk and work together and communicate well."