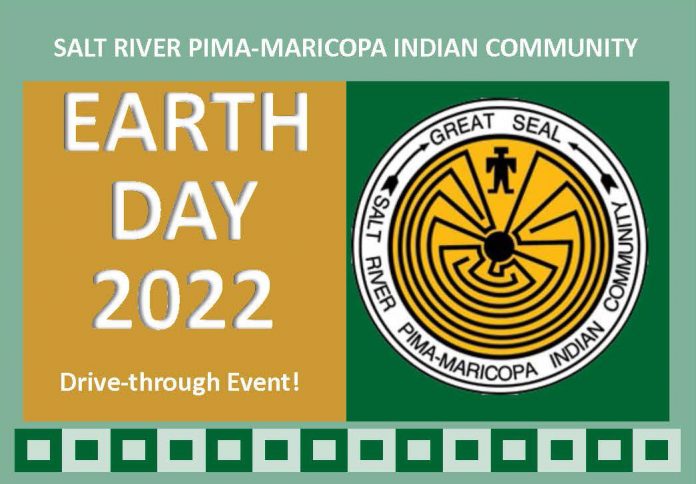 On April 23, the Salt River Pima-Maricopa Indian Community will hold its 17th annual Earth Day celebration, with one more year of virtual festivities due to the COVID-19 pandemic.
"This year will be virtual again (hopefully the last time!)," said CDD/EPNR Environmental Specialist Carol Hibbard, who looks forward to next year's Earth Day being an in-person event.
"We'll have one more year of limited activities—no large service projects at this time. We'll be doing the giveaways in the Two Waters parking lot," she said.
There will be a household hazardous waste collection and paper-shredding event at the south end of the Two Waters parking lot again this year. The plan is to use the north end of the parking lot to give away Earth Day hats and promotional items, while supplies last.
For years, Scottsdale Community College's Center for Native and Urban Wildlife (CNUW) has grown native plants in their greenhouse for CDD/EPNR to use for various events and restoration projects.
CNUW is currently growing approximately 200 mesquite trees (all from local seed sources) for CDD/EPNR to give away for Earth Day. Visitors can pick up a tree near the exit of the parking lot. CDD/EPNR's hope is that Community members will plant these mesquites, which provide habitat for wildlife and have strong roots that stabilize the soil and help prevent erosion.
"As a Community member, [I feel that Earth Day] is the perfect chance to give back to our Community, whether it's helping seniors with cleaning up their yards or beautifying their yards with garden boxes," said CDD/EPNR Senior Compliance Specialist Victor Gonzales. "The Earth Day service projects give me a sense of pride for my Community."
On Earth Day, Hibbard suggests that Community members work on a home-based service project such as a yard clean-up, landscape planting, litter clean-up in your neighborhood or a clean-up project for an elder. To extend the spirit of Earth Day all year, Hibbard gave the following tip: "Leave places better than you found them. Commit to using less plastic, such as water bottles, straws and disposable dishes."