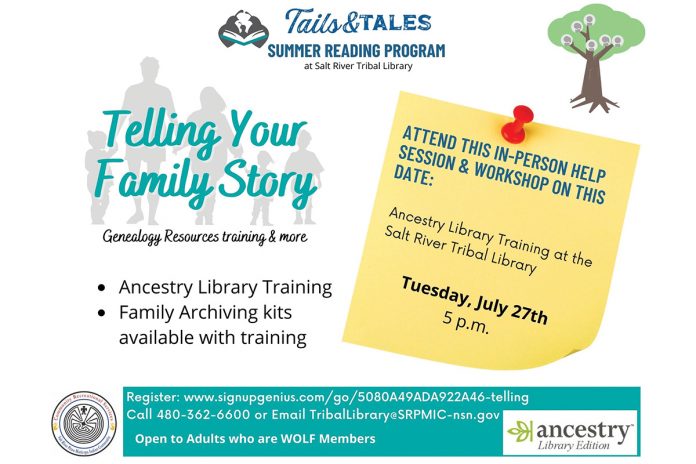 The Salt River Tribal Library is offering a series of virtual workshops through its Tails & Tales Summer Reading Program. One of the recent workshops was Telling Your Family Story, a workshop focused on genealogy resource training to help Salt River Pima-Maricopa Indian Community members learn how to trace their ancestors.
The first class was held on Tuesday, June 29, via Zoom. Library Assistant Melissa Rave provided an overview of how to get started researching your family history through a free program called Ancestry Library.
"When you begin and discover more through Ancestry Library and genealogy research, the first step is to start a search log," said Rave. The search log will help you keep track of family names and have them all in one location, such as a binder, paper folder, notebook or digital log. The second thing to know is that genealogy uses the day-month-year format; for example, 11 May 1945. A third point is properly recording names to avoid mistakes and misspellings:
First Middle Last: Jasper John Jackson
Record names of women with their maiden name: Julia Rose Smith [Jackson]
Nicknames listed in parentheses: Jasper John Jackson (Johnny)
Ancestry Library is free through the Salt River Tribal Library. Rave encourages visitors to come into the library to utilize the program. It provides access to U.S. Census, military and immigration records to help in the search for family history. Ancestry Library also provides a number of different log sheets that can be printed and used in your log, so you can keep track of the people in your family tree.
Participants also have access to family archiving kits to help organize their research and properly store family photos and documentation.
If you missed the first opportunity to attend the Telling Your Family Story workshop, there is one more chance to attend—this time in person—on Tuesday, July 27, at 5 p.m. at the Salt River Tribal Library. To join the limited-capacity in-person training, sign up at www.signupgenius.com/go/5080A49ADA922A46-telling. For more information, call (480) 362-6600.