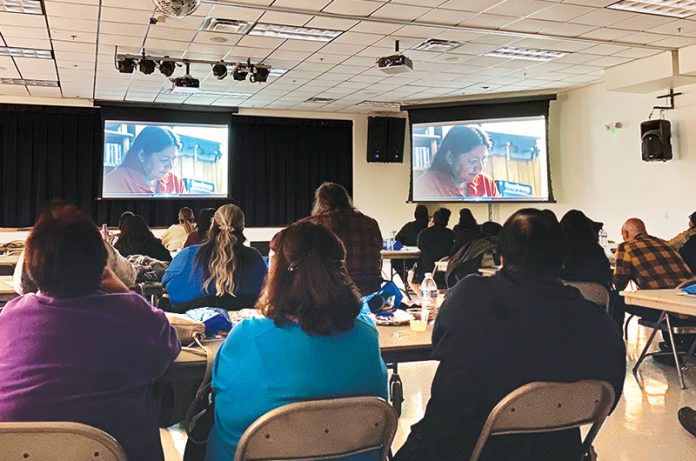 On Thursday, January 9, the Salt River Pima-Maricopa Indian Community's Family Advocacy Center hosted a screening of the documentary Blood Memory, which explores the little-known history of America's Indian Adoption Era. The screening took place at the SRPMIC Community Building, with close to 90 people in attendance. Attendees enjoyed Mexican food before the screening and later joined in a discussion on how the traumatic event has left a long-lasting impact on Native American communities.
According to the website, "Blood Memory explores the battles over blood quantum and the "best interest" attitude governing adoption at a time when nearly one-third of Native children were removed from tribal communities nationwide. As political scrutiny over Indian children welfare intensifies, an adoption survivor helps others find their way home through song and ceremony."
In the film, Sandy White Hawk tells the story of how she was adopted at 18 months old, removed from her Sicangu Lakota relatives and taken 400 miles away to live with a Christian missionary couple. Growing up, she felt unworthy of love, with no kinship or family support as her cultural heritage had been rejected. Later on, as she grew into an adult, she found out her adoption was "a part of a nationwide assimilative movement that targeted American Indian children." She reconnected with her Lakota community, which empowered White Hawk to help other Adoption Era survivors restore their cultural identity.
The film also touches on the 2013 U.S. Supreme Court case Adoptive Couple v. Baby Girl, which challenged modern implications of the 1978 Indian Child Welfare Act (ICWA). The film ends with a Welcome Home ceremony that White Hawk helped to organize. The ceremony, held during a powwow, welcomed back their people who had been adopted or fostered out of their tribal community as children.
Following the film, White Hawk and her husband blessed through smudging those in the audience who might have been feeling the effects of the film, which possibly brought up old feelings of being removed from their homes as children or another traumatic event.
A number of Community members offered their thoughts and opinions about the movie, shared their own personal experiences, and even asked for advice on how to bring Community children back. White Hawk ended the evening by sharing her experiences about making the film.
For more about the Blood Memory documentary, go to www.bloodmemorydoc.com.