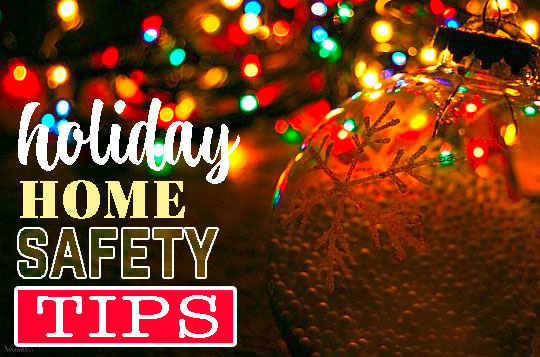 This holiday season, keep your home and family safe with a few safety tips from Salt River Fire Department's Office of the Fire Chief, Captain Robert Scabby.
First, the basics: Check your home's smoke detectors and fire extinguishers to ensure they are in working order. Make sure you have a fully stocked first-aid kit, and work with your family to make an escape plan in case of fire or any sort of disaster. Decide on a spot someplace outside your home for all family members to gather to make sure everyone is out.
The SRFD Fire Prevention Program can assist in providing smoke detectors to the Community. "If you e-mail FirePrevention@srpmic-nsn.gov, they will go out to your home and install the smoke detectors. We don't have an unlimited supply, but we do have some," Scabby said.
Christmas Tree Safety
Whether real or artificial, a Christmas tree can be a hazard in itself, explained Scabby. Both live trees and artificial trees can catch fire under the right conditions.
"Live trees and artificial trees are very similar, because they are still a fire load," said Scabby.
• If you get a live tree, pick out a fresh one. Cut the bottom of the base and water it every day to keep it fresh as long as you can.
• Keep your tree at least 3 feet away from any type of electrical outlet, heat source or something that could potentially cause or feed a fire (space heater, stacks of newspapers, boxes, etc.).
• Keep the tree out of any major walkway. In the event of an emergency that requires an evacuation, you and your family should have a clear path out of the home.
• When setting up a tree that has been in storage, including the lights, make sure you replace any broken lights or exposed wiring.
• Holiday decorations are rated for indoor or outdoor use, so be sure the ones that you use inside the house are rated for indoor use. Follow the manufacturer's instructions so you don't overload a circuit or cause a short circuit.
• Keep lit candles at least 10 feet away from the tree; better yet, don't use lit candles at all.
• When you leave the home or go to sleep, turn off the lights and decorations.
• To dispose of a live Christmas tree, drop it off at the Salt River Landfill or leave it outside for the Public Works bulk trash pickup.
Holiday Fireworks
Fireworks are strictly prohibited within the boundaries of the Salt River Pima-Maricopa Indian Community. They cause wildfires and residential fires and can cause burns and/or lacerations to individuals who ignite them.
Anyone caught with fireworks on the Community can be fined up to $1,000, according to the SRPMIC Code of Ordinances. "There are several fireworks stands in the Valley, but if someone does utilize fireworks this holiday season, keep in mind they can cause not only injury, but a wildland or residential fire. Please keep fireworks away from children," said Scabby.
Other Winter Safety Tips
• When the temperatures go down in the winter, check on your older family members and neighbors to make sure they have food and are warm, explained Scabby.
• Beware of space heaters and use them only according to the manufacturer's directions. Keep them away from Christmas trees, boxes, beds, couches or anything that can catch on fire, and don't leave them unattended.
• If you're sick, stay home. The COVID-19 virus is still around, with new cases reported in Arizona every day. It's also flu season, and respiratory syncytial virus (RSV) is causing issues for children and adolescents. It's never too late to get vaccinated against the flu and the current COVID-19 variants. Be mindful that both older and younger people, those who are undergoing cancer treatment, and people who take immune-suppressing medication for other reasons have weaker immune systems that may not be able to fight off viruses as easily.
• Finally, when you're out and about in the Community, if you see something, say something: Alert authorities if you see something out of place, spot a suspicious package or witness suspicious behavior by an individual or group of people.
"The world is a different place now than it was 10 or 20 years ago, and so we've really got to be mindful of potential threats in this day and age," said Scabby.