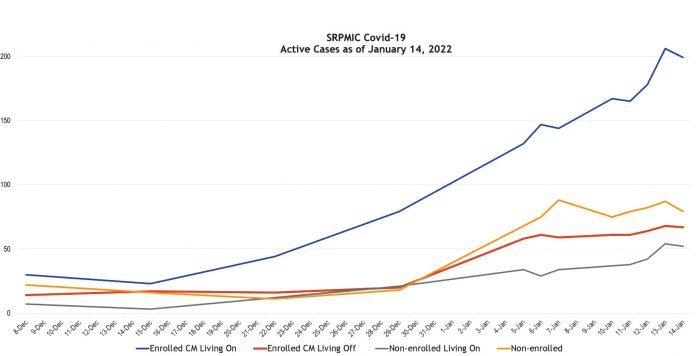 With COVID-19 cases reaching new heights in the Salt River Pima-Maricopa Indian Community, and in the U.S. as a whole, O'odham Action News reached out to Community members and the SRPMIC Health and Human Services (HHS) Department to get a better understanding of what this next phase in the pandemic is looking like.
In a very short time, the HHS said, the highly infectious omicron COVID-19 variant has upended many aspects of our lives. Both Arizona and Maricopa County are seeing record numbers of infections, and testing is once again in great demand. Luckily, although it is more contagious than the delta variant of COVID-19, omicron appears to cause milder illness in many people.
As of January 11, there were 16 cases with the omicron variant in the Community. Of the Community member population in Arizona ages 5 and older, 45% are fully vaccinated (having had both shots) and 51% have received at least one dose.
One Community Member's Experience
Speaking on condition of anonymity, one Community member, who is vaccinated, said that they currently open their home only to immediate family members due to the conditions of the pandemic. However, these family members live in different houses and some are not vaccinated.
On Christmas Day, their immediate family of 15.5 persons, which includes eight adults, seven children and one infant, gathered at one home to celebrate the holiday. Of those family members, five adults and two of the children were vaccinated at the time.
Unfortunately, the gathering turned out to be an infectious event during which the COVID-19 virus could have quickly spread to others, as the Community member said that they and others developed symptoms of the virus shortly afterward.
"Once our immediate families were informed that we were exposed, all households went into quarantine," said the Community member.
"My household was the second to be affected with COVID. You feel for your family and the children that are affected and pray they will be okay, especially for those who are not vaccinated and the smaller children who are not able to be vaccinated. Thankfully, I didn't make any other visits during the holiday, I primarily remained home."
Even though the Community member used hand sanitizer and frequently washed their hands, they felt like they let their guard down.
"After the fact, I realized that close family members living in their own homes and visiting does pose risks."
Their first symptom was a slight headache, but they did not think much of it due to the weather change and it being the holidays. At 3 a.m. on New Year's Day, without any warning, the headache became worse and was accompanied by body aches and chills. The symptoms lasted 24 hours, followed by minor congestion. Over-the-counter medications helped, they said, and they knew it was COVID-19 as the symptoms did not relate to a cold, flu or allergies.
"I truly believe the vaccination helped curb what could have been a longer illness," they said.
"Get vaccinated; don't wait until it hits home. Continue to practice preventive measures, and don't let your guard down. Be considerate with the well-being of others, including those who are vulnerable. Continue safety precautions; the virus can be picked up anywhere from anyone."
What the Experts Recommend
"If you have COVID-19 symptoms, it is better to err on the side of caution and quarantine until you can get tested," advised Brad Pollock, Ph.D., MPH, FACE, an epidemiologist and professor and chair of the Department of Public Health Sciences at UC Davis School of Medicine.
The Centers for Disease Control and Prevention (CDC) recommends that you get tested five to seven days after "close contact with a person with suspected or confirmed COVID-19." The CDC defines close contact as being less than 6 feet away from an infected person for a total of 15 minutes or more over a 24-hour period, with or without a mask.
All of the COVID variants, including delta and omicron, cause similar symptoms, which may include cough, fever and fatigue.
Lorena Garcia, MPH, Dr.PH, epidemiologist and professor in the Department of Public Health Sciences at UC Davis School of Medicine, noted that omicron symptoms are about the same as those of the delta COVID variant, but a person's experience may vary greatly depending on whether they're vaccinated. "In those that are fully vaccinated and boosted, symptoms tend to be mild. In contrast, if an individual is unvaccinated, symptoms can be quite severe, resulting in hospitalization or even death," Garcia said.
Dr. Garcia said that the viral load is much higher in omicron, which means that someone infected with the omicron variant is more infectious than someone infected with the delta variant.
Dean Blumberg, M.D., chief of pediatric infectious diseases at UC Davis Children's Hospital, noted that the vaccines are not 100% effective and breakthrough infections may occur. "However, if you've had COVID-19 and are then vaccinated, this decreases your chance of reinfection by about half."
It appears that the first-line preventive measures of social distancing and wearing a mask should continue, as they are proving effective to help avoid spread of the omicron variant. "Everyone should be masking when indoors around anyone not in their household, as well as in crowded areas outdoors where it is impossible to socially distance, like sporting events," Blumberg said.
As for wearing masks to protect yourself from spreading or getting the virus, Dr. Blumberg said that some studies suggest that cloth masks are only about 50% effective, compared with effectiveness rates of 60% to 70% for surgical masks and 95% for N95 masks.