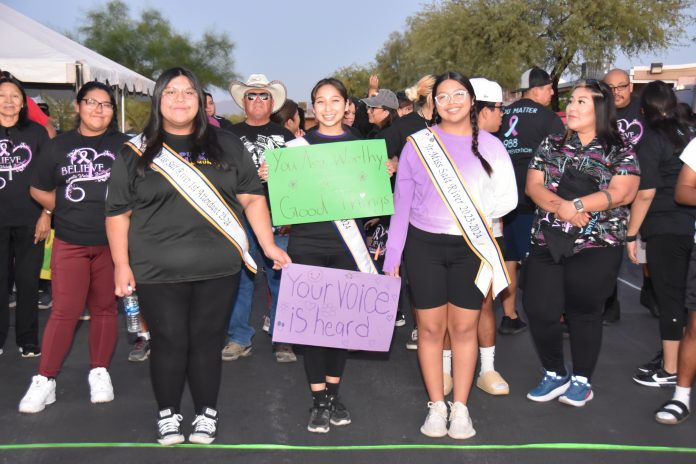 When talking about addiction, suicide, domestic violence and other forms of abuse in Indian Country, one common theme is likely to come up: Traditionally speaking, you just don't talk about it.
The 10th Annual Glow Walk on October 3, sponsored by the Salt River Pima-Maricopa Indian Community Department of Health and Human Services Prevention & Intervention Services, addressed that issue head-on with more than 250 people showing up to support the conversation being brought out into the open within the Community.
The walk started at the Salt River Fitness Center, where SRPMIC President Martin Harvier opened the event with a prayer and a few words about the meaning of what was about to happen.
"Historical trauma affects each and every one of us," Harvier said, sharing his own family experiences. "Sometimes I don't think we realize what we pass down and carry with us. That's something we have to be more aware of."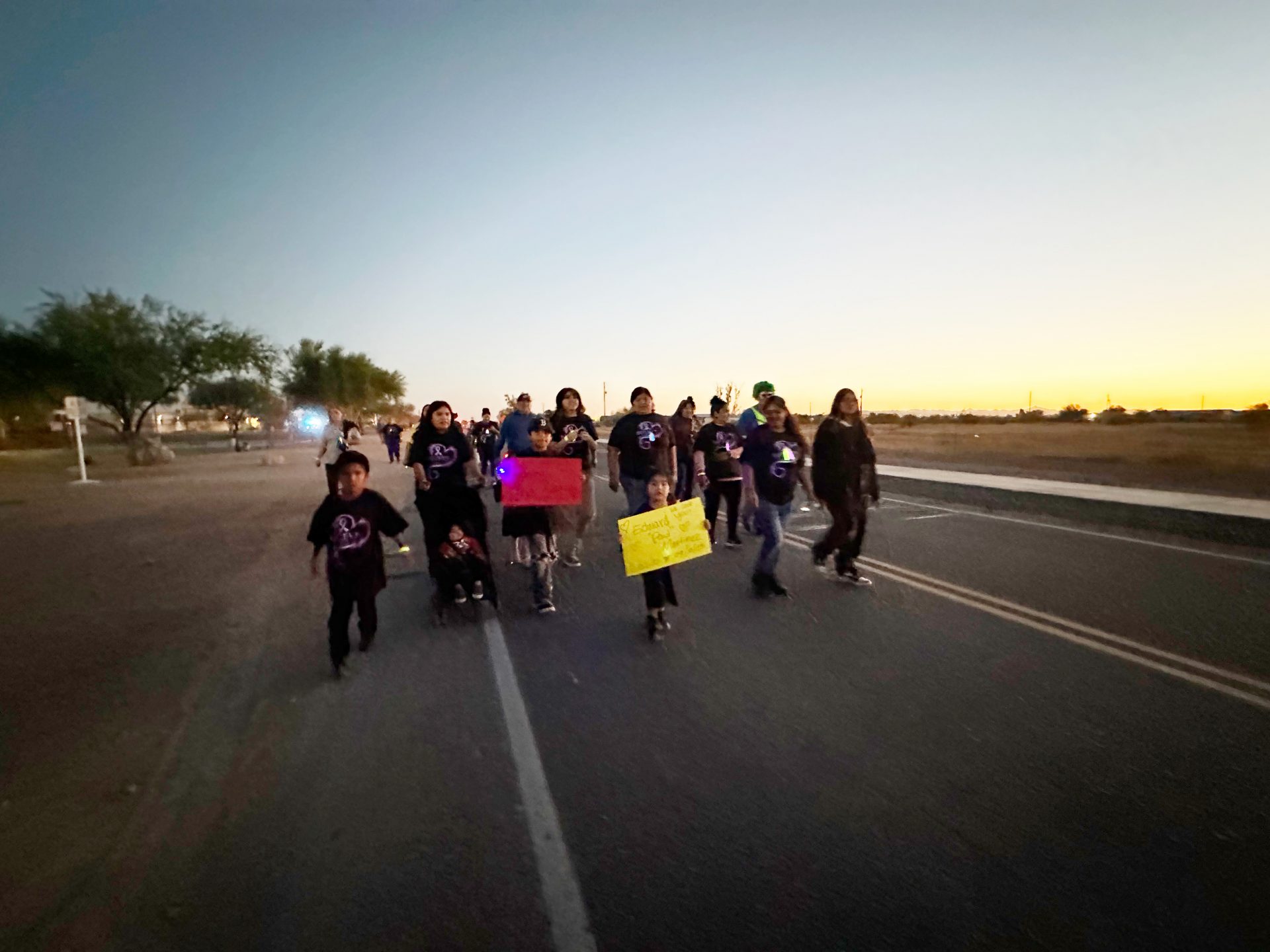 Before the walk, as the sun began to disappear, two Community members stood outside the Salt River Fitness Center with a megaphone and shared their personal experiences with addiction, domestic violence and other forms of abuse.
"I could see that everybody was tuned in," said Community Health Educator Melanie Nosie. "They were courageous to share what they have been through."
Community Health Educator Vurlene Notsinneh-Bowekaty said that the walk originally began as a way to increase awareness of domestic violence and suicide, and there are many reasons why people join the walk.
"Many people participate in the walk because they have family members who have lost loved ones due to suicide," said Notsinneh-Bowekaty. "Women, children and men who are survivors of domestic violence came out to walk as well."
Nosie said that there was a recent suicide in the Community, and one of the family members was present at the walk.
"I can see that the message is getting out there," said Nosie. "More than anything, we want people to be able to use the tools we share, gain strength and hope, and know they're not alone."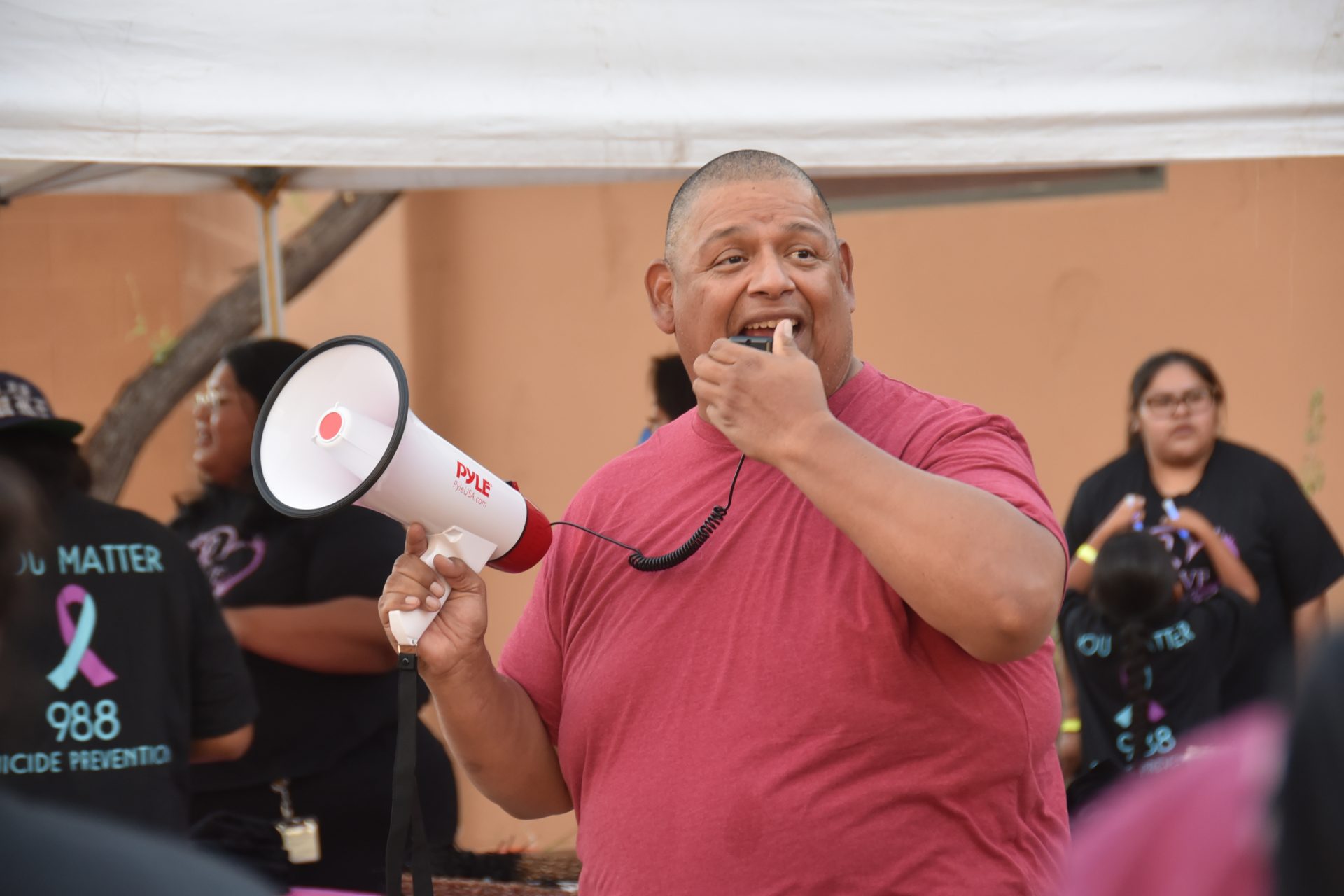 Members of the SRPMIC Royalty led the way as the walk began at 6 p.m. The route took the group of walkers, who were wearing glow sticks and carrying supportive signs, around the Two Waters complex and back to the Fitness Center, where they rested and ate a meal before heading home.
If you or anyone you know is experiencing thoughts of suicide, please refer to these Keepsafe Connection telephone numbers.
Emergency: 911
Suicide Emergency Line: 988 (voice or text)
Salt River Crisis Line: (480) 850-9230
Salt River Behavioral Health: (480) 278-7742
24-Hour Crisis Hotlines:
1-800-273-8255 (nationwide)
1-800-631-1314 or (602) 222-9444 (Maricopa County)
(844) 534-4673 (State of Arizona)
Non-Crisis Warmlines (a "warmline" allows you to speak to a peer):
(602) 347-1100 (Maricopa, Pinal and Gila counties)
(520) 770-9909 (Pima County)
(888) 404-5530 (Northern Arizona)