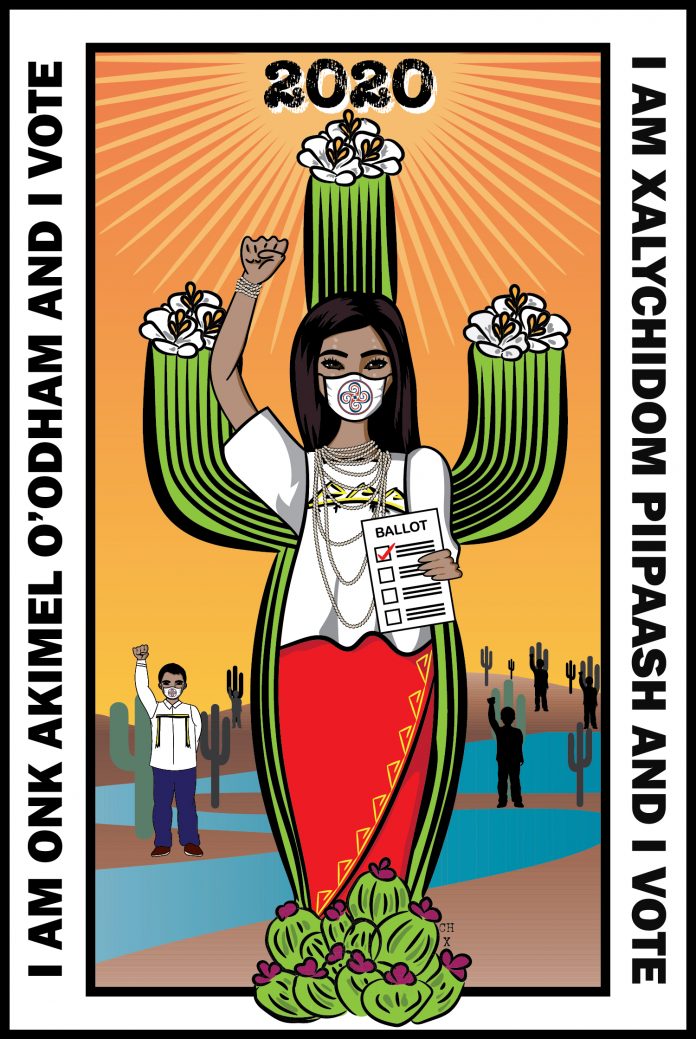 The Salt River Pima-Maricopa Indian Community General Election is now over, with two Salt River District I seats going to Wi-Bwa Grey and A. David Antone, and one Lehi District II seat going to Deanna Scabby.
The Community is now focusing on preparing for the U.S. General Election, which is coming up on Tuesday, November 3. Leading up to Election Day, there are a few deadlines for the Community to be aware of.
• If you want to vote in the General Election, you must register to vote by Monday, October 5. The SRPMIC Office of Congressional and Legislative Affairs (OCLA) is planning an upcoming voter registration drive to help get the word out about the registration deadline.
Due to COVID-19, the SRPMIC is suggesting that individuals in the Community may want to vote by mail this year. Voting by mail means no standing in line at the polls and no possible exposure to the COVID-19 virus. An individual can request a one-time ballot by mail at the following website: my.arizona.vote/Early/ApplicationLogin.aspx.
• Wednesday, October 7 is the first day for counties to deliver the mail-in ballots to voters (and the first day of in-person early voting).
• Friday, October 23 is the last day to request a mail-in ballot or to sign up for the PEVL, or Permanent Early Voting List, which allows a voter to automatically receive a ballot by mail for every election he or she is eligible to vote in. For more information, go to the website for the Arizona Secretary of State at https://azsos.gov/votebymail.
• Tuesday, October 27 is the recommended deadline to mail back your ballot, and OCLA will be reminding the Community as that deadline approaches.
OCLA Intergovernmental Relations PR Project Manager Angela Willeford has a message for the Community: "Our ancestors couldn't vote, but YOU CAN! Vote 2020. For questions, call (480) 845-2370, and please visit www.srpmic-nsn.gov/government/administration/ocla/ to learn more about the candidates in the SRPMIC District and their positions on issues of importance to tribal communities." • The General Election is on Tuesday, November 3. Make a plan for how you intend to cast your ballot. For further information on voting options, visit the Arizona Secretary of State website at https://azsos.gov/elections/voting-election.