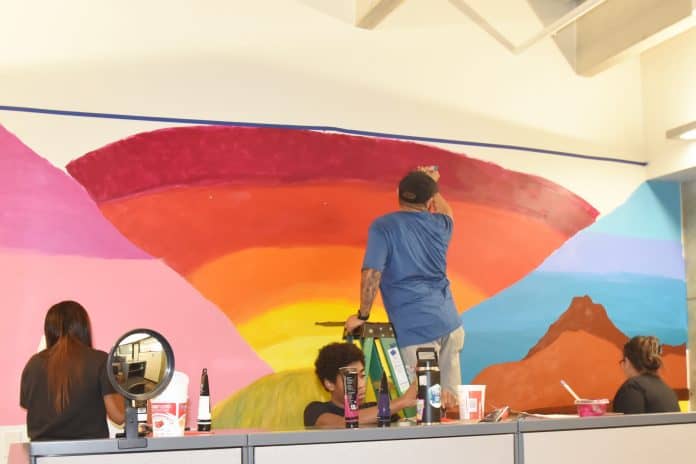 A new mural has been installed at the Salt River Justice Center, inside the Prosecutor's Office.
The mural, which celebrates the O'odham and Piipaash ways of life, was designed by Natasha Martinez, youth development specialist/fine arts coordinator for the Salt River Pima-Maricopa Indian Community's Youth Services, and was painted with the help of the kids from the Youth Services programs from July 24 to August 3.
Featured in the mural is a Piipaash basket design behind Lady Justice, and the mural also includes traditional dancers and singers.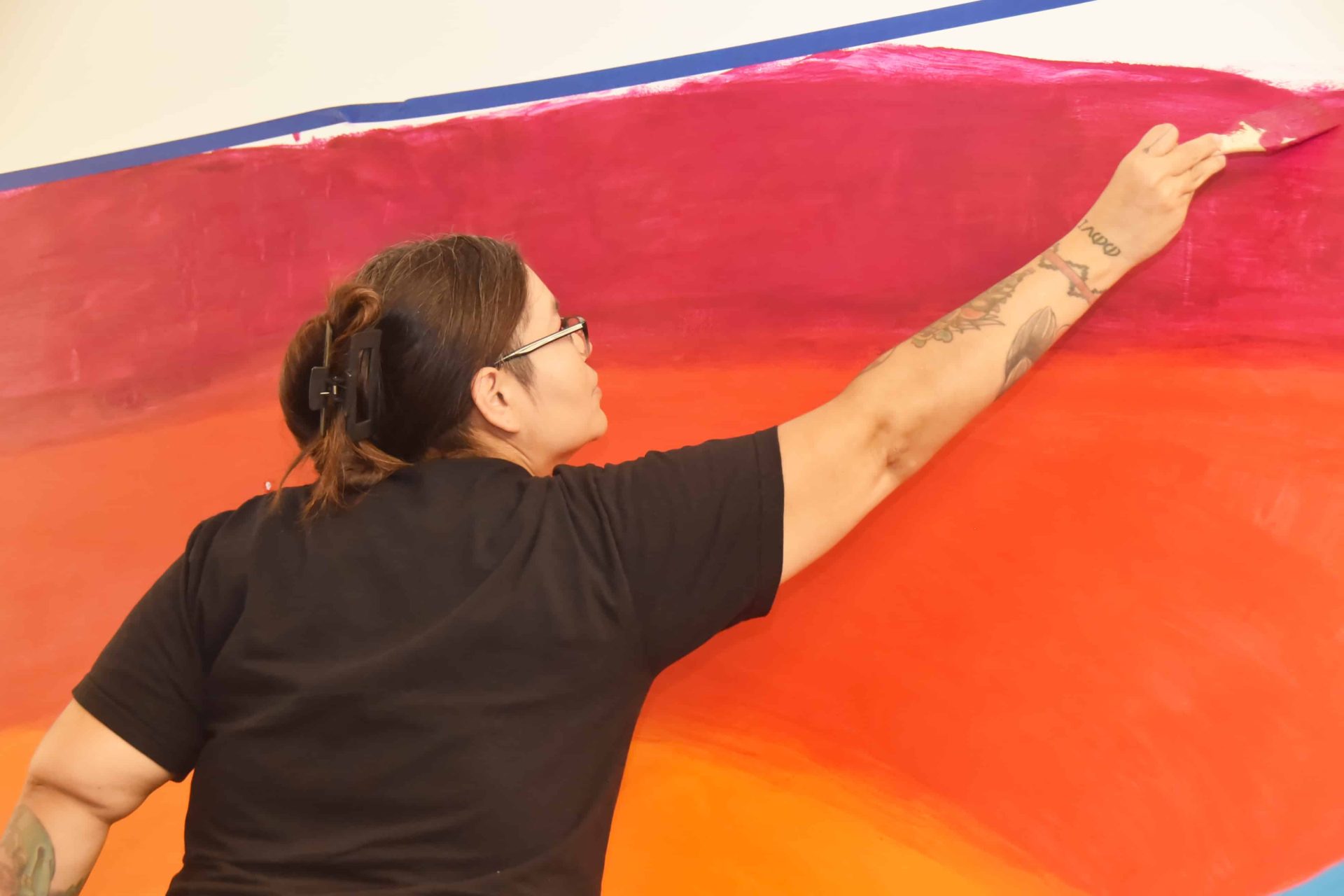 "We included Lady Justice because we are painting this mural in the Justice Center and we wanted to incorporate that into the mural. I wanted the kids also to paint something from their culture and their Community. That's what this whole mural is about: celebrating culture through art," said Martinez.
Martinez hopes that this mural snowballs into more opportunities from different SRPMIC departments for the kids to come in and paint more murals or display art on their walls.
One of those who helped paint the mural was Lilah Benally. "I had a good time painting [today]. I'm glad I got to come," she said.
This is the first mural at the Prosecutor's Office. The Youth Services Teen Program also recently created a mural, which is located on the side of the VA2 Clubhouse.
This is the first time that Martinez has used acrylic paint on a mural. Because of the location of the mural inside a building, and the employees working there during the hours that the mural was being painted, an acrylic paint called Liquitex was used.
Martinez has a fine arts degree from the Institute of American Indian Arts in Santa Fe, New Mexico, and has been painting on walls for a little over 23 years. Her paintings and murals have been on display in galleries, buildings, libraries and museums from Seattle to Boston to Atlanta. She is currently a member of an all-Indigenous aerosol art collective called Neoglyphix.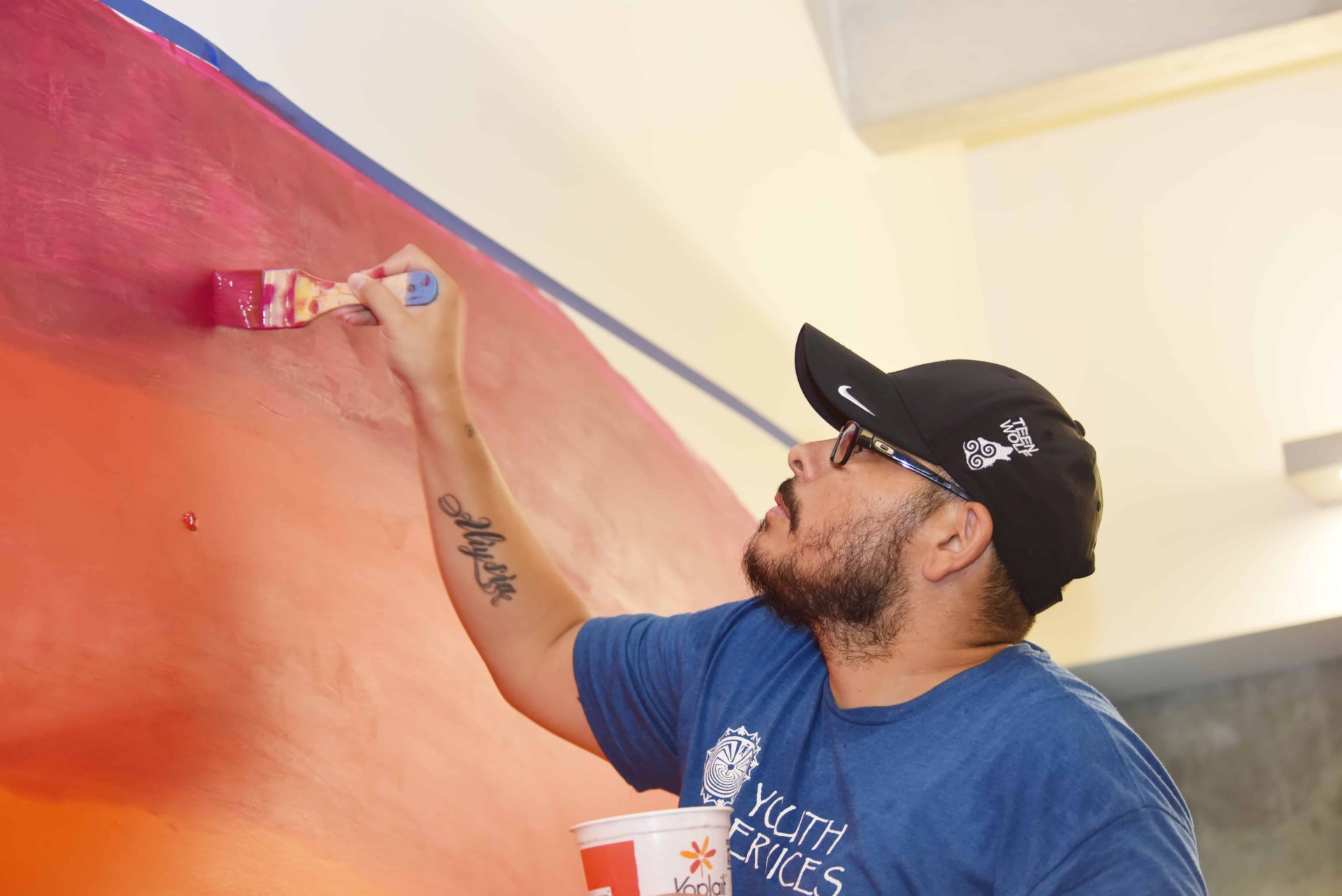 Martinez said that her job allows her to share all of her knowledge and experience with the Community's next generation of artists.
"Through singing, dancing and painting pictures, we are keeping the stories of our ancestors continuing," said Martinez.
"When I was younger, I was always told that there was no money, security or future in art, and that I needed to get a job that provided security. I am hoping that the youth in the Community will feel more supported through opportunities like this to pursue art or anything that they really want to do."