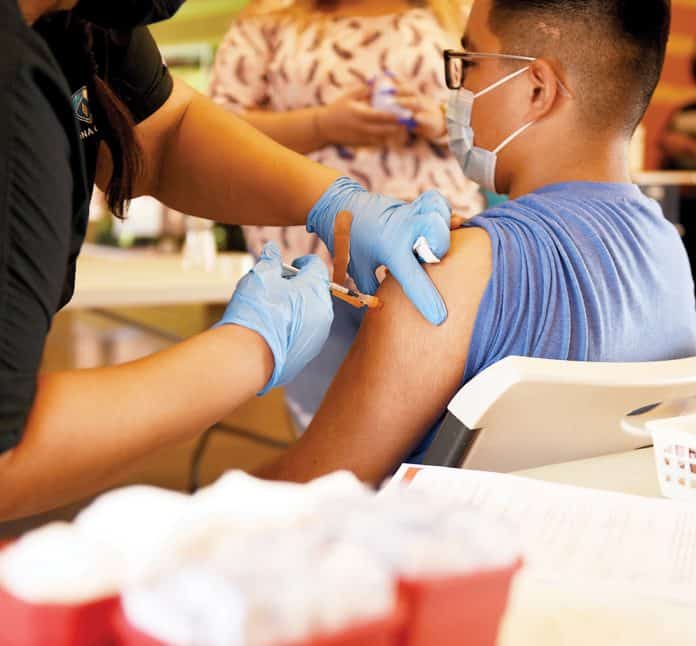 Youth ages 12-18 had the opportunity to get the Pfizer COVID-19 vaccine during a vaccine clinic on Thursday, May 20, in the Salt River High School lobby. Salt River Pima-Maricopa Indian Community youth were given their first dose and will return to get their second dose in three weeks.
"Today we are using the Pfizer vaccine, which is under the emergency youth authorization for youth 12 years and older. It is pretty much the only one available on the U.S. market for the youth," said pharmacist Andrew DeMotto. "We are trying the best we can to get a jump-start on the children in that age range. Our goal is to try to vaccinate as many kids here as possible."
Clinical Services Manager Marianne Bennett explained that there will be future clinics during the summer and that the event only had a limited supply of the vaccine.
SRPMIC member Elayne Lucero brought her triplets in to receive the vaccine to help limit their chances of catching the COVID-19 virus.
"They like playing baseball, and when we go to [baseball] games in the city, [the authorities] are really very [lax about people] wearing masks. My concern is that over the summer it's going to get even more lax," said Lucero. She said she worries about her kids' health, because two of them have asthma. "I want to keep them safe."
For information on future COVID-19 vaccination clinics for youth in the Community, follow the SRPMIC on social media at www.facebook.com/saltriverschools/ and www.instagram.com/saltriverschools/.