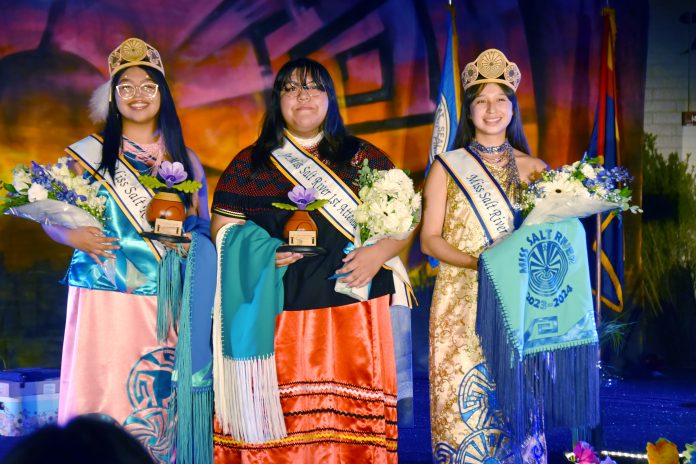 On June 17, the 31st Annual Jr. Miss Salt River Pageant and 35th Annual Miss Salt River Pageant, presented by the Miss Salt River Committee, took place at the Salt River Pi-Copa Gym in front of an audience filled with Salt River Pima-Maricopa Indian Community members, families and royalty from around Indian Country.
The annual pageant is an important tradition for the Community, and the incoming and outgoing royalty were able to see a living example of where that tradition can take them when former Miss Salt River 2017-2018 and now SRPMIC Council member Mikah Carlos gave the welcome speech.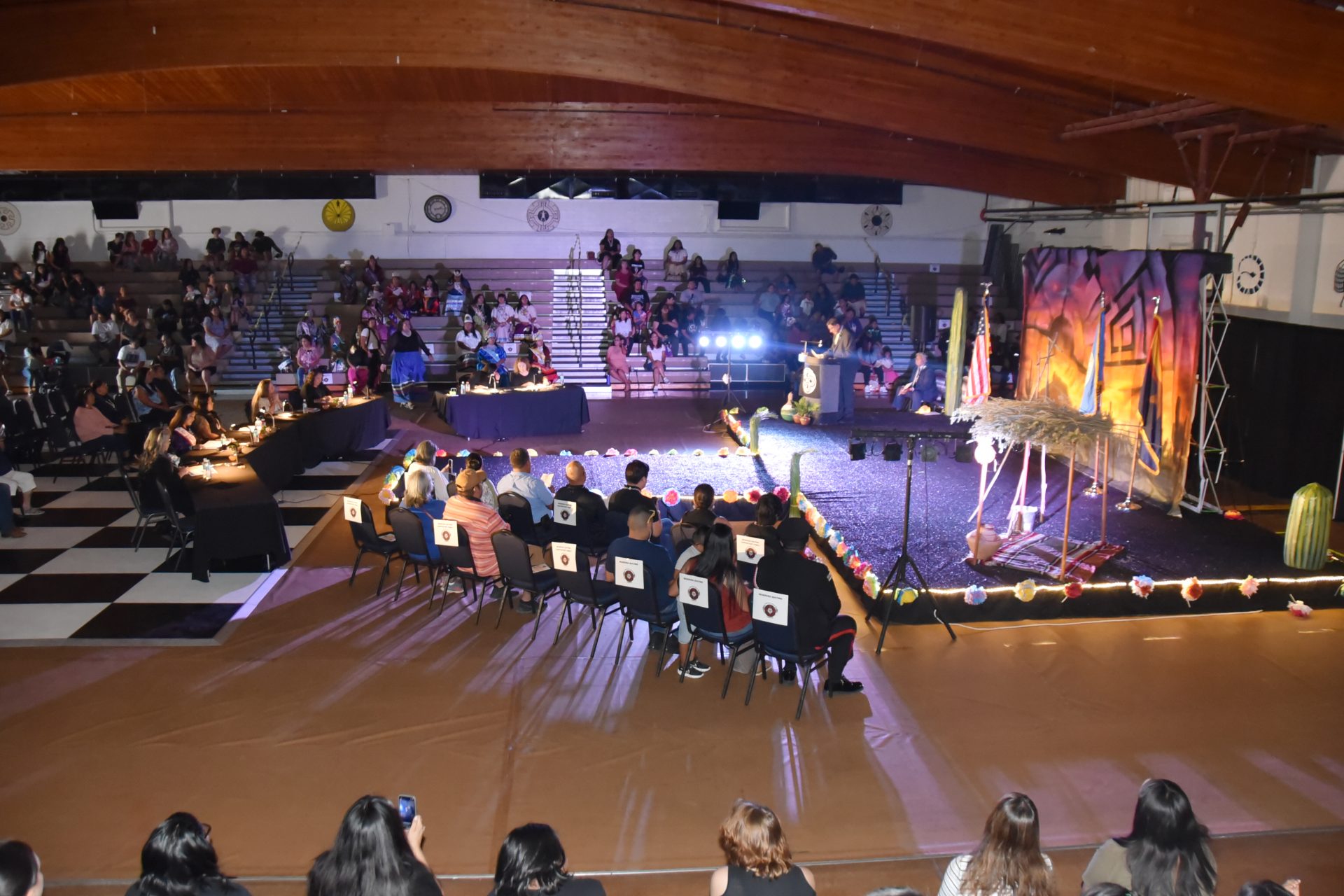 "[The pageant] is [presented] to show that we are still continuing to practice our culture," Carlos told the audience. "We have young women who are goodwill ambassadors going out to other communities and showing the language, culture, dances and traditions that are being practiced here at Salt River. We do acknowledge that we're still here and we're still thriving, and I think there's no better example of that than the Miss Salt River Pageant."
Miss Salt River and members of the court also have the opportunity to further develop their leadership and communication skills as they meet with representatives of the U.S. government and talk about what's important to them and the Community.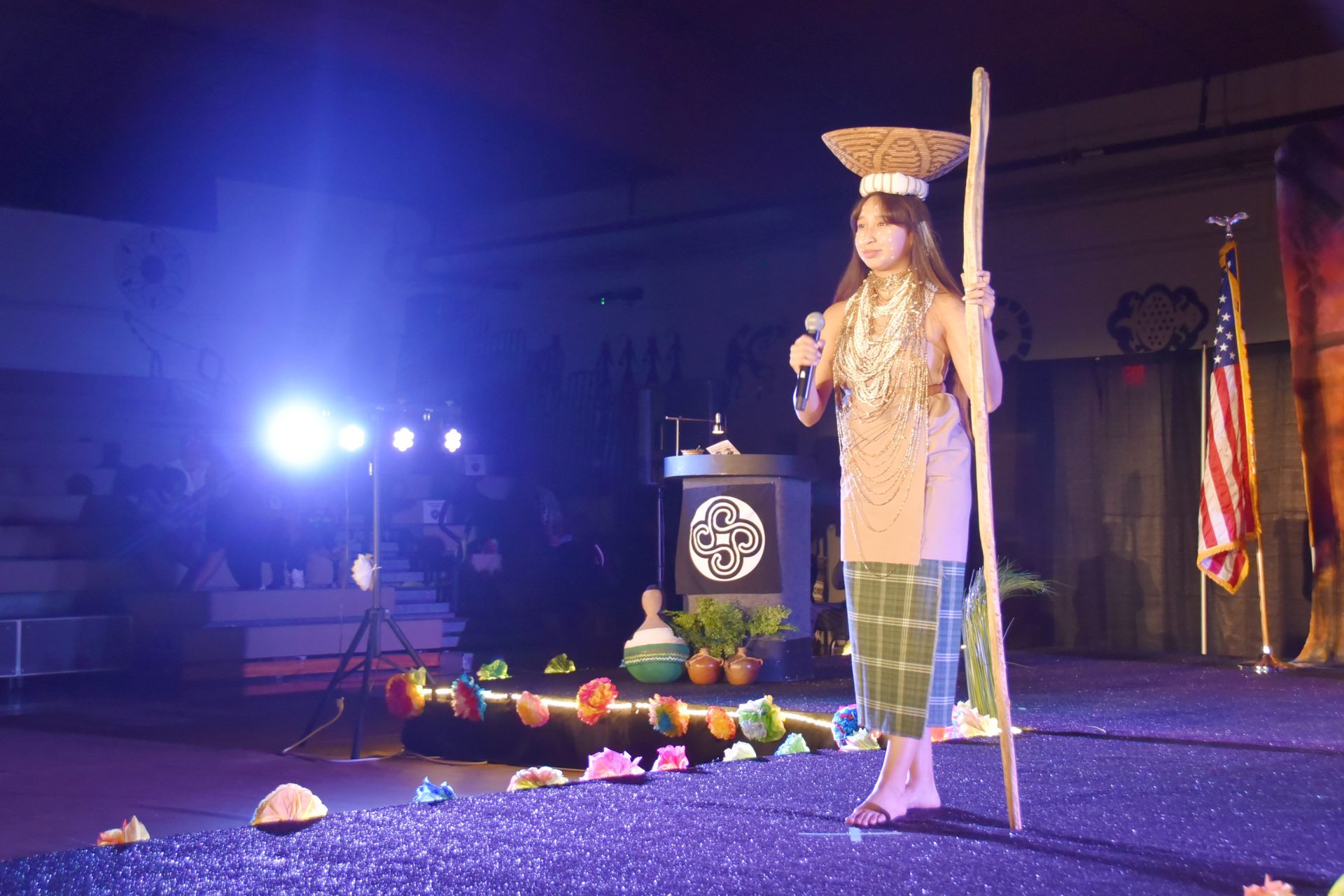 The masters of ceremony for the event were SRPMIC Tribal Historic Preservation Officer Shane Anton and Jacob Moore, Associate Vice President of Tribal Relations in the Office of Government and Community Engagement at Arizona State University.
To open the pageant, the Salt River Fire Department Honor Guard posted the colors. Miss Salt River First Attendant 2022-2023 Kendra Percy sang the National Anthem, and Eva Bighorse and ECEC students provided the entertainment.
Outgoing Junior Miss Salt River 2022-2023 Tirsa Reina, Jr. gave the invocation, and Miss Salt River 2022-2023 Nani Reina gave the opening remarks.
The theme for the pageant this year was "Becoming Empowered O'odham and Piipaash Women For Our Community."
The Junior Miss Salt River contestants for 2023-2024 were Jizelle Juan and Patricia Woody, and the lone Miss Salt River contestant was Kennise McGertt, who was unanimously crowned Miss Salt River 2023-2024.
All participants performed modern talent presentations, showcased their traditional dress and shared an essay on their interpretation of the pageant theme.
McGertt's modern talent presentation was a dance to a song about the white gardenia flower. Juan performed a basket dance called "What Kind of Flower," and Woody showcased her artwork that she made in 2021 from her honors art class, using traditional water designs inspired by a Japanese pop artist.
After tabulating the scores, the judges named Jizelle Juan Junior Miss Salt River 2023-2024, and Patricia Woody Junior Miss Salt River First Attendant 2023-2024.