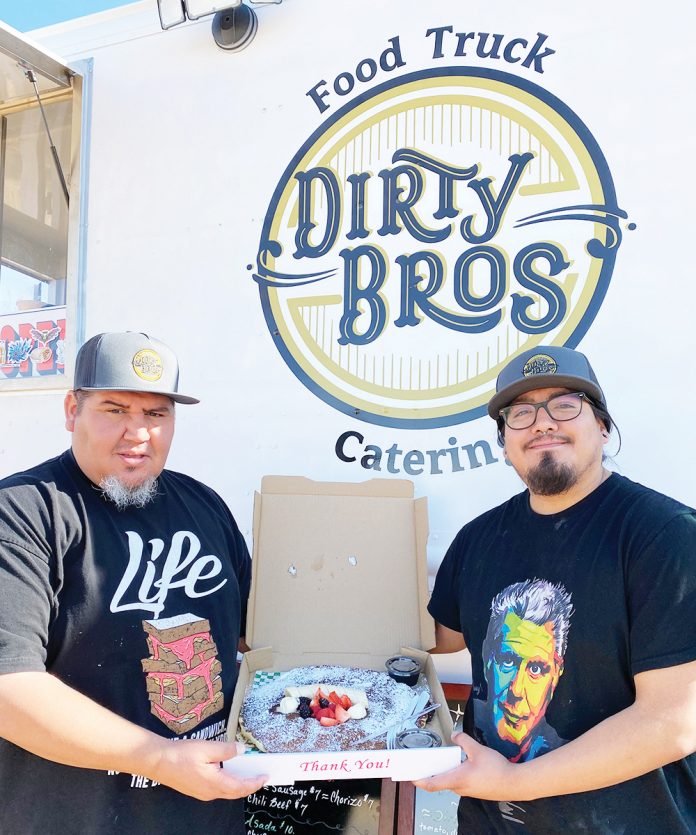 Brothers Kenneth and Joseph Young had been playing around with the idea of having their own food truck, and before the COVID-19 pandemic hit, they were on track to making their dream come true. They had picked out their truck and designed a layout to accommodate their needs in the kitchen. But just before they locked down the deal, the pandemic closed the business that would help make their food-truck dreams a reality.
Time went by, and luckily the brothers were able to continue to make progress on their business. They finally bought a truck and had it remodeled to fit their needs. They opened for business under the name Dirty Bros and parked their truck on their family land, located on 92nd Street between Oak Street and McDowell Road.
The breakfast menu offers breakfast burritos and jumbo sweet cream pancakes that are the size of a medium pizza. The lunch menu offers tempura-battered chicken fingers, the "Dirty Burger," "Hot Dirty Chicken," chicken or carne taco salad, and carne asada fries. Prices range from $7 to $10.
"I've worked in kitchens for the last 20 years, and Joseph started showing interest in culinary school and started working in some kitchens as well," said Kenneth Young. "When I was 19 or 20, I didn't know what I wanted to do, [be] an architect or [attend] culinary school. I picked culinary school because I thought it was going to be easy; it wasn't. I didn't know anything about cooking, but that was a challenge and that kept me inspired to keep going and graduate. I was proud of that. My career took off from there. I got lucky with a couple of the places I got to work, one being Arizona Catering."
Kenneth provided catering services for Arizona sports teams including the Arizona Cardinals, for Super Bowl events, and for green rooms for various entertainers. Eventually he moved on to learn about fine dining, working at Casino Arizona for 10 years.
Joseph was mesmerized by how his older brother would cook for their family functions, which inspired him to follow in Kenneth's footsteps and go to work for Arizona Catering.
"I was just the little kid that came up and stole something off the cutting board or watched him cut and cook," said Joseph. "In every kitchen that I've gone to where he's been, I have been welcomed with open arms by people who were helping and teaching me as well."
When the brothers started serving their food, there was a lot of good feedback from their family, friends and customers on social media. Joseph said he is happy that people are loving the food and proud because he made it.
"Our hope is to have everyone like our food, but when we are creating [something new], such as our homemade pickles that we use for our sandwiches, we don't know what the response will be," said Kenneth. "Essentially we're re-creating foods the way we want them to be. For example, take the Popeye's chicken sandwich. It was a huge deal and everyone loved it, so we thought, 'Let's do something similar but with our twist to it.' "
In the future, Dirty Bros hopes to change up their menu to incorporate a variety of foods to give their customers a taste of everything without having to go off the Salt River Pima-Maricopa Indian Community. They have been asked to cater for some events, but they are currently sticking with the food truck. They would like to do catering in the future.
"Our main goal is to build [on our land] an actual place people can come to. We want to build seating areas, such as under a vatho, and be able to share our culture," said Kenneth. "We want to start a Dessert Night on Saturday nights, once the Community curfew is lifted. Our biggest goal is to build up to a fine-dining restaurant where we can incorporate traditional foods using the plants and other edible foods around us."
For more information and updates, follow Dirty Bros on Instagram at dirtybros_foodtruck or Facebook at DirtyBrosCatering. You can find the Dirty Bros food truck at 2135 N. 92nd St. in Scottsdale.