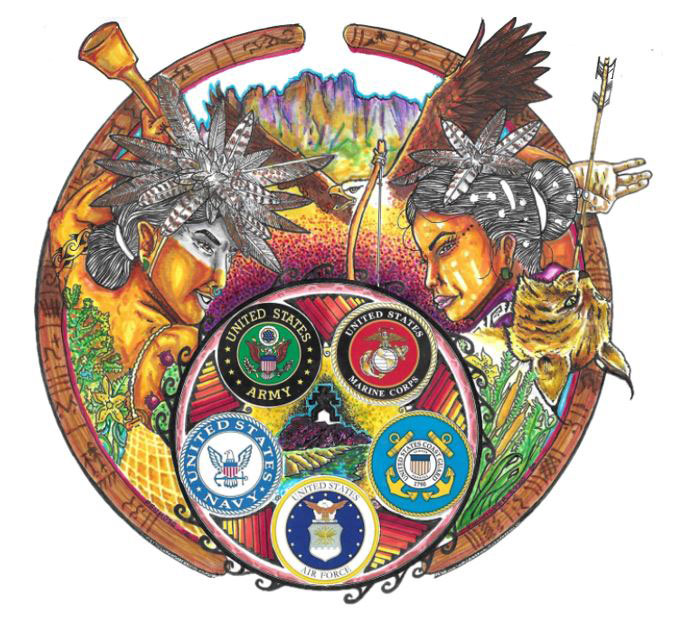 The Salt River Pima-Maricopa Indian Community Veterans Representative Office started the new year off with a brand-new January issue of its monthly SRPMIC Veterans Newsletter, which provides some essential information for Community veterans.
In the January issue, SRPMIC Veterans Representative Amanda White talks about what's in store for 2022 after two long years of the COVID-19 pandemic.
"The New Year presents an opportunity for positive outcomes and new beginnings for us all, especially for the SRPMIC Veterans Program," said White. "It's hard to tell if and when there will be an 'end' date to COVID, but there's never a wrong time to start planning honoring events for our veterans with positivity."
Within the newsletter, the office gives advice on obtaining copies of a veteran's DD-214 form (Report of Separation). All requests to obtain a copy of the form from discharges that took place less than 62 years ago must be signed and dated by the veteran or next of kin.
If you are the next of kin of a deceased veteran, you must provide proof of death of the veteran with a death certificate, a letter from a funeral home or a published obituary.
To apply online for the form, visit www.vetrecs.archives.gov. You can also make an appointment with the Veterans Representative Office by emailing VeteranServices@SRPMIC-nsn.gov or by calling the Veterans Assistance Line at (480) 362-7884.
The newsletter also mentions that the Department of Veterans Affairs furnishes, upon request and at no charge to the applicant, a government headstone or marker for the unmarked grave of any eligible deceased veteran in any of the three designated cemeteries in the Community.
If a veteran or a family member of a veteran wishes to receive this benefit, visit the National Cemetery Administration's website at www.va.gov/vaforms/va/pdf/va40-1330.pdf to download the VA Form 40-1330. Send the completed application, along with proof of the DD-214 form, via fax to 1-800-455-7143 or by mail to:
Memorial Programs Service (41B)
Department of Veterans Affairs
5109 Russell Road
Quantico, VA 22134-3903
Korean War veterans who served in the Korean War may be eligible for the Korean Ambassador for Peace Medal. This commemorative medal is an expression of appreciation from the Korean government to United States service men and women who served in the Korean War.
To be eligible, the veterans must have served during the Korean War from June 25, 1950 to July 27, 1952. For more information, visit https://kwva.us/?page=info_peace_medal.
For future news and events dates from the Veterans Representative Office, such as upcoming meetings involving veteran cemetery section planning and reviews and a ceremony unveiling Purple Heart signage in the Community in February, visit www.srpmic-nsn.gov/community/veterans or follow the office on social media: @saltriver_veterans1879 on Instagram, @srpmicvets on Facebook and @MicSrp on Twitter.