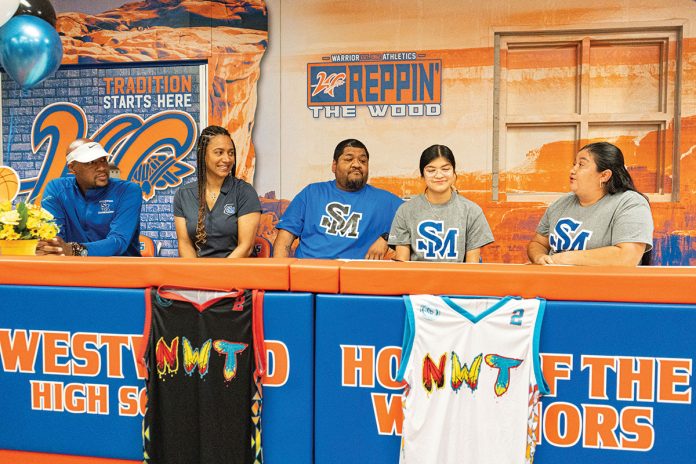 On Monday, April 25, in front of a room full of her family, friends, coaches, teammates and supporters, Westwood High School senior Nyese Jones signed her letter of intent to continue her basketball career on the collegiate level at South Mountain Community College.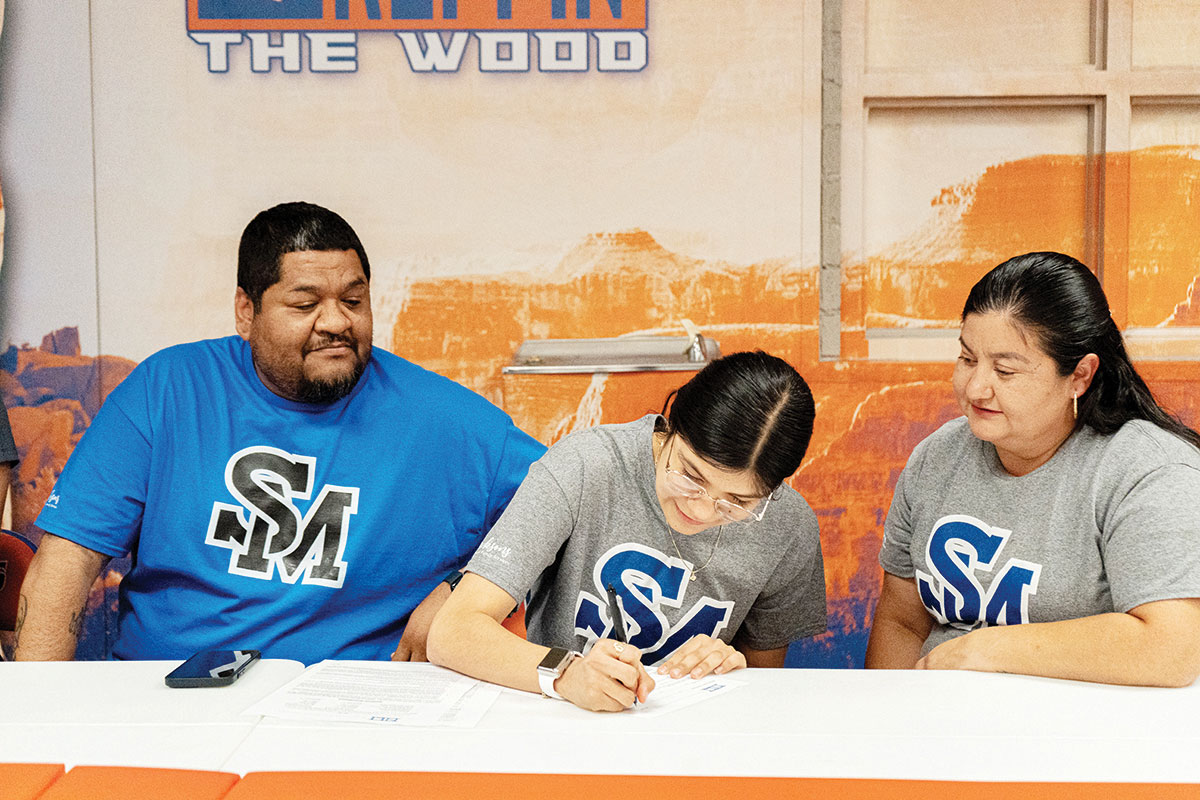 Jones has been on the Lady Warriors varsity basketball team since she was a freshman and leaves some big shoes to fill. As she leaves Westwood, she is the all-time program leader in points, assists and steals, and she scored more than 1,000 points in her high school basketball career.
Before signing her letter of intent, Jones was recognized by her parents and coaches for her hard work and dedication to the game.
"To see Ny going from a little scrawny … kid who was always following Day (her sister Daycee Achin) and some of the older girls around to [growing] and being unbelievably selfless this year set an example for a lot of the girls in this program," said Westwood High School basketball coach Ron Campton. "But more than anything, it's just been … great to see everyone come together around someone who is unbelievably special and talented."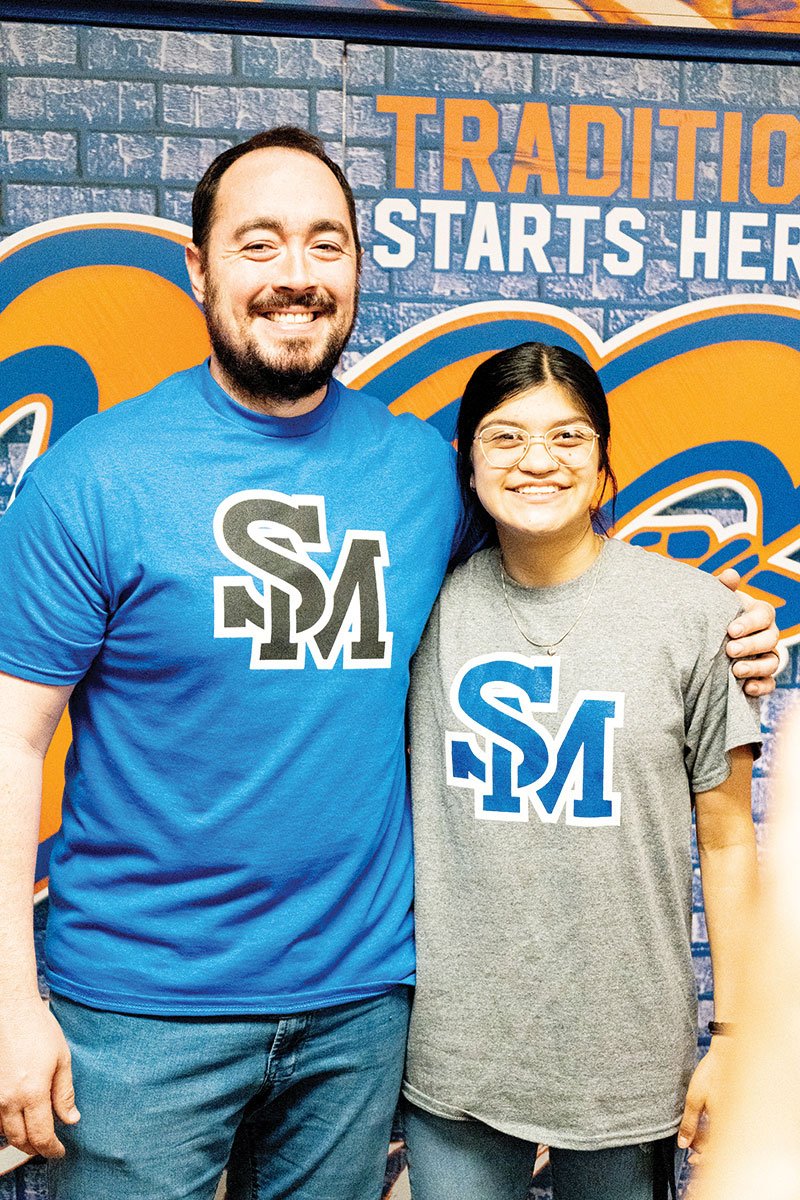 Westwood High School girls assistant basketball coach Casey Sanderson expressed his gratitude to Jones and her older sister Daycee Achin for their impact on the team and bringing the love of basketball back into his life.
"[W]atching Ny grow up as a player made the game fun again," said Sanderson. "I fell in love with the game again. … [I]t has to do with the support from the parents …[and the] great coaches we had. It became a big bond; it was a family thing and I wouldn't give it up for anything in the world."
Jones's parents, JJ Jones and Sarah Achin, thanked everyone for their support of their daughter. Achin explained that Jones struggled with the decision to play college ball out of state, but everything fell into place.
"We're excited for her. She doesn't know how much light she brings to that court," said Achin. "And one thing I ask of her is to just shoot the dang ball!"
JJ Jones said he always knew Nyese was going to be something special. He recalled how … he would push her to play harder and how she convinced him to start a club team, Natives with Talent (NWT), for her and her friends to play on.
"It's been a ride, and it's gone by so quick. I remember her watching varsity basketball players and just wishing she could play, and from that moment on I knew she was going to go places," said JJ Jones. "It just makes me proud, and I tell her every day."
South Mountain women's basketball head coach Byron Jackson and assistant coach Meisha Fox look forward to Jones bringing her aggressiveness and leadership to the team.
"We're absolutely excited to have Nyese [on the team]; she definitely fits into what we want. She just loves the game," said Fox. "She loves playing, and you can see it on the floor. She … is such a great teammate; she really wants her team to win. She just checks all the boxes … and I am happy to have her at South Mountain."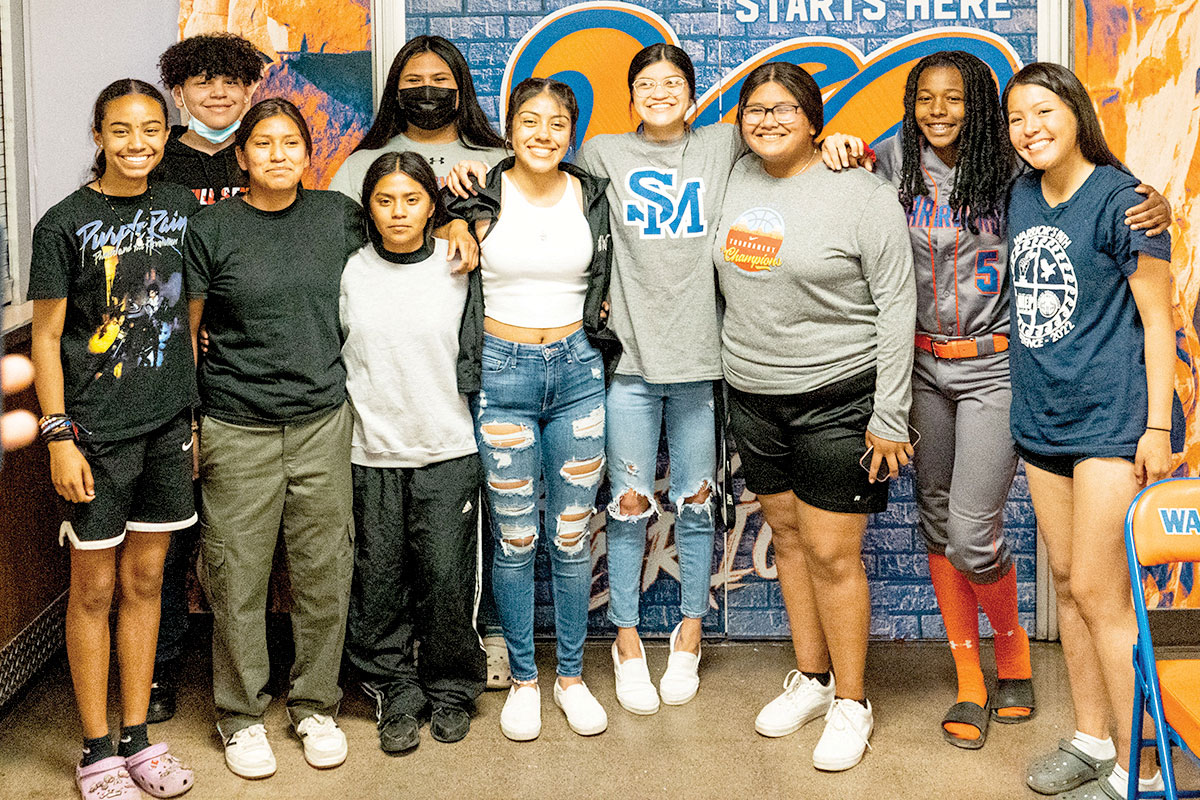 Jones thanked everyone for being there to support her and said she considers them all to be her family.
"I really appreciate each and every one of you because you all push me to be myself. And to all my coaches—Ron, Casey, my Dad, my uncle—you guys really mean a lot to me. I look up to each and every one of you guys," said Jones. "I do this for my passion—I love the game and I hope I make everyone proud as I continue to play basketball."
For information on the South Mountain women's basketball team, visit https://athletics.southmountaincc.edu/sports/wbkb/index.