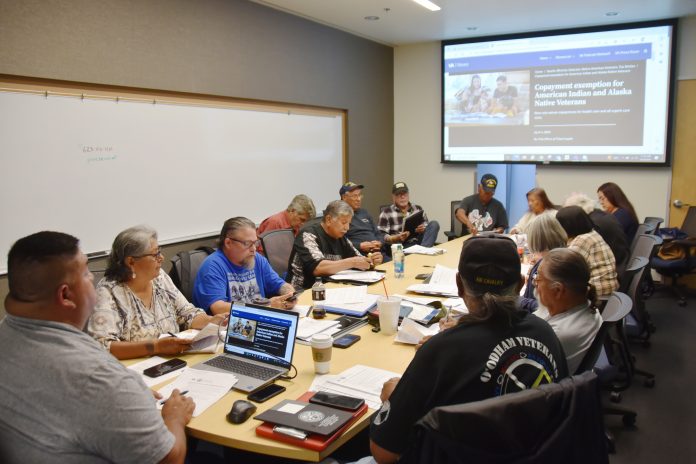 Beginning on April 4, eligible American Indian and Alaska Native veterans no longer have to pay a copay for U.S. Department of Veterans Affairs healthcare services and urgent care.
Eligible veterans will still be responsible for copays for domiciliary care, institutional respite care, institutional geriatric evaluation, and nursing home care.
If you're eligible for these copay waivers, you won't be billed for copays for future hospital care and certain other healthcare services, such as outpatient prescription medicines and urgent care visits.
Any copays paid for covered services on or after January 5, 2022, will be reviewed, and eligible copays will be retroactively reimbursed.
The new policy implements Section 3002 of the Johnny Isakson and David P. Roe, M.D. Veterans Health Care and Benefits Improvement Act of 2020, which was signed into law on January 5, 2021, and took effect on January 5, 2022.
The VA recognized Native veterans by saying that for more than 200 years, American Indian and Alaska Native veterans have played a vital role in the defense of the United States as members of the military.
"The U.S. government has a unique responsibility to maintain trust and provide healthcare services to American Indians and Alaska Natives. Recent legislation extended the responsibility of providing care to American Indian and Alaska Native veterans to the Department of Veterans Affairs," the VA said in a statement.
Veterans will need to submit a completed Tribal Documentation Form (VA Form 10-334), which is available online at https://www.va.gov/vaforms/medical/pdf/VA%20Form%2010-334%20Tribal%20Documentation%20Form.pdf.
The completed VA form must be accompanied by a copy (not an original document) of the veteran' supporting tribal affiliation documentation, which may include a tribal enrollment membership ID card, tribal census documentation, certificate of Indian blood issued by the Bureau of Indian Affairs, or documentation issued by a tribe on official letterhead indicating individual affiliation.
Salt River Pima-Maricopa Indian Community Veterans Representative Troy Truax Jr. said that eligible veterans have until August 10 to file for the reimbursement.
"Our courageous American Indian and Alaska Native veterans deserve access to top-notch healthcare, and I have been working hard to inform our SRPMIC veterans about this new policy," added SRPMIC Veterans Representative Amanda White.
"I am pleased to see that the VA is now making care more affordable and accessible for our warriors, and I look forward to assisting them with the necessary documentation to qualify for copayment exemption and potentially receive better treatment at [the VA] than what is typically offered through [the Indian Health Service]."
If you have any questions or want to learn more about the copay waivers, contact the SRPMIC Veterans Services Office at (480) 362-7884 or veteranservices@SRPMIC-nsn.gov.