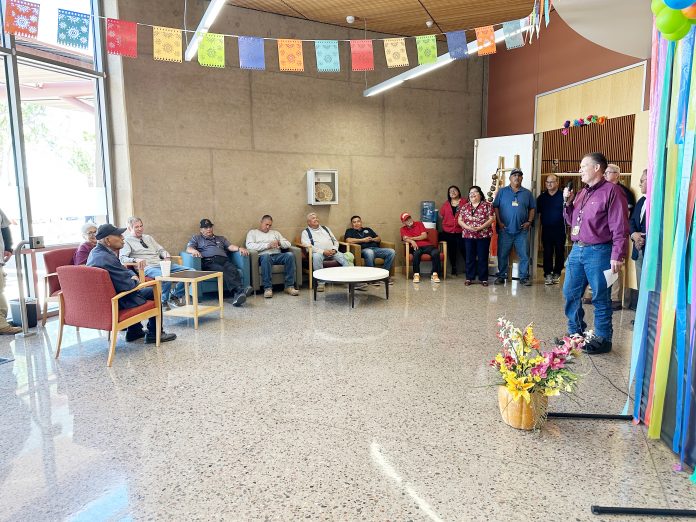 On May 5, Herschel Andrews ended his service to the Salt River Pima-Maricopa Indian Community with a Cinco de Mayo-themed retirement recognition and celebration at the SRPMIC Council Chambers.
For the last 10 years, Andrews has been manager of the Senior Home Repair or Replacement Program (SHRRP). From 2002 to 2012 he fulfilled many roles in the Engineering & Construction Services (ECS) and Administrative Services departments.
Before that, Andrews was a Tribal Council member from 1967 to 1969, in 1974, and from 1988 to 1992. He also served the Community as vice-president from 1969 to 1970 and from 1974 to 1979, and then as president from 1979 to 1982.
SRPMIC Council member David Antone moderated the event, which was attended by many of Andrews' colleagues and family members, as well as current and former SRPMIC leaders, including former presidents Paul Smith and Delbert Ray Sr.
"When you look at a person, and you look at their longevity and what they did for this Community, you have to look [at Andrews] as a leader," said Antone. "That's why he was elected all those times; he's a leader. I want to acknowledge that Herschel did his best. Herschel, congratulations on your retirement."
Andrews' service has meant a lot to many Community members, including Assistant Community Manager Doran Dalton, who was at the event.
"I walk by and I see Herschel every day; not the Herschel you guys see here today, but a [younger] Herschel Andrews who has his picture on the wall on the third floor, along with all the rest of the former presidents," said Dalton.
"When I first came into this leadership role about a year and a half ago, I would stop and look at all those former presidents and wonder what their visions and goals were for the Community," Dalton continued. "I look into their eyes and I wonder what problems they were facing and how they thought through things to help better our Community."
SHRRP Committee member and Assistant Operations Manager Rito Lopez told everyone at the event that Andrews always led by example.
"He was here every day and worked hard," said Lopez. "I'm sure a lot of seniors appreciate all the work he has done. The program that he has helped form and guide has helped hundreds, if not thousands, of people here in the Community, so [Herschel], we really appreciate you. On behalf of the Committee, we want to say thank you for everything that you have done."
SRPMIC President Martin Harvier and ECS Director Scott Thigpen also spoke at the celebration. Andrews received a plaque and a special Pendleton blanket in acknowledgement of his service.
At the end of the ceremony, Andrews, Harvier, Smith and Ray gathered in the Council Chambers for a photograph of the current and former presidents.
"People are asking me what I'm going to do now. The first thing that comes to my mind is I'll be able to do more with my church group," said Andrews. "The other thing is, [Delbert Ray Sr.] started a group for people who have lost their loved ones. So, I started going there. I want to thank all of you for being here [for my retirement]."