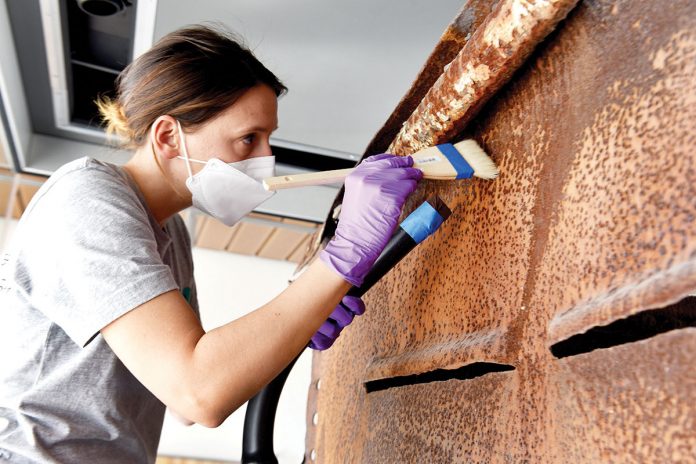 The USS Arizona Memorial Relic has been located in the Salt River Pima-Maricopa Indian Community at the USS Arizona Memorial Gardens since 2019, after it was gifted to the Community. The boathouse relic was part of the USS Arizona, the battleship that was destroyed and sunk in the Pearl Harbor attack in December 1941.
The boathouse was part of the Pearl Harbor Memorial display in Honolulu, Hawaii, still sticking out above the water until the 1950s, when it was deemed unsafe and removed from the ship. The boathouse was placed on a plot of land in Hawaii and basically forgotten about for 60-plus years, subjected to the humidity, rain and sun in Hawaii. When the Navy Seabees found the boathouse, there was a large tree growing through it. Workers removed it and shipped it over to the mainland, where it arrived corroded, rusted and with large holes.
Discover Salt River felt that it would be good for the relic to be assessed and reviewed by a conservator, so they called RLA Conservation of Art & Architecture of Los Angeles, California, to do the job.
"We from the Community perspective never had it assessed, [and] we wanted to be sure that it is being taken care of and we're doing everything we can. It is outside our knowledge, so we hired a conservator," said Maureen Aldrich of Salt River Tourism.
Sonia Jerez Fraj, assistant conservator of objects and sculpture for RLA Conservation, came to the Community assess the piece and determine how to preserve the boathouse. She explained that she will look at the main factors that are affecting the piece, and if anything is causing damage she will intervene so the boathouse can enjoy a longer life span.
"The piece already has all these areas that are fragile and sensitive, so we are basically looking at the stabilities of these areas and seeing if we can do something to address it or just maintain it and keep in this state for a longer period of time," said Fraj. "Right now, what we are doing is basically the maintenance of the artifact, eliminating any sort of dust, carefully cleaning the surface and [assessing areas] that might need special care in the future."
Fraj took an archeological approach, using light brushes and a vacuum for cleaning and a small wooden stick to remove insect nests. She works on the surface very lightly with these tools so she doesn't contribute to further corrosion.
"We hope to work with [RLA Conservation] every year so we're always [performing] maintenance and … taking care of it appropriately so it will be here for many years to come," said Aldrich.