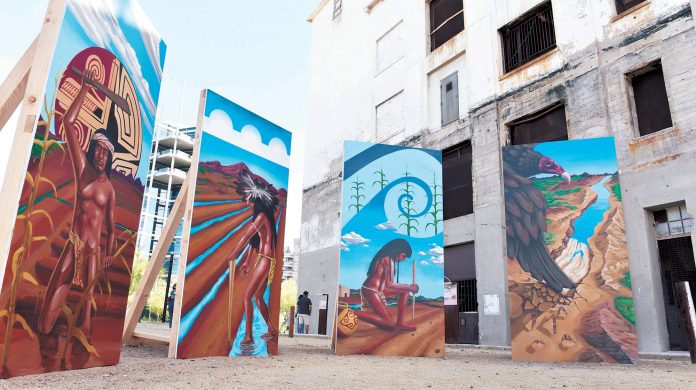 Back in November, three O'odham artists took the stage at the Arizona Community Foundation's third annual Water Sustainability Contest Finalist Showcase and Award Ceremony. They were one of five teams that were selected to develop a temporary public art project that illustrated the resourcefulness of the Huhugam people in the metro Phoenix area. The team goes by the name "The Continuum" Su:dagi Haichu Agga (Water Story) and consists of Dwayne Manuel (Salt River), Jacob Butler (Salt River) and Thomas "Breeze" Marcus (Tohono O'odham).
The Continuum recently completed their temporary public art project and held an unveiling on Saturday, March 30, at the Hayden Flour Mill in Tempe. Friends, family and Salt River Pima-Maricopa Indian Community representatives such as the Miss Salt River court came to see the new artwork that represents the Akimel O'odham ancestors. The group completed four panels featuring murals showing the Huhugam planting in fields, using water from their canal systems to nourish their crops, and a bird's-eye view of the Huhugam canal systems. There was also a glass display of the shell etching work and digging sticks used for planting seeds.
"The project was about water in the Valley and [it's importance to] the history of the Valley. A lot of the references were about the Huhugam, who are our ancestors," said Marcus about why they chose to take on this challenge. "It was only fitting that we created this team telling the history of water in the Valley and what it means to be where we are from, because it is something that is near and dear to us."
"It's an honor to put out work in the city of Tempe," explained Manuel, "because a lot of times the indigenous culture or ancestral people that live there are always overlooked and never even thought about.
"With the Huhugam being the theme, we jumped on the opportunity to represent for our people and where we come from. It was really moving when we talked about this project and how powerful it was. It took a lot out of us and a lot of dedication because we wanted to do it right and do it our way. … [h]aving this here and showing everyone who walks through Mill Avenue that the people are still here."
Manuel explained that there was an old Huhugam canal running right along the area where the art is displayed, along with an old ancestral village on the other side of "A" Mountain. The Salt River team felt the area was a perfect place to have their work displayed.
The Continuum's artwork will be up for a limited time. If you would like to check it out, it is located at 119 S. Mill Ave. in Tempe (southeast corner of Rio Salado and Mill Avenue, just below the Hayden Flour Mill).