Boys' Basketball
Joseph Chavez is playing his first season at Saguaro High School on the freshman team. He previously played at Mohave Middle School in Scottsdale and with various basketball leagues around the Valley.
Chavez and the freshman team beat the Coronado Dons on Monday, January 9.
"It's good. The [team] chemistry was great. We had one kid dunk, which got everyone excited," said Chavez. "We only lost two games out of eight."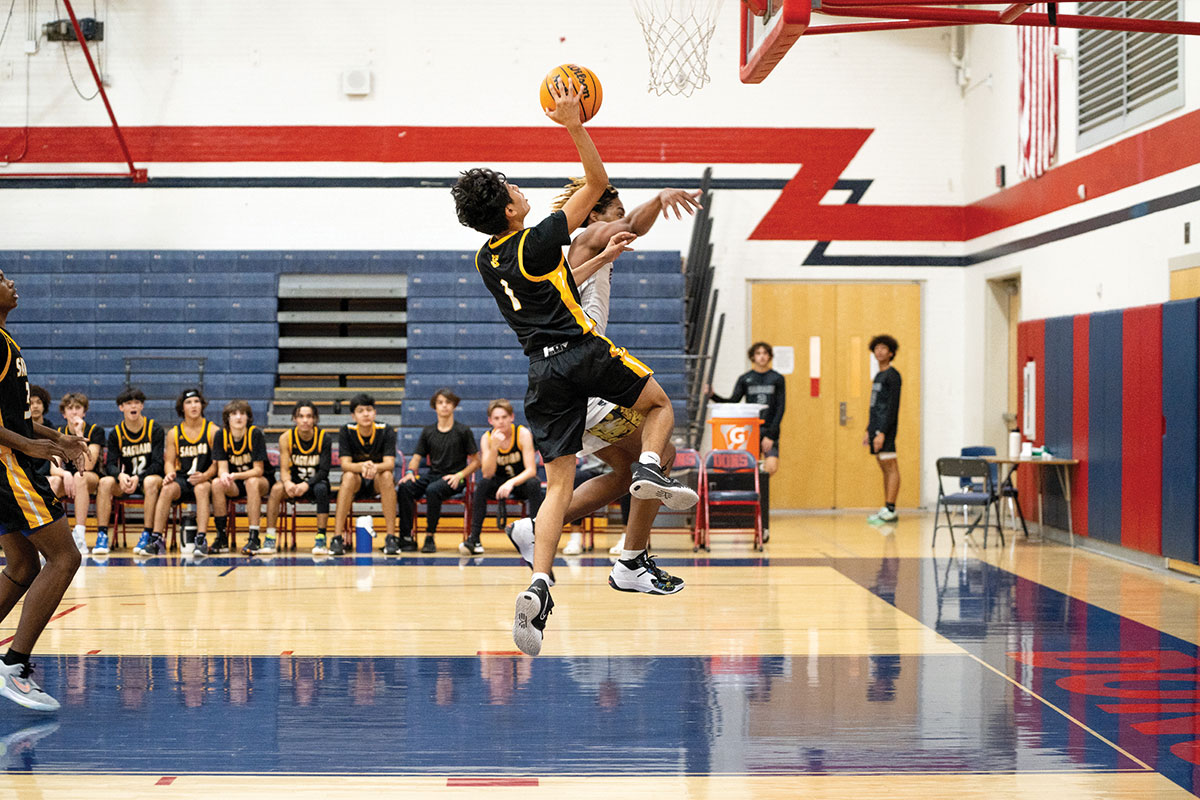 He said that he hopes the team can chalk up more wins as the season comes to a close and that they all have a good time. He hopes to move his way up to the varsity team as he continues his next three years in high school.
Sophomore O'Shea Bonner is in his second year playing with the team. Last year Bonner played on the freshman and junior varsity teams; this year he is the shooting guard and point guard for the varsity team.
This year Bonner said he has improved his dribbling, shooting, passing and communication on the court.
"I think I got better at my dribbling. My shooting is getting better; I am not shooting a lot, but once I shoot it, I feel like it's good," Bonner said. "My lay-ups are good and my passing is getting a lot better, and just me communicating and being on the team is really good now," said Bonner.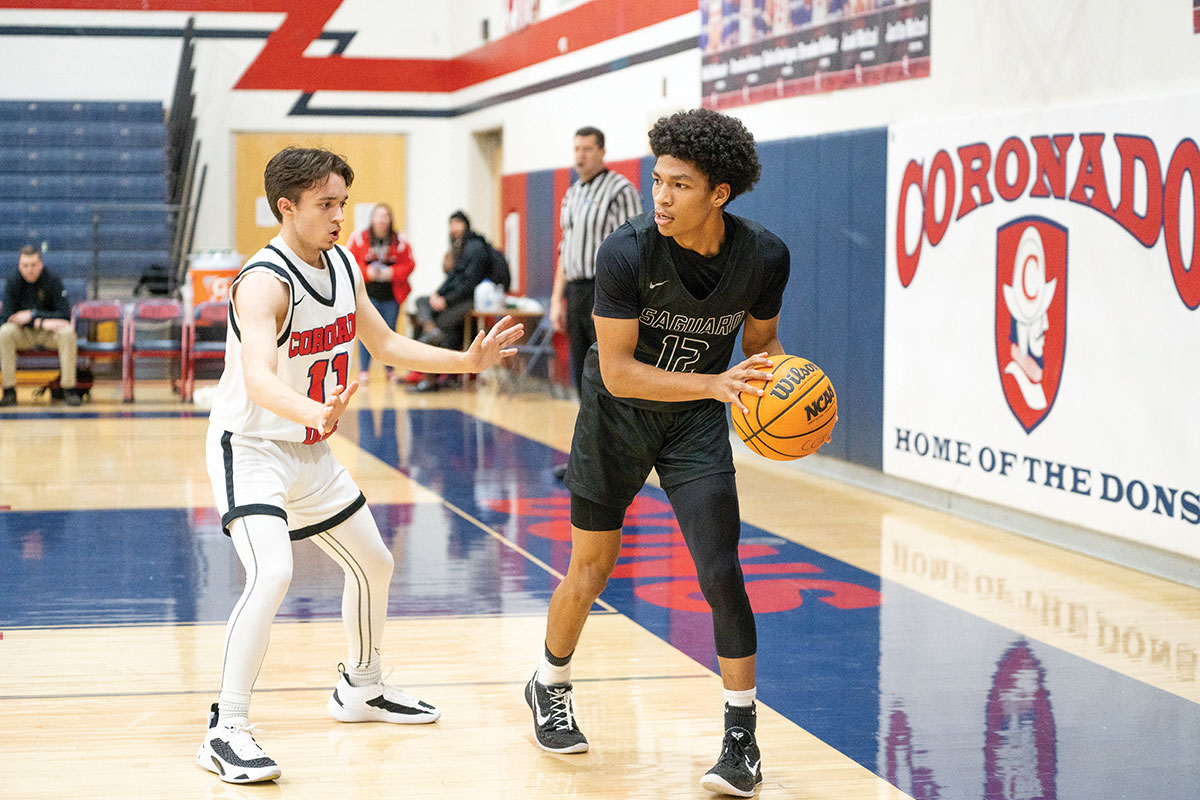 He enjoys playing on the varsity team, and as he continues his high school basketball career he hopes to grow into a better player and teammate.
Saguaro Sabercats senior Koda Jackson is a guard for the varsity team during this last season of his high school basketball career.
"[It] feels like only last year I was a sophomore and now I am a senior—it's crazy, but I love it," said Jackson. "This season we had our ups and downs. Every team goes through that. But I just want to find happiness after every game, even after the losses, for the remainder of the season."
Jackson currently is looking into colleges.
"I do plan on going to college; there is no specific college I am looking at, but if there are any colleges that would like me to play for them, I am open to that," said Jackson.
Girls' Basketball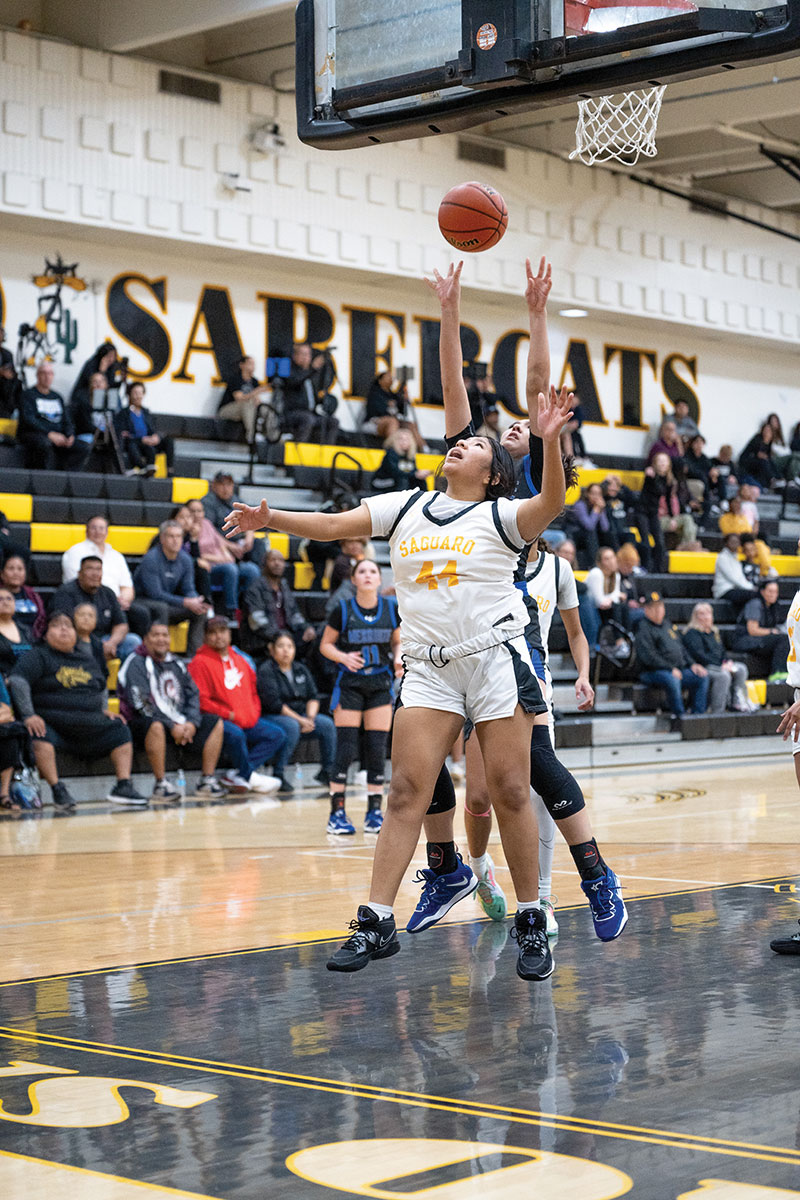 Charlotte Carlisle, at 5'9", is a senior at Saguaro High School who plays forward and center for the girls' varsity basketball team. In her second season, she and her fellow Salt River Pima-Maricopa Indian Community member Marley Jackson at 5'7", and the entire varsity team, are third in the 4A Desert Sky girls' basketball standings as of late January 2023.
Carlisle has played with various leagues around the Community and the Valley. Previously she was unable to play high school ball due to the COVID-19 pandemic. She hopes to finish her season by having some fun before ending high school.
Jackson is in her third year on the Sabercats girls' varsity team and is one of three captains. As a guard, Jackson continues to play the game to keep herself busy and to have fun.
"This season has been good; we have been playing really good lately, but today we fell short," said Jackson after a January game against Mesquite. "I look forward to playing with my teammates. They make the game fun for me, and that's why I'm here. It's just something fun to do."
She is looking forward to her senior year next year, in disbelief that she is going to be a senior and still in shock that her older brother, Koda Jackson, who plays on the Saguaro boys' varsity team, is graduating this year.
Jackson offered some advice to youth who are interested in playing high school basketball: "Work hard. Everyone is going to make mistakes, so don't get down on yourself. … If I made a mistake, I would just keep playing and it would all work out," Jackson said.