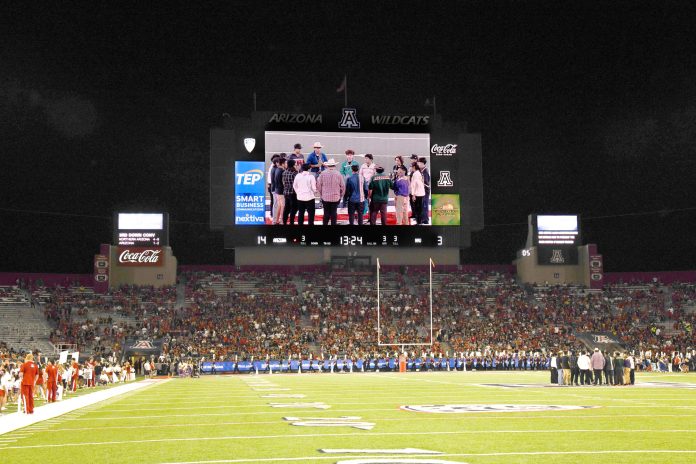 On September 2, the University of Arizona football program held a Land Acknowledgement Game at home vs. Northern Arizona University to open the season.
The four O'odham sibling tribes (the Salt River Pima-Maricopa Indian Community, Gila River Indian Community, Ak-Chin Indian Community and Tohono O'odham Nation) were recognized at the 50-yard line in a rare moment of sharing traditional songs.
Christina C. Bell Andrews, JD, MPH, MBA, MA, executive director of the Wassaja Carlos Montezuma Center for Native American Health at the University of Arizona College of Medicine, said that as an O'odham and former tribal leader herself, this was a historic event.
"Royalty, youth councils and tribal leaders were brought [together] in one place and time. Other than sacred ceremonies, this is a rare sight," said Andrews. "Further, [it is unusual] to be as open as the tribes were in singing the 'Running Song,' since we are runners. [This song] is usually not shown to outsiders due to its sacredness and reverence to us as O'odham."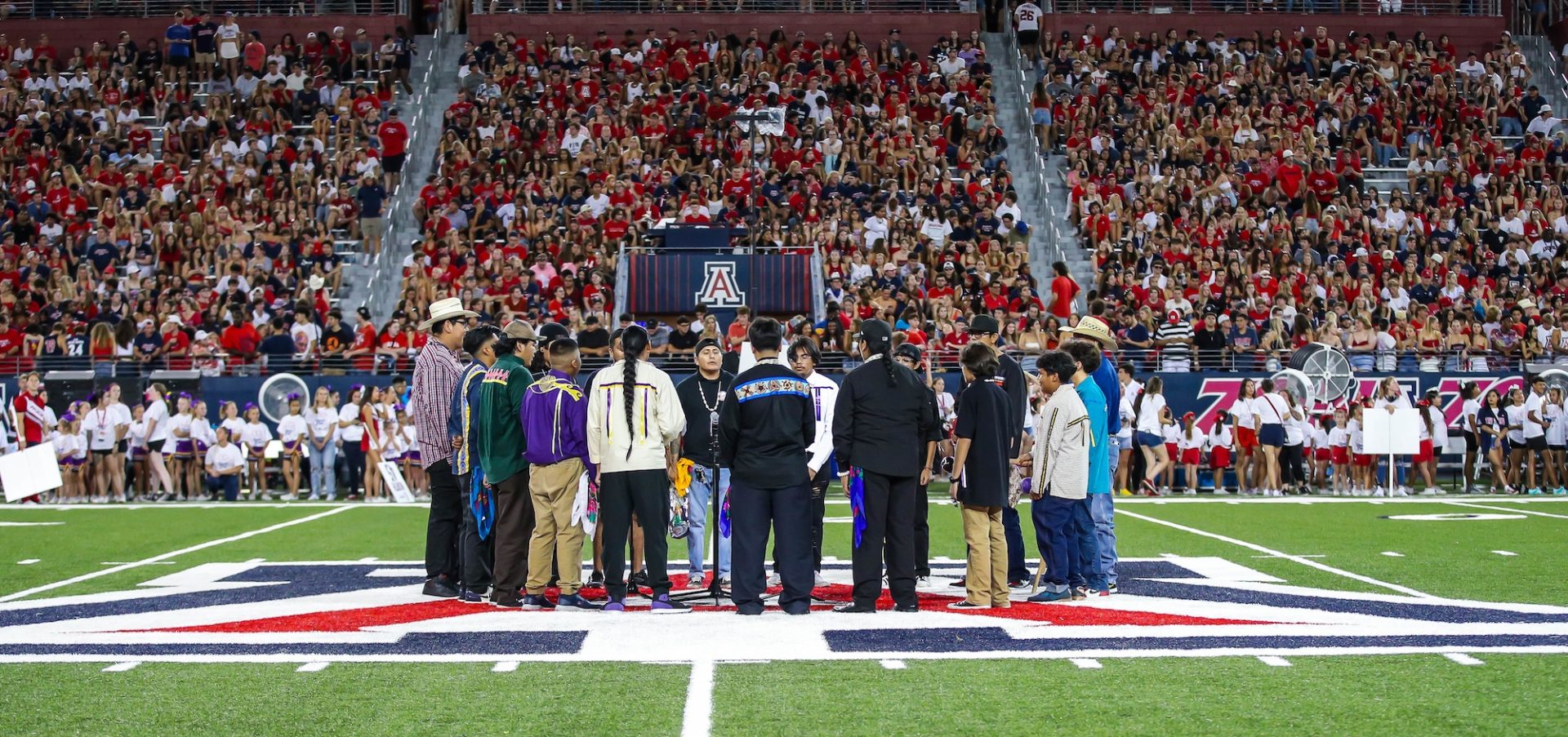 The land acknowledgement, which also appears on the U of A's website, was narrated and shown on the large video screens during the game.
The acknowledgement states:
We respectfully acknowledge the University of Arizona is on the land and territories of Indigenous peoples. Today, Arizona is home to 22 federally recognized tribes, with Tucson being home to the O'odham and the Yaqui. Committed to diversity and inclusion, the University strives to build sustainable relationships with sovereign Native Nations and Indigenous communities through education offerings, partnerships, and community service.
Regarding the land acknowledgement game, N. Levi Esquerra (Chemehuevi), senior vice president for Native American Advancement and Tribal Engagement at the University of Arizona, said, "Our goal is to create a new tradition and have the first game of each year be dedicated to acknowledging one or more Native nations."
Representing the SRPMIC were President Martin Harvier, Council members Mikah Carlos and Jacob Butler, Miss Indian Arizona 2022-2023 Sistine Lewis, and members of the Young River People's Council (YRPC).
"I really liked the football game and I love how they put together the land of acknowledgement during halftime. I also enjoyed the marching bands," said YRPC member Ella McGilbary.
Another YRPC member Tizoc Lopez said, "I liked how we were on the big screen and how we got to watch some of the game."
The U of A Wildcats defeated the Northern Arizona University Lumberjacks in a blowout, 38-3.