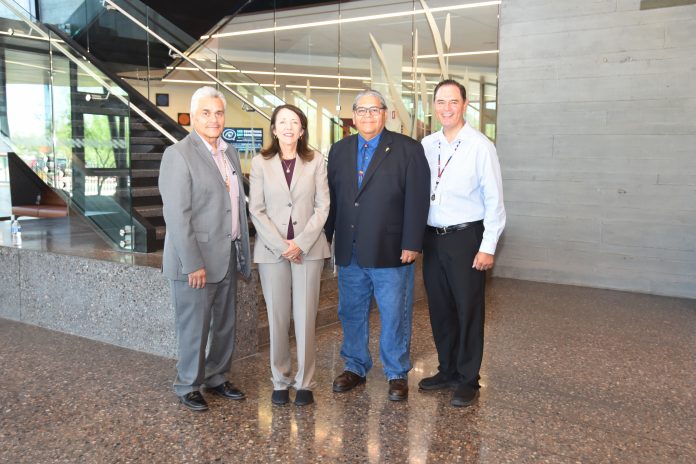 On September 15, the Salt River Pima-Maricopa Indian Community welcomed U.S. Senator Maria Cantwell from the state of Washington, who is a member of the Senate Committee on Indian Affairs.
Cantwell was in Arizona for the last week of the congressional recess and wanted to visit Indian Country and speak with tribal leaders on important topics.
The first stop for Cantwell was the River People Health Center, where she became more familiar with the Community's progress in the healthcare space and the activities that are underway to take over the federal functions of the Indian Health Service via a self-governance compact, according to Office of Legislative Affairs Assistant Gary Bohnee.
At the River People Health Center, Cantwell tried tepary beans for the first time as RPHC staff were preparing an O'odham squash bowl made with squash grown in the Community Garden.
"I've never heard of this bean. I'd be growing these beans, let me tell you," said Cantwell as she talked about the importance of a high-protein and high-fiber diet with a pulse-crop protein source. "Glad to see that Indian Country is adopting this philosophy and [implementing] it in your own facilities."
Health and Human Services Director Joseph Remitera thanked the senator for her part in authorizing "advanced appropriations" for the funding of the RPHC.
"It was a real honor to have Senator Cantwell here," said Remitera. "In order for us to complete our mission, we need the funding so we can deliver care to the Community and all tribal enrollees."
After the visit to the RPHC, Cantwell took part in a discussion about the looming federal government shutdown, and she met with other tribal leaders from the Gila River Indian Community and the Colorado River Indian Tribes.