The Valley is well known for scorching dry heat in the summer, but this year has proven to be especially exceptional, with record-setting temperatures for weeks throughout the area.
On August 20, the National Weather Service in Phoenix officially recorded 21 days in 2020 as reaching temperatures of 112 degrees or above, breaking a nearly decade-long record. Another record was broken in Phoenix, marking 12 days this year with a temperature of 115 degrees or higher.
To get the word out about how to beat the heat, Salt River Pima-Maricopa Indian Community Emergency Manager Cliff Puckett shared some safety tips for wherever you are during the excessive heat, which can be found on www.weather.gov/heat.
At a job site, make sure to stay hydrated and take breaks in the shade as often as possible. While indoors, remember to check up on the elders of the Community, those who are sick, and those who may not have working air-conditioning. Never leave kids or pets unattended in your vehicle, and remember to "look before you lock." The last tip provided is to limit strenuous outdoor activities, find shade and stay hydrated.
With the threat of a late monsoon, thunderstorms, blackouts and brush fires, there are many safety precautions in place from the SRPMIC Office of Emergency Management. "We are also prepared to set up a Command Team to manage long-term power outages," said Puckett. "This Command Team would consist of multiple SRPMIC departments and outside agencies that would coordinate the response and recovery to a long-term power outage in extreme heat conditions."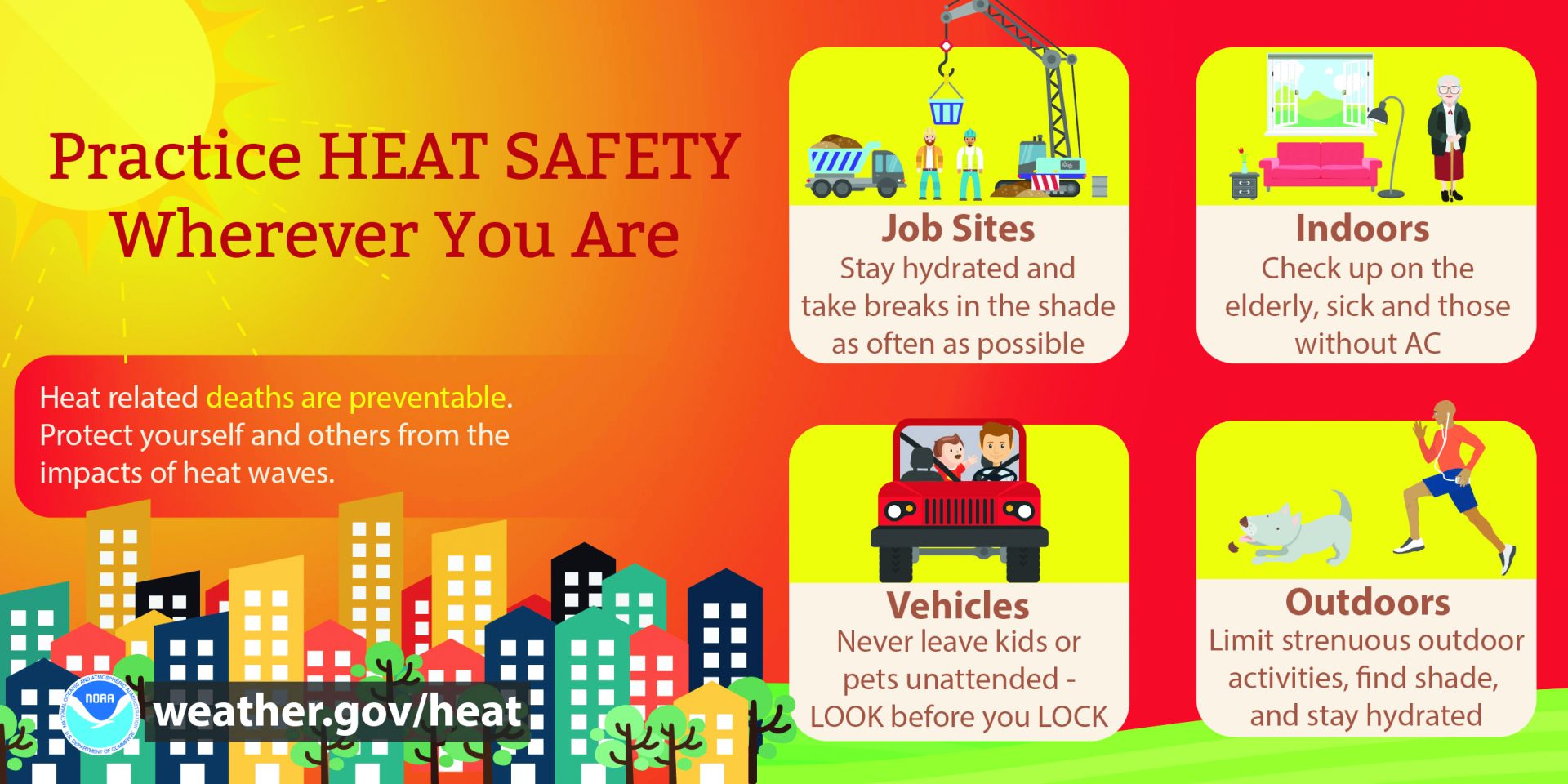 According to Puckett, the OEM conducts community outreach all year to try to educate the Community on how to be prepared for any emergency, not just heat.
"One of the basic things that we emphasize is to be self-sufficient and prepared to be on your own for at least 72 hours," he said. "This applies to heat emergencies as well. Specific to extreme heat, this could be because of a power outage due to excessive demand for power, in which a power company has to conduct rolling blackouts to meet power demands. It could also be because of a long-term power outage due to system failure or a monsoon storm causing damage to power lines."
Emergency Management also is prepared to set up cooling stations if needed for long-term power outages. The stations can be set up at the police/fire substation in Lehi or the one on Indian School Road, depending on need.
Puckett says that this is a place where Community members can go get cooled off, drink water and have a snack, and get information on the status of a power outage. Emergency Management staff can also see if a Community member has additional needs and can help them with getting assistance if it involves another department. These locations have generators so they will still have power during power outages.