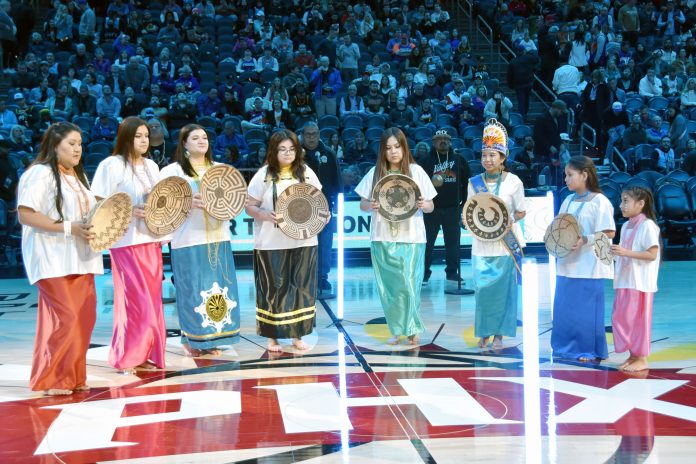 Established in 1996 by the youth group Teens in Action to represent the Onk Akimel O'odham ("Salt River People" in the O'odham language), the Salt River Pima-Maricopa Indian Community Traditional Dancers have been a part of the SRPMIC Cultural Resources Department (CRD) since 2018 but haven't officially announced the change [to CRD] until recently.
The group began with a focus on providing an opportunity for its members to gain more knowledge of O'odham culture and traditions through song and dance, with the goal to pass those teachings on to future generations and ignite a spark in young people to take an interest in who they are and where they come from.
The previous lead advisor to the group was Vickie Andrews, former Recreation Director who retired in 2018.
Recreation Department staff were going to continue to oversee the group, but as an original founding member of Teens in Action, Vickie's daughter Helema Andrews, CRD Multimedia Manager, stepped up and expressed her desire to continue as the lead advisor for the group.
"After talking with CRD management and having a meeting with all involved, the transfer of the group switched to me as lead advisor and housed under CRD, a few months before Vickie's retirement," said Andrews.
Other advisors are Paula Williams and Kathy Toney, both Community members and employees of the tribe, and the lead singer is SRPMIC Vice-President Ricardo Leonard.
To this day, some of the original youth who started the group continue to sing and dance along with their children, and in the past year another level of dancers has been added, geared toward seniors.
"Being in the dance group means that even as a senior citizen I still get to practice and carry on our culture and traditions," said Esther Moyah.
"My husband sings, and my daughter, granddaughter and two great-grandchildren participate in the dance group along with other family and Community members," Moyah continued. "It's a wonderful experience watching all of the young ones learn the dances and their meanings. I'm so thankful for the opportunity to continue to learn along with them."
The group continues to perform a variety of dances from social dances to dances performed only by the females of the group. The more recognizable dances are the Basket Dance and What Kind of Flower.
The group participates in events ranging from Community events to meetings, conferences and Valley events hosted by surrounding organizations. Recently, the group performed at a Phoenix Suns game during the player introductions and at halftime.
The group does not have a set schedule, but it will be resuming practices again soon, which are scheduled twice a month.
Anyone who would like to learn any of the songs and dances or join the group can contact Helema Andrews at helema.andrews@srpmic-nsn.gov or (480) 362-6328.