If you have good communication skills and a desire to help people and make a difference in your community, a Salt River Public Safety dispatcher job could be for you.
The Salt River Police Department is currently looking to fill one supervisor position and six dispatcher positions. Community members are invited to apply to join what SRPD Public Safety Communications Manager Kimberly Clark calls a close family.
"We have a motto," said Clark. "We're small enough to be family, but large enough to be a professional."
There is currently one Community member on staff, who works as a supervisor. Being a dispatcher is not for everyone. Understandably, handling emergency calls that may involve people you know, or even your own loved ones, can be difficult.
The qualifications to become an SRPD public safety dispatcher are a GED/high school diploma, at least one year of customer service experience, the ability to type 35 words per minute, being able to multitask, and passing the CritiCall test, a computer-based and skills-based test for potential public safety dispatchers.
All dispatchers start with call-taking and will eventually go through a two-week Basic Dispatch Academy. This is followed by the Fire Dispatch Academy and fire dispatch training, then the Police Dispatch Academy and police dispatch training.
The Salt River Public Safety Communications Division is flexible for applicants who are considered "laterals," meaning potential employees who have had two years or more of prior experience in some capacity, such as someone who has police dispatch experience, by moving them through police dispatch training first, then going to fire dispatch training.
Clark said that it takes on average 10 to 12 months for someone to complete full training for the different aspects of dispatching: police, fire, 911 (call taking) and detail.
"We don't rush trainees," said Clark. "We find that they may lag in one phase but make up for it in the long run."
Often, dispatchers may move on to help the department in another way, such as by attending the police academy to become a police officer in the Community.
Each shift for a Salt River public safety dispatcher is 12 hours, which means that the shift change is at 6 a.m. and 6 p.m. Because the shifts are long, dispatchers have access to a kitchen just outside of the dispatch room, where they will often cook family-style meals for each other.
If a dispatcher takes an especially stressful call, there is a space called "the quiet room" where they can decompress for a moment.
On the floor at the dispatch center, dispatchers and supervisors take calls from anywhere within the boundaries of the Community, and they work as a team to help those in need.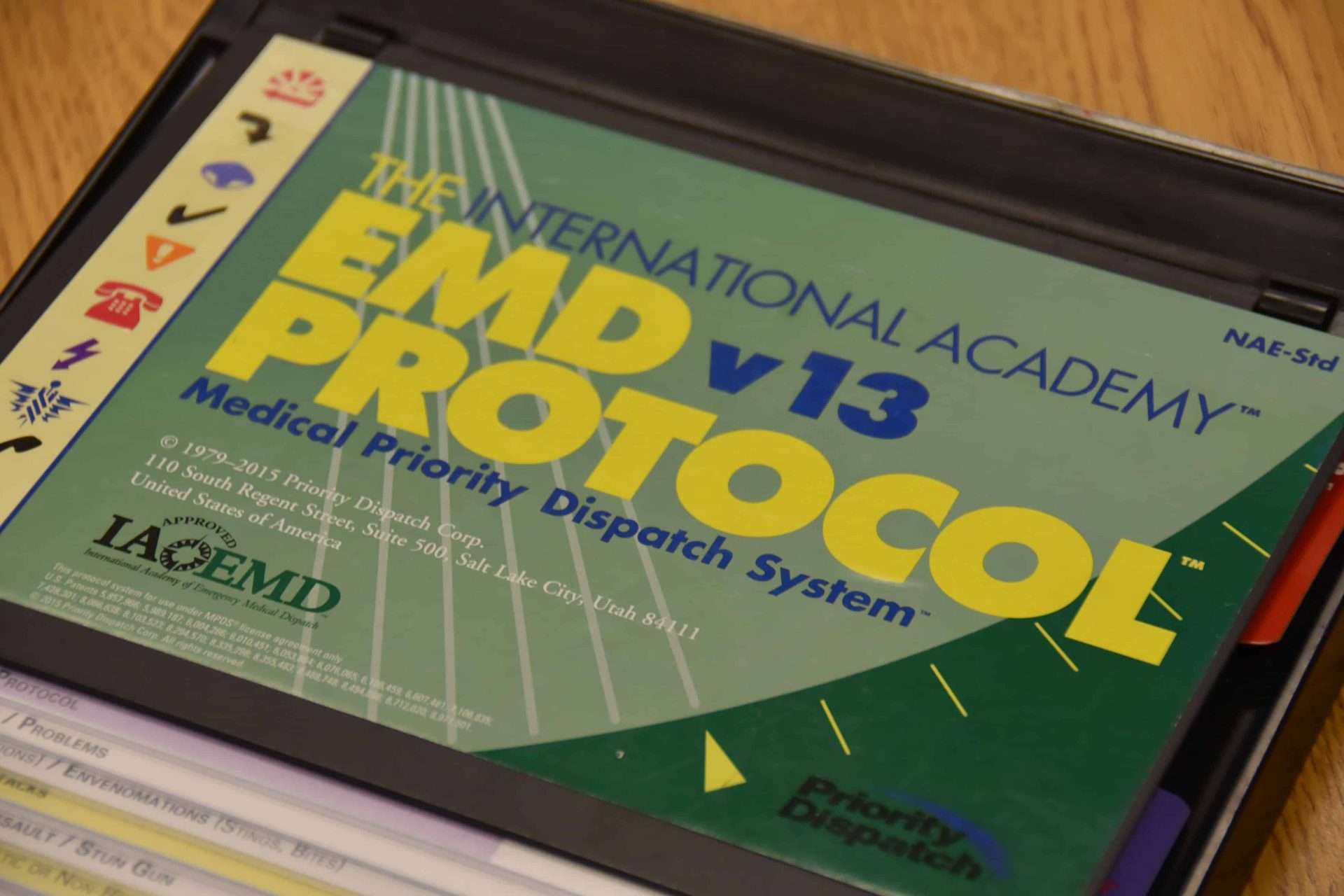 One call could be from a car passenger on the Loop 101 and the next could be from a Community member's home or a business in the Talking Stick business corridor. But wherever the call is coming from, dispatchers use a highly sophisticated system of colors and codes to communicate to the appropriate first responders.
There are quick-help guides posted for tough calls that require many steps, such as guiding a 911 caller in providing CPR or other medical attention while they are waiting for a first responder to arrive.
The department also has a detailed flipbook-style guide called the EMD protocol, a medical priority dispatch system that is used to process medical calls. Dispatchers use these guides to triage the call and give pre-arrival instructions.
Recently, one interested potential applicant who has family members in law enforcement came by to get a feel for the dispatcher position, sitting in on some calls with a headset and learning more about the hiring process.
"At first, when you walk in there, everybody is just talking with each other," said the visitor. "But as soon as they got that call, everybody went into a whole different mode. I could hear them all coordinating with each other. While one dispatcher was handling the call, another dispatcher was getting in touch with the police." For more information on this position or other positions at the Salt River Police Department, you can email JoinSRPD@SRPMIC-nsn.gov.