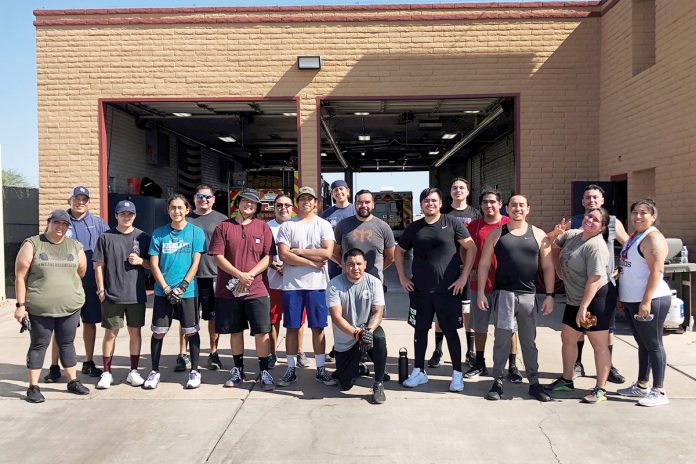 The Salt River Fire Department is looking for new recruits, specifically Salt River Pima-Maricopa Indian Community members. The SRFD is currently holding training classes to help prepare interested members.
The classes are held every Wednesday and Saturday. Wednesday classes are held from 7 to 8:30 p.m. at Station 294 (11561 E. Indian School Road); this class is focused on the written exam and oral board interview prep. The Saturday class is held from 8 to 10:30 a.m. at Station 291 (10157 E. Osborn Road) and covers physical training to prepare candidates for the Candidate Physical Ability Test (CPAT).
The hiring process consist of three parts:
• Written exam: General civil service test consisting of reading comprehension, mathematics, mechanical comprehension and general education.
• CPAT: The test the fire department uses to test physical readiness to be a firefighter.
• Oral board interview: A panel interview before four people grading the candidate.
The program is open to all SRPMIC members age 16 and older to help prepare them for the upcoming hiring process in October.
"We're hoping it will be an ongoing program so that Community members can have the opportunity to continue to learn about the Salt River Fire Department and what it takes to be a firefighter," said Firefighter/EMT Jayce Johnson.
"Right now, we have some Community members in the department, but we don't have a lot, and a lot of them are retiring. To keep our people looking out for our people, I think that's the better way to go," said Deputy Fire Chief Tsosie Wood about why the department is focused on training Community members for these positions. "We have Station 5 approved, and I need to fill it with at least 20 people; who's better to watch over their own Community than Community members?"
The new fire station won't be built for another two years, according to Wood. This will give younger Community members an opportunity to join the recruitment process now so they will be prepared and old enough to apply for a job by the time the new fire station opens.
The new station will be built on the site of the former Road Runner mobile home park.
"I originally came to the class because I wanted my 16-year-old daughter to take the class, but we found it wasn't for her," said a SRPMIC member. "But just sitting in the class and listening, I felt it was something I really wanted to do, so I kept coming back and I am interested in the paramedic side. I have never had a desire or interest in this career field, but with the recent changes I started looking at things differently."
For more information on upcoming classes, call the Salt River Fire Department at (480) 362-7290.