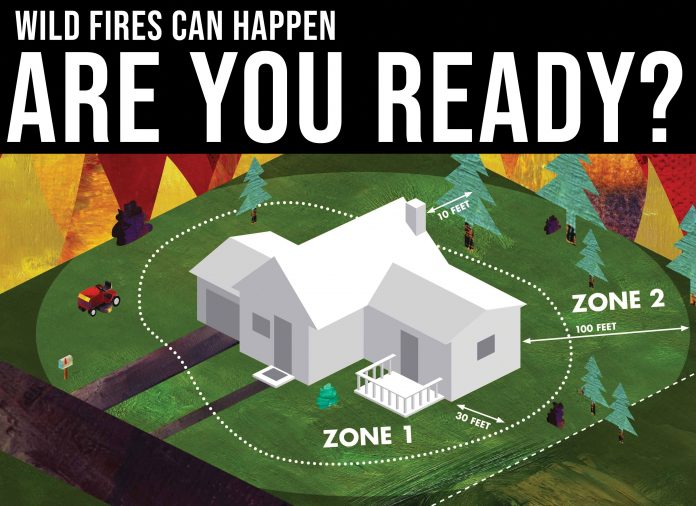 As we head toward summer and the weather begins to get hotter, Salt River Fire Department Fire Marshal Dustin Zamboni shares some summer safety tips to protect your family, pets and home.
After the record-breaking rainy season last year, there is an abundance of weeds and grass growing in yards around the Community. This is a huge factor in causing large fires, explained Zamboni. Dried-out weeds and grass can ignite easily.
"I do all the fire investigations, and I have seen how fires were started with a piece of broken glass reflecting the sunlight and igniting a fire in the weeds," said Zamboni. "Another case was when a bottle of water sitting in someone's car started a fire. The sun pierced through the car window and through the water bottle and caught the back seat on fire."
Grass and weeds may seem like a little thing, but they are large contributing factors in how fires get started. Zamboni and the SRFD recommend that all Community residents have a 30- to 100-foot clearance zone free of weeds and debris around their homes and property.
"We understand that some members are physically limited; in that special case, call me at the fire department and I will come out and help," Zamboni offered. "Engineering and Construction Services has the Senior Home Repair and Replacement Program (SHRRP), which can help as well." While limited assistance is available, homeowners should understand that the SRFD is not a landscaping company.
Another tip: Make sure all the smoke detectors in your home are working. Most fatal fires happen in the middle of the night, and smoke detectors will help warn you and your family in time to escape a fire.
Again, the SRFD is happy to offer some assistance. "We have several smoke detectors at the fire station. If you call my office, we can set up a time and date to get those installed if any Community members need them," said Zamboni. "The smoke detectors are battery operated and last for 10 years."
The last tip that Zamboni wanted to share is about water safety. With the weather getting hotter, it is important to watch your children around water and also avoid swimming in the canals.
"We recommend you go to the Community pools," said Zamboni. "You might not think that swimming the canal is a big deal, but there is algae that grows on the floors of the canal that can cause you to slip, fall and hit your head, and the water can easily overcome you." The canal water itself is polluted, he added. "There are also chemicals in the water used for agricultural purposes, and swallowing that could be problematic." Also, to prevent bacteria-caused illness, never swim in unclean water, including small lakes or ponds, if you have an open sore or a recent cut or scrape anywhere on your skin.
For more safety tips or to obtain smoke detectors, call Dustin Zamboni at the Salt River Fire Department at (480) 362-7290.