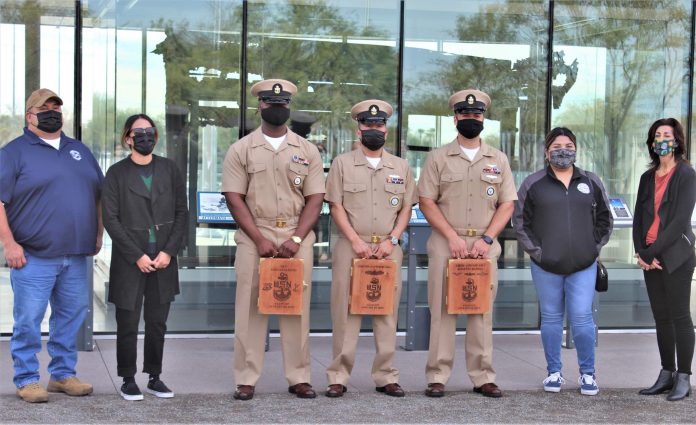 On January 29, the Salt River Pima-Maricopa Indian Community hosted the Navy's annual Chief Petty Officer pinning ceremony, which was held at the USS Arizona Memorial Gardens at Salt River.
The ceremony was virtual, with seven sailors being pinned that day: three here on tribal land and four in other areas in the Southwest. Families of the pinned officers were on hand to pin them and celebrate with them.
Chief Gunner's Mate Victor Zuniga is one of the pinned officers. He joined Chief Navy Career Counselor Giovanni Eind and Chief Aviation Boatswains Mate Joseph Ramons in celebrating the achievement in the Community.
"The three of us were able to advance to our next rank," said Zuniga. "Before we got [to the ceremony], we were first-class petty officers in the Navy, and on that day we were pinned to the next rank, chief petty officer. This is one of the highest rankings in the Navy as far as going into leadership."
Zuniga said that he feels this is a brotherhood and the achievement means that he and the others who advanced are now the gatekeepers of tradition.
The officers posed with vessels that display their rank, name and enlisted pin, with an anchor which represents moving up to chief. Below that is the class number and the date of the pinning. The contents within the vessels are kind of a secret, Zuniga said. He did share that the inside of the vessel contains some traditional information that helps chief petty officers gain knowledge from previous chiefs on how to best fulfill the duties of the new rank.
Zuniga says that SRPMIC has the support of the Navy and that the Community welcomed the newly pinned officers with open arms.
Discover Salt River staff and SRPMIC Veterans Representatives were also present at the pinning ceremony. Representative Amanda White said that there is significance to the regional Navy office choosing the site because of the USS Arizona relic in the Community. "[The newly pinned officers] were taken aback, and they are learning the history about how the relic came to be here," said White. "They also get the education behind it too, as far as it being on Native land and being obtained by the tribe."