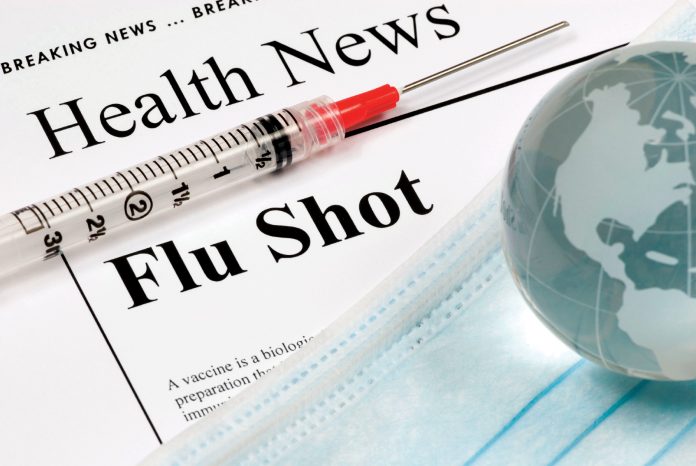 The Salt River Pima-Maricopa Indian Community's Health and Human Services (HHS) and Emergency Management departments will distribute the flu vaccine to the Community starting in October. Due to the COVID-19 pandemic, the plan for influenza vaccine distribution expanded this year to provide maximum opportunity for Community members to get vaccinated.
Influenza (the flu) is a respiratory infection that can cause serious complications, particularly in young children, older adults and people with certain medical conditions. Getting an influenza vaccine, though not 100% effective, is the best way to prevent the misery of the flu and its complications.
To ensure safety when getting the flu vaccine, HHS and Emergency Management are planning social distancingand safety measures (such as a drive-up vaccination station) to prevent the spread of viruses. HHS is developing an information plan with Community Relations, and staff are being trained to be ready to assist Community members.
"The SRPMIC Emergency Management Program has had in place for many years a plan to distribute medicine to the entire Community within 48 hours," said SRPMIC Emergency Manager Cliff Puckett. "This plan, under the Community's Emergency Operations Plan, was put in place for cases such as a pandemic or terrorist attack involving biological or chemical weapons that would require us to distribute medicine, either in the form of a pill or a shot, to the entire Community in a short period of time. This is called a Point of Distribution (POD) plan."
Emergency Management, in partnership with HHS and other SRPMIC departments over the years, has exercised this plan and revised it as needed. When the Community distributes the upcoming flu vaccine, and eventually the COVID-19 vaccine, the POD plan layout will be used to efficiently vaccinate the Community's population.
Because flu viruses evolve so quickly, last year's flu vaccine may not protect you from this year's flu viruses. New flu vaccines are released every year to keep up with rapidly adapting flu viruses.
Mayo Clinic reports that this year's flu shot will offer protection against three or four of the influenza viruses expected to be in circulation this flu season. The U.S. Centers for Disease Control and Prevention (CDC) recommends annual flu vaccination for everyone age 6 months or older. A high-dose flu vaccine as well as an additional vaccine will also be available for adults ages 65 and older.
Vaccination is especially important for people at high risk of influenza complications, including pregnant women, older adults and young children.
According to HHS Community Health Nurse Nancy Mangieri, R.N., although the flu shot doesn't always provide total protection, it's worth getting.
It takes up to two weeks to build immunity after a flu shot. When you get vaccinated, your immune system produces antibodies to protect you from the viruses included in the vaccine. But antibody levels may decline over time—another reason to get a flu shot every year.
The flu vaccine does not protect you from getting COVID-19. However, it's especially important to get the flu vaccine this season because the flu and COVID-19 cause similar symptoms. The flu vaccine could reduce symptoms that might be confused with those caused by COVID-19. Preventing the flu and reducing the severity of flu illness could decrease the number of people needing to stay in the hospital.
Private manufacturers make the flu vaccine and take about six months to produce it. Salt River Pharmacy has already placed its vaccine order, and it will be ready to supply the influenza vaccine to the Community starting in October. The Community will have the vaccine it needs to be protected for the 2020-21 influenza season.
Get Your Flu Vaccine!