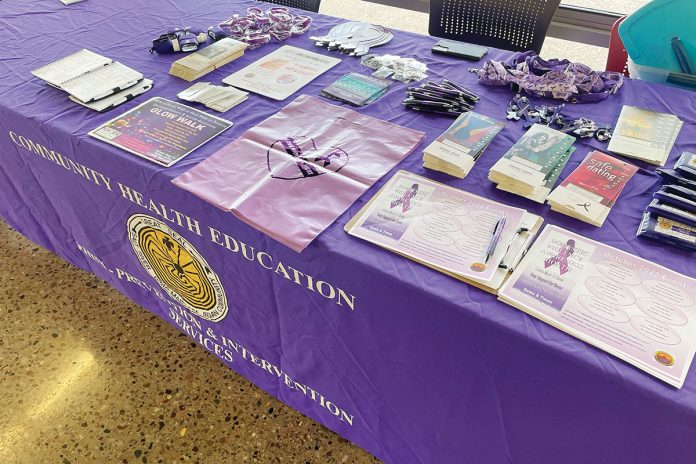 October is Domestic Violence Awareness Month, and on Monday, October 3, to start the month, various Behavioral Health Services divisions of the Salt River Pima-Maricopa Indian Community provided information on programs and services available to Community members who may find themselves in an unhealthy relationship or a domestic violence situation. Community health educators, victim advocates and trauma therapists set up booths at the Round House Café to explain their services for victims of domestic violence.
"October is Domestic Violence Awareness Month, and this is the time of year when we let people know about domestic violence and signs to look for if they might be in a bad relationship," said Community Health Educator Vurlene Notsinneh-Bowekaty, HHS Prevention/Intervention. "We want to let them know that help is out there for them and they don't have to be ashamed of what's going on. We have a lot of resources here now for the Community," including counseling, education and support groups.
Notsinneh-Bowekaty explained that they were also educating people on how the domestic violence code has been updated to hold perpetrators more accountable.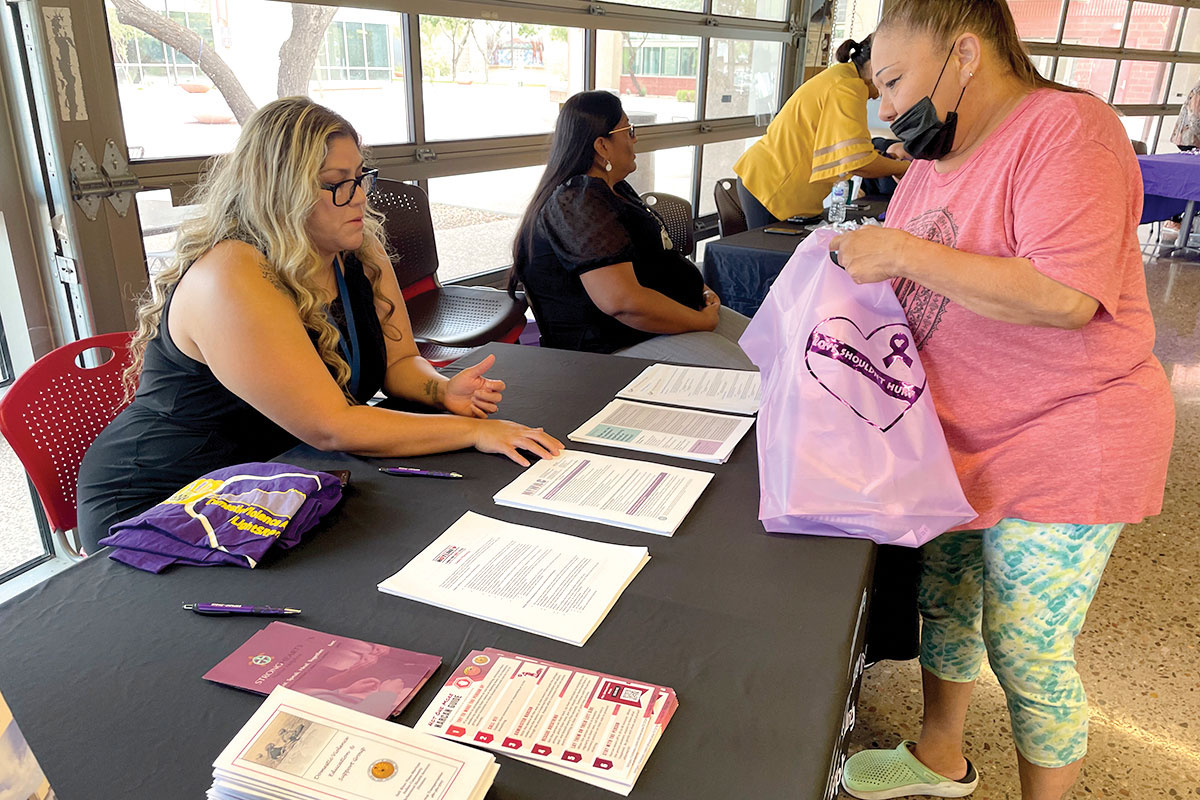 Throughout October a number of events are being held. A 1-mile Glow Walk to remember victims of domestic violence was held, and walkers were provided with dinner. SRPMIC employees earned 15 Wellness points for participating.
A number of virtual presentations on the subject included "Five Types of Domestic Violence That Are Often Overlooked," "Why Do They Stay?" and "Red Flags in Relationships."
"Five Types of Domestic Violence That Are Often Overlooked" reviews different types of domestic violence. "A lot of times people think that domestic violence only involves hiding, or you know, bruises, cuts and maybe broken bones, but it doesn't. It's more than that," says Notsinneh-Bowekaty.
Second, if people know somebody who might be a victim of domestic violence, it's really easy to ask, "Why doesn't she just leave?"
"It's not that easy to walk out of a relationship for a lot of women; they might not be working or have any source of income," said Notsinneh-Bowekaty. "So with 'Why Do They Stay?' we're going to talk about why they stay and how to develop a safe plan to leave [a toxic relationship]."
In the last presentation, "Red Flags in Relationships," Notsinneh-Bowekaty will review the signs that people need to look for as evidence that they're in a bad relationship.
When violence occurs, "A lot of victims just think, 'Well, he's having a hard day or she's having a hard day, and it doesn't really bother me,'" said Notsinneh-Bowekaty. "But it might bother family members who can see it. Sometimes the woman or the man can't see what's going on because they're still in love with their partner and they just overlook a lot of [it]."
Thursday, October 20, is Wear Purple Day, to honor victims and survivors of domestic violence.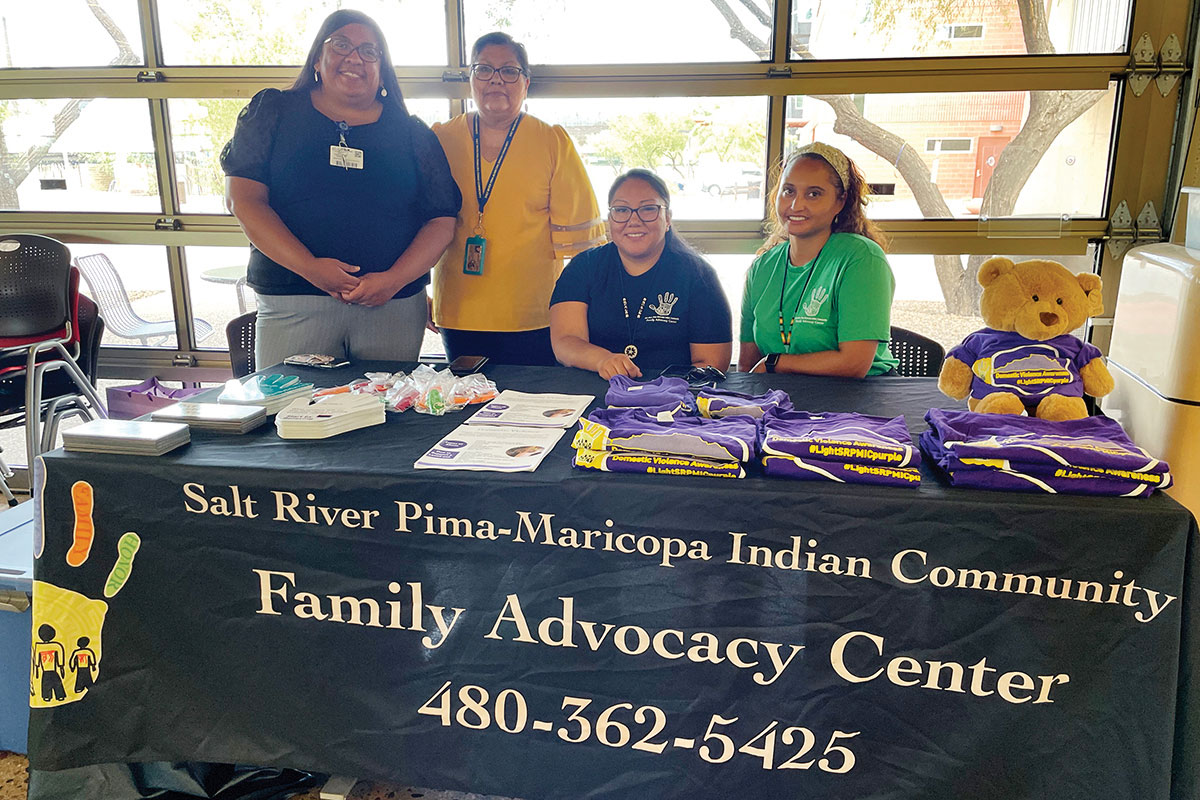 Family Advocacy Center
Family Advocacy Center (FAC) victim advocates and therapists were on-site to promote the services they provide to the Community, including assistance to victims of crimes that come to the FAC through Child Protective Services or the Salt River Police Department.
"We act as a team to help the family with whatever [they need]; it could be prosecution, getting orders of protection, housing resources or behavioral health services referrals," said Mannalle Davis, FAC victim advocate (case manager).
The FAC has two therapists providing trauma therapy to victims of domestic violence or aggravated domestic violence, as well as children of crime.
"In addition to our direct services, we do a lot of outreach; we also have the Sexual Assault Response Team," said Durina Keyonnie, trauma therapist with the FAC. "We're trying to educate the Community on how to respond to disclosures that they may come upon and how to support the person through that."
Elizabeth Poseyesva, also a victim advocate with the FAC, explained her role as working closely with the tribal prosecutor in domestic violence cases. When cases move toward prosecution, she helps support the victims and families by updating them on upcoming hearings and making sure they are attending court when they need to.
Health and Human Services, Specialty Services Program
Rosa Cruz and Lynda Rivers, both victim advocates for domestic violence in the HHS Specialty Services Program, provided information to Community members and employees about their services, which include one-on-one domestic violence education and a support group.
"We do case management and a 20-week class on domestic violence that talks about what domestic violence is, how to create a safety plan, the effects of domestic violence on children, and the person's goals and plans," explained Rivers. They also assist with referrals for housing and food.
"We are advocates for anybody going through domestic violence. We try to get them healed and on another journey," said Cruz.