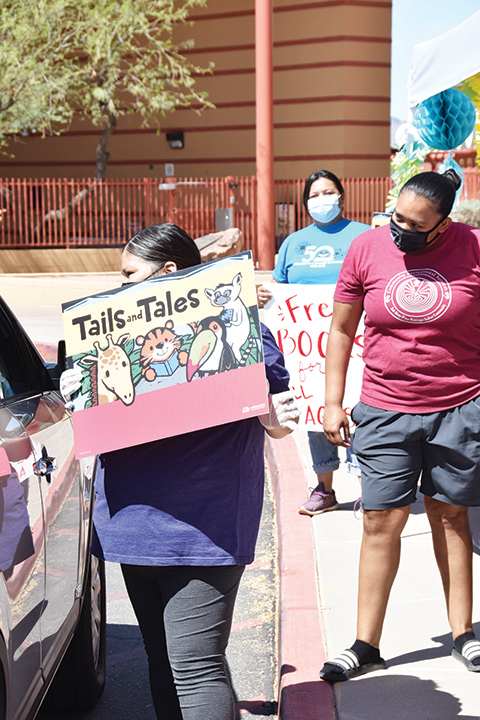 The Salt River Pima-Maricopa Indian Community has resources for library patrons of all ages at the Salt River Tribal Library, as well as specifically for students at Salt River Schools.
On April 7, library staff celebrated National Library Outreach Day, an opportunity for library advocates to make their support known and for dedicated library professionals to meet their patrons where they are.
National Library Outreach Day is coordinated nationally by the American Library Association Office for Diversity, Literacy and Outreach Services; the Association of Bookmobile and Outreach Services; and the Association for Rural & Small Libraries. It is celebrated on the Wednesday of National Library Week.
The celebration at Meal Distribution brought the library to Community patrons. Two hundred books were given away to kids and teens, along with promotional-item giveaways and plenty of healthy snacks to go around.
Salt River Schools Library Media Specialist Nancy Yurek is finishing her eighth year in this position at Salt River Elementary School. Yurek said that she looked forward to making a trip over to the event to thank her library colleagues for all they do.
As a lifelong enthusiastic reader, Yurek's role at SRES is a natural fit. "[For me,] books were connections to other places, other lives and other eras. As I embarked on a teaching career, first in early childhood [education and] then as a first-grade teacher, it was easy to introduce concepts to children through the reading of books," said Yurek. "I am very proud of the program I have been building, and I look forward to new school years and promoting excitement for reading and learning at Salt River Elementary School."