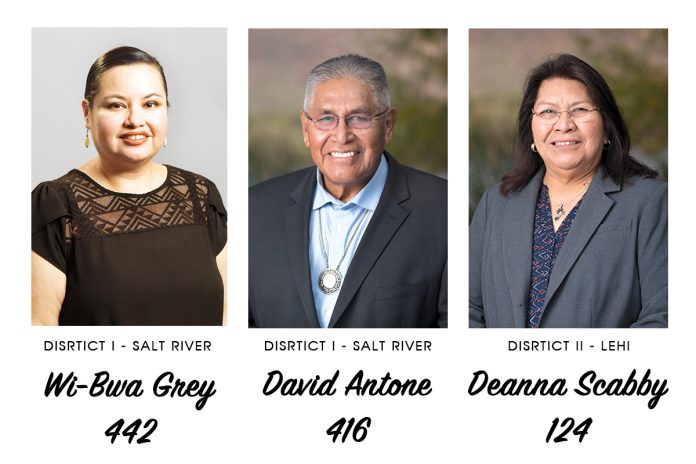 Salt River Pima-Maricopa Indian Community members 18 years and older had the opportunity to get out and vote in the 2020 SRPMIC General Election. The terms of Council representatives Wi-Bwa Grey, Archie Kashoya, and Deanna Scabby are expiring this year, making three Council representative seats available including two for District I (Salt River) and one for District II (Lehi).
There were four nominees for District I the nominees included former Council representative David Antone, incumbent Council representatives Wi-Bwa Grey and Archie Kashoya and a new candidate Jonathan Upshaw. In District I there were two nominees who included first time candidate Whitney Che Grey and incumbent Council representative Deanna Scabby.
All nominees had to be eligible to run for a seat on council, eligibility for a council seat included
Being an enrolled member of the SRPMIC.
Registered to vote in Community Elections.
Physically reside within the SRPMIC boundaries for at least one year, immediately preceding the election.
Physically reside in the district, which they are running at least six months, immediately preceding the election.
Be at least 25 years of age.
Community members stopped by their polling sites for District I (Salt River) at the Salt River Community Building and the Lehi District II voters went to the Lehi Community Building. This year voters who went in person had to take extra safety precautions as they went to vote, wearing face masks/coverings and follow social distancing guidelines by staying six feet apart.
SRPMIC Council and the nominees gathered at the Salt River Community Building as the results were announced and certified by the Election Board. In District I, Wi-Bwa Grey was re-elected as she received 442 votes, followed by David Antone with 416 votes. In District II, voters re-elected Deanna Scabby with 124 votes.
"It feels good to be re-elected, it was hard especially during the pandemic to campaign and get to know the Community so I had to think outside the box in order to connect to the Community," said newly re-elected Council representative Wi-Bwa Grey after hearing the results of the election. "My heart and best interest are serving the Community and we're servants as Council members; if anyone has any questions or concerns, I am here."
Re-elected Council representative Deanna Scabby explained that although it has been a difficult time for everyone in the Community, she is very humbled to have the opportunity to continue to move forward and work harder as a Council representative.
Newly elected Council representatives will serve a four-year term and the next SRPMIC General Election will be held in September 2022; the terms of the SRPMIC President, Vice-President, three District I (Salt River) representatives and one District II (Lehi) representative seats will end.
Council Member–District I (Salt River)
David Antone, 416
Wi-Bwa Grey, 442
Archie Kashoya, 406
Jonathan Upshaw, 112
Write-In Candidates, 4
Council Member–District II (Lehi)
Whitney Che Grey, 55
Deanna Scabby, 124
Write-In Candidates, 1