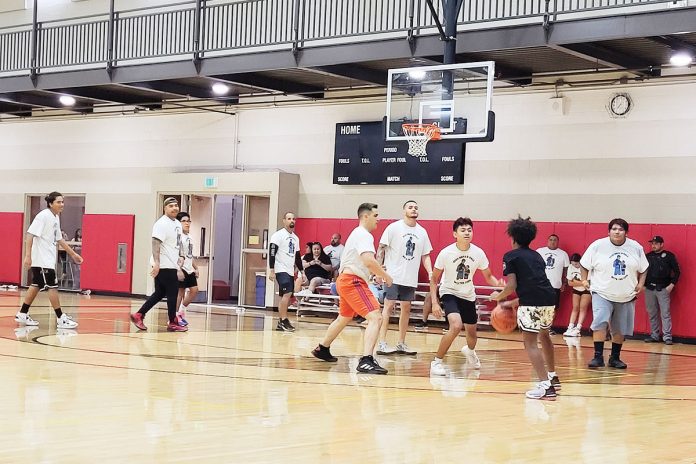 On July 29, the Salt River Police Department held a Community-based policing event with the help of the Salt River Pima-Maricopa Indian Community's Youth Services and Community Recreational Services departments. The event, B-Ball with a Cop, took place at the Way of Life Facility (WOLF) to give SRPD officers a chance to get to know the Community.
SRPD staff played a quick game of pickup basketball with Salt River youth. The game was also an opportunity for SRPD staff to emphasize some educational messages for the youth and their families, such as "See Something Say Something," "One Pill Can Kill," "Say No to Drugs," and the dangers of gangs and street violence.
"Our goal was for our officers, dispatchers and civilian staff to get out and interact with Community members and kids through sports. [Due to] COVID-19 restrictions, all of our Community Policing programs were either placed on hold or were limited to virtual communication," said SRPD Sgt. Jeremiah Rangel. "This placed a tremendous strain on our ability to have face-to-face communication with members of our Community. We know that effective communication with our Community is vital in establishing trust."
During the fun and games, officers were encouraged to speak with everyone they interacted with about the selected topics. Regarding "See Something Say Something," the message is that SRPD officers and first responders cannot respond to a situation or help unless they know something is wrong. Officers were encouraged to remind everyone that Community members are the first line of defense and make a difference. If you see something suspicious or a crime being committed, call 911.
The second message was "One Pill Can Kill," about opioid abuse. Opioids are a class of drugs that include heroin and prescription pain relievers such as oxycodone, hydrocodone, codeine and morphine. Synthetic opioids such as fentanyl are 50 to 100 times more potent than morphine, and when bought on the street, a single pill can cause overdose and death.
The third message was to say no to drugs and alcohol, and officers also talked about the dangers of gangs and violence. Lastly, the officers answered any questions about the SRPD Explorer Post, specifically for youth ages 14 to 21 who are interested in a career in law enforcement.
The SRPD plans to host a similar event, Kickball with a Cop, in November. Watch for more information on the SRPD's Facebook page at www.facebook.com/SaltRiverPD. Any Community youth interested in joining the Police Explorer program may contact the SRPD at (480) 850-8200. 
Thank you!
We would like to thank all who participated and came out for this event. We had a lot of fun and enjoyed every minute of the event. Thank you to Community Recreational Services Director Rebecca Makil, all the Recreation team members and volunteers, Youth Services Department Director Tori Paukgana, Assistant Director Mikah Carlos, all the Youth Services team members and volunteers, Isaac Lopez and awesome artwork for the event (coloring books, flyers and t-shirt designs), Social Services Manager Adrienne Haines, the WOLF team members and volunteers, and the WOLF facility for hosting this great event, as well as all the members of Public Works who helped make this event a reality.
Thank you also to KTR, Octane Raceway and Mavericks from the Scottsdale Pavilions for donating passes as a giveaway for the event.