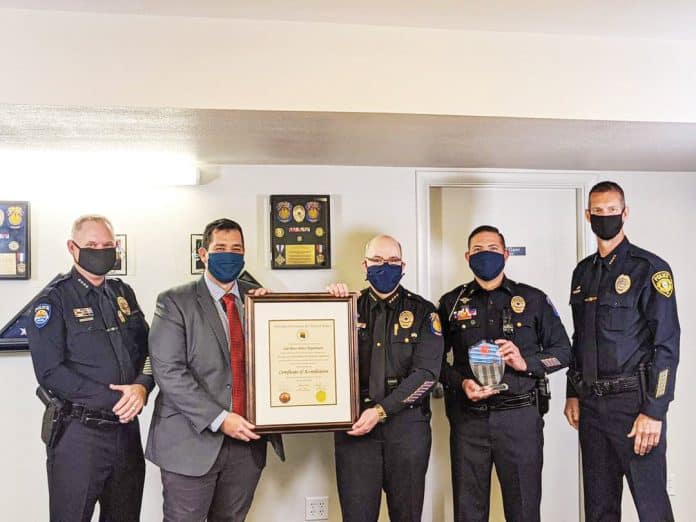 On Wednesday, July 15, the Salt River Police Department (SRPD) became the fifth police department out of 140 in the state of Arizona to receive full accreditation from the Arizona Law Enforcement Accreditation Program (ALEAP.)
Accreditation is a time-proven method of assisting law enforcement agencies in measuring and improving their overall performance. This foundation implements standards which contain a clear statement of professional objectives.
According to the SRPD, the benefits and value of accreditation include:
Ensuring that the SRPD is meeting industry standards and best practices through validated standards measurements for top quality and safety results.
Improving officer safety and public safety.
Ensuring accountability, transparency and building trust with the Community.
Ensuring the SRPD, through audits, evaluations, inspections and validation processes, that their operations, policies and procedures match practice.
Ensuring the operational readiness factor of the SRPD to best serve and protect the Salt River Pima-Maricopa Indian Community.
Reducing exposure, risk and liability, and also assisting with grants and funding.
Providing the SRPMIC and every SRPD team member with the knowledge and pride that the SRPD has met the highest of professional policing standards.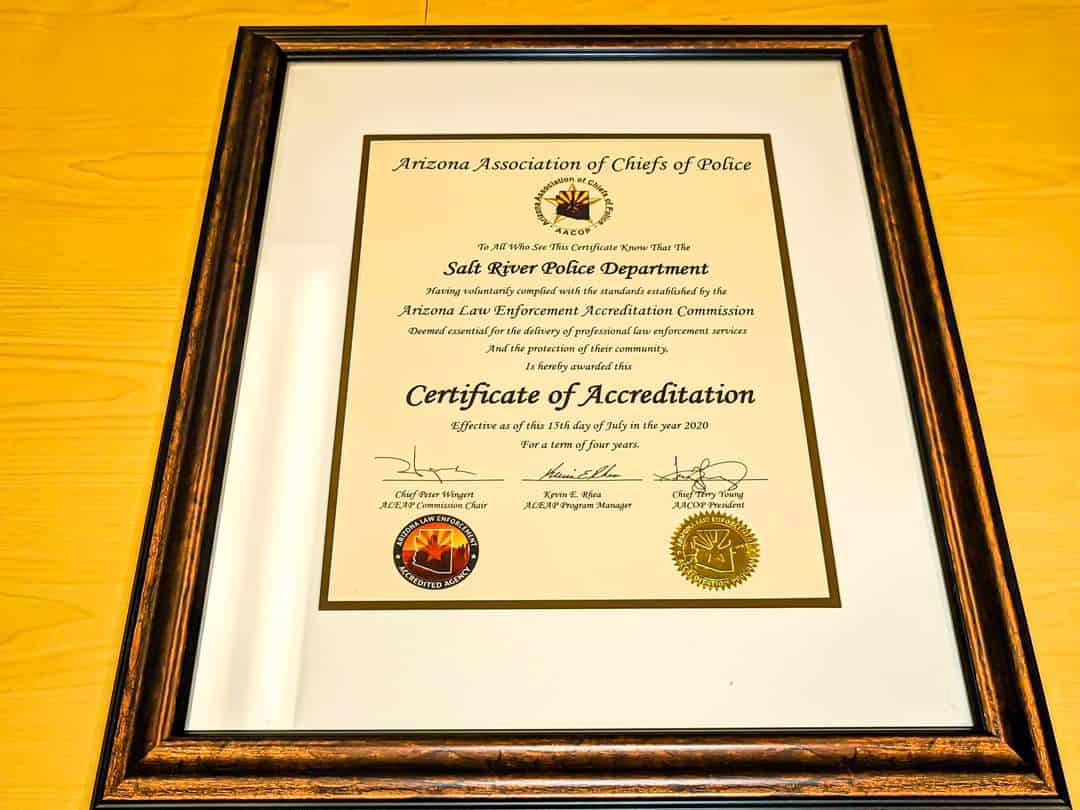 Indian Country had not been included in the previously existing model from the Commission of Accreditation of Law Enforcement Agencies (CALEA), which was created in 1979, and the commission had not been open to customizing the model.
So, in May 2016, the Arizona Association of Chiefs of Police (AACOP) created a committee to research and design their own State of Arizona accreditation program.
Indian Country is now fully represented in ALEAP, with the entire Chapter No. 30 being dedicated to Indian Country relationships and jurisdiction.
Another milestone is that the ALEAP is the first accreditation program in the nation that includes tribal, local, municipal, college/university, county and state peace officer standards and training (POST) in their criteria. The SRPD will be the first tribal police department to be ALEAP accredited and certified in Arizona and the United States.
The SRPD had been preparing for the Community to be represented, with SRPD Chief Karl Auerbach serving on the ALEAP board from May 2016 to February 2018. SRPD Lt. Anthony Sandoval was the initial SRPD ALEAP accreditation project manager, from 2017 to 2019, and Lt. Alejandro McDaniel filled the role with other SRPD team members in 2019.
Receiving this accreditation is one of the highest levels of recognition and professional excellence that a police department, law enforcement professionals and their Community can achieve.
SRPD said in a statement, "A very special thank-you to Cmdr. Jonathan Gann, Lt. Alejandro McDaniel, Sgt. G. Bury, SRPD Command staff, and all SRPD team members who have worked tirelessly on our ALEAP accreditation goal. Your actions, efforts, and teamwork have brought our SRPD team to this point. Much appreciation and (we're) very proud of you all!"