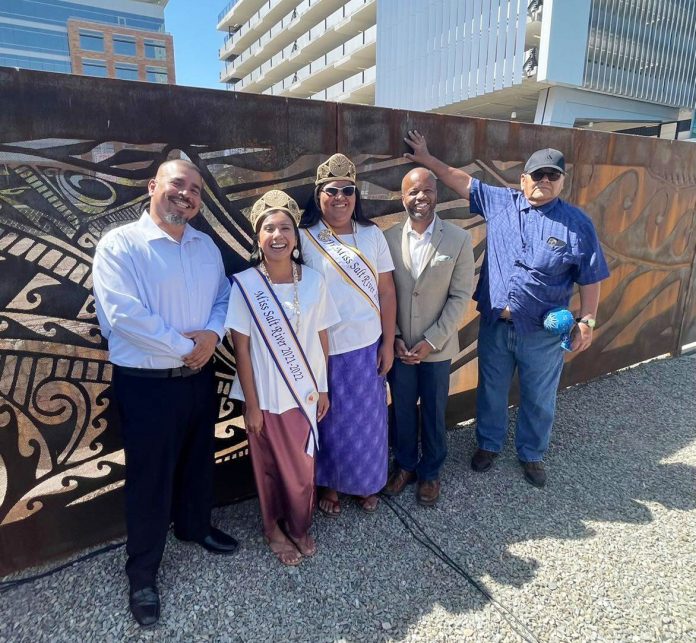 After more than a year of restoration, the historic Hayden House in Tempe has reopened and is now home to the offices of the Downtown Tempe Authority.
The Hayden House, originally built in 1873, is the oldest continuously occupied building in Maricopa County and served as Monti's La Casa Vieja restaurant beginning in the 1950s until it closed in 2014. The adobe structure now has been restored to its 1924 appearance.
On April 10, the City of Tempe hosted an official dedication of the gate artwork at the Hayden House, which was created by Salt River Pima-Maricopa Indian Community artist Jacob Butler last year.
The name of the artwork is "Akimel Gahiobs" ("river crossing" in O'odham). The steel panels on the wall are an homage to the hard bottom Onk Akimel (Salt River) crossing point located north of the Hayden House property.
Tempe pioneer Charles Hayden ferried passengers and goods across the river at this point and leveraged the flow of the then-undammed waterway to power his flour mill.
The artwork's panel images mirror the landscape of the surrounding area with key features depicted, such as Oidbad Do'ag (Tempe Butte), the Hayden House and the akimel gahiobs. The piece celebrates and honors the significance of the akimel gahiobs area as a commerce and travel route utilized by the O'odham, their ancestors and other Indigenous peoples of the Southwest.
"I was fortunate enough to be asked to fulfill the artwork that represented the connection. This piece [the gate artwork] is just metal on the ground. What really matters is the plaque that honors and acknowledges the tie that we have to this land. Today, that's what I think this is all about. The acknowledgement," said Butler at the dedication. "Land acknowledgements are awesome. When they first came out, I celebrated them myself. But a land acknowledgement without the backing of action is just words, and so through this plaque [the City of Tempe] is taking that step to honor the land acknowledgement they state in their activities. This was an idea that came from [the former City of Tempe historic preservation officer John Southard] and deputy community development director-special projects Alex Smith, in coordination with the Four Southern Tribes and specifically Shane Anton. It was something that they wanted to do when they were doing the mitigation of this building to honor the ancestral ties we have to this land. They found very distinct archaeological resources here that they haven't found anywhere else."
Notable speakers and attendees at the dedication included SRPMIC Vice-President Ricardo Leonard, Vice-President of the Tohono O'odham Nation Wavalene Saunders, Salt River Royalty and Basket Dancers, SRPMIC Tribal Preservation Officer Shane Anton, City of Tempe Councilmember Doreen Garlid, and Tempe Mayor Corey Woods.
"I want to remind everyone that we are here today to celebrate two very important things. First of all, to dedicate the new artwork by Mr. Butler. We had an opportunity to meet a few months ago when he first unveiled this, and we really wanted to make sure that we did a larger ceremony celebrating the work he's done, not just here for this one art piece, but for the City of Tempe for so many years," said Woods. "He's been a very important part of the culture and the history of the city, and we want to make sure that we properly acknowledge him today with this ceremony."
SRPMIC member Leland Thomas began the ceremony by singing a special traditional song for the occasion. "On my way here, I was trying to figure out what I wanted to sing. I think I needed to see what his artwork was in order to give me that insight. The song I'm going to sing has to do with the kickball. I think it gives a perspective to Jacob; he's always moving and always going," said Thomas. "And what pushes him and what I see in his artwork is always the people of our past, because that drives him. This song says, 'As I'm running toward this mountain, I hear the voices and the echoes of the people,' and it's the people cheering him on. This runner, he's running towards the end and they're giving him more encouragement and that push. I always see that in Jacob's work; his connection to his past gives him his push to continue to do what he needs to do."