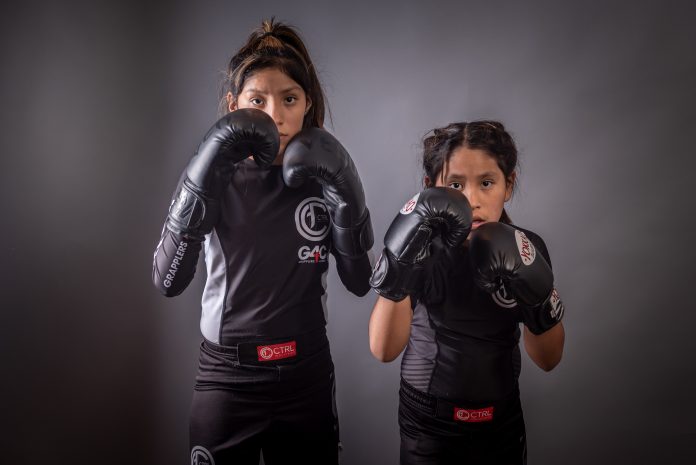 A year ago, O'odham Action News sat down with Salt River Pima-Maricopa Indian Community members and sisters Johanna Tate, 11, and Rihanna Tate, 13, to talk about their rigorous mixed martial arts training. Their dream is to make it to the Ultimate Fighting Championships and the Olympics as Native American representatives.
When COVID-19 shut down their gyms, the girls remained active at home, running along the canal and training through Zoom classes online. Their father, Joe Tate, who is also trained in Brazilian jiu-jitsu nogi, boxing and muay thai, helps coach them outside on the mats.
The Tate girls are known for their vast knowledge of martial arts styles, including kickboxing, boxing, mixed martial arts, wrestling and the two types of Brazilian jiu-jitsu, gi and nogi. They have competed in tournaments across Arizona, Nevada, California and New Mexico. Their tight daily schedule begins at 6 a.m. with an hour of strength training. They then go to school at Valiant College Preparatory during the day, attending emotional intelligence training immediately after. Then they attend their training clubs, like the Thorobred Wrestling Club. Even with COVID-19, the Tate girls have managed to pick up a new skill, karate.
"It's really hardcore, but we hang into it and we try our best every day to improve our stuff," Johanna Tate said. "It's really fun; I enjoy doing it. In karate, I am a white belt with two strips. In wrestling, I've been doing a lot of footwork drilling."
As for the older sister, Rihanna goes into detail about learning to keep going after a loss.
"We would run, then watch wrestling and jiu-jitsu videos," Rihanna Tate said. "We would re-look at our matches we had won and lost. For the ones we lost, we [identified our mistakes and worked on those moves more]. But it's really not a loss; it's a learn. You learn from your mistakes."
Their rigorous training is all for their dream. Even dreams as big as those of the Tate sisters have to start small somewhere. It all started with their biggest inspiration, Nicco Montaño (Diné), the first Native American UFC Champion. At one point in the beginning, the girls almost gave up on their dream, but they ran into Montaño at a mixed martial arts tournament. She happily talked to them and encouraged them to keep pushing forward to their dream. Since then, Montaño has continued to support the Tate girls by watching over them through their social media accounts.
When we first interviewed the Tate girls, they were well on their way to achieving their dream by training and focusing every day. Determined to reach the Olympics, they put in the hard work to get better after every one of their matches. When COVID-19 hit, the world stopped in many ways, but that did not stop the Tate girls from continuing to train.
"Before we go to training, we pray, we wash our hands and our body, and we wash and disinfect our wrestling gear," Rihanna Tate said.
By adapting to the situation and finding ways to stay active and expand their knowledge of martial arts, the Tate girls are truly inspiring in these times.
You can follow them on Instagram @tomahawkathlete @thetomahawkt8 @hannabjjgirl @onabear_t8