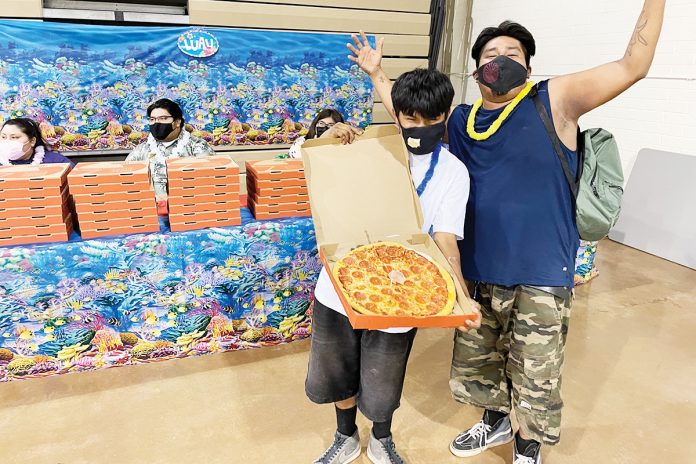 The Salt River Pima-Maricopa Indian Community's Community Recreational Services Department held a back-to-school event for all of the SRPMIC youth on Thursday, August 12, at the Pi-Copa Gymnasium. The event was originally designed as a drive-thru, but due to unpredictable weather CRS set up booths in the gym, creating a "walk-through" event.
The different divisions of Community Recreational Services—Social Programs, Athletics, the Salt River Tribal Library and Aquatics—decorated their booths in a tropical theme. Each division gave out school supplies, promotional items and a whole pizza that went to the first 100 families.
"We thought that would be fun for the kids and let the staff have fun with decorating their booths. It was to make it a fun theme for the kids and get them excited about school as they come pick up their supplies," said Assistant Community Recreational Services Director Teresa Masayesva. "We have everything from backpacks to school supplies, water bottles, lunch bags and all kinds of good stuff."
Due to COVID-19, the department required participants to wear face covering and maintain social distancing. To make sure the guidelines were followed, staff only let in five families at a time.
This event replaced the usual registration night event that the department holds at the beginning of each school year. The Social Programs division is providing a limited number of services for the Community youth; it held summer day camp for children and teens, and the after-school program has met its limited capacity of students.
"Because we couldn't have our usual registration night, this is in lieu of that. We want to make sure we can provide something for the Community children," said Masayesva.
The allotted time was two hours, but after the first hour all the school supplies, promotional items and pizzas had run out, so the successful event ended early.
For more information on any of the divisions at the Community Recreational Services Department, visit their Facebook page at www.facebook.com/SRPMIC.WOLF or give them a call at (480) 362-6800.