Two new fire trucks debuted at Salt River Fire Station 294 on September 21 during a "wetdown" ceremony.
According to a tradition that goes back to the 1800s, new fire trucks are started up and anointed with water sprayed back onto the trucks using a connected fire hose. Ceremony guests and first responders grabbed towels and took turns wiping the trucks dry. The trucks were then pushed back into the bays.
The acquisition of the fire trucks was five years in the making, and it was deemed necessary by the Salt River Fire Department (SRFD) due to the growth of the Community, both residentially and in the commercial corridor.
"With the multi-story structures that are going up with two, three, four floors, and up in the resorts and hotels, it's just something that we needed," said Salt River Fire Chief Daryl Dash.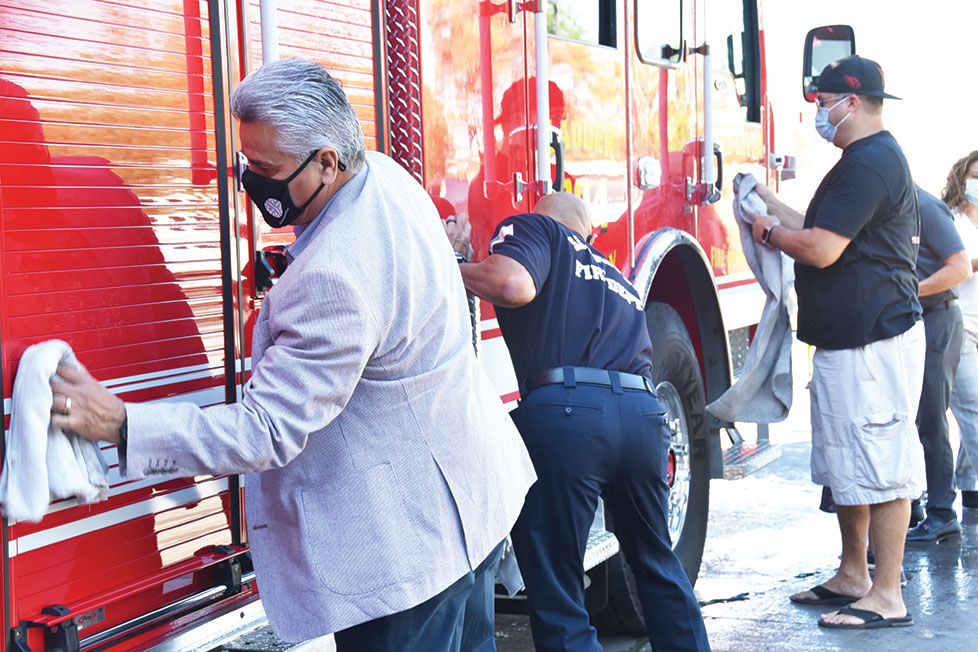 There are currently more than 700 commercial structures and more than 2,000 residential properties within the Community.
One of the new fire trucks will stay at Station 294, and the other truck will head to Station 293 by the Talking Stick Resort.
In 2005, Station 293 placed into service the first major apparatus, a 100-foot platform truck. This was, at the time, the largest and most modern piece of fire equipment that SRFD had, and it will soon be retired.
The SRFD placed bids out for new fire trucks that included services that they needed for the Community, and Pierce Manufacturing, one of the largest emergency vehicle manufacturers in the nation, was up to the task.
Pierce Manufacturing drove the trucks to the Community and provided training specifically for these trucks.
The SRFD already has two fire engines from Pierce Manufacturing that have seen more than 20 years of service, which is about the lifespan of these large-platform fire truck units.
With specially trained engineers, the SRFD has specific individuals in the fire service that understand operation of fire trucks and fire engines. They're the firefighters that you will see driving the fire trucks, and it takes a lot of schooling and understanding of mathematics and hydraulics to do the job. In the middle of the ceremony, Station 294 received two dispatched calls for emergencies, and firefighters ran to their respective vehicles and took off to their destinations. "As you can see, it never stops," said Dash.