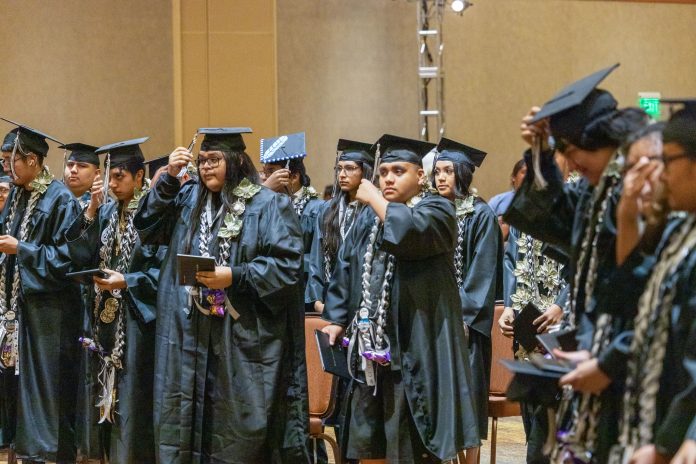 High school graduation is an annual turning of the page, and now many Salt River Pima-Maricopa Indian Community students can put the books down for a little bit and relish their academic achievements. Among them are the 26 Accelerated Learning Academy graduates who graced center stage to receive their high school diplomas before family members and Community leadership at the Talking Stick Resort Ballroom on June 20.
Members of the SRPMIC leadership were present to recognize and congratulate the graduates on their accomplishment and to let them know that they support them in all their academic and career endeavors. An invocation was provided by Community member Bo Burns with posting of the flags by American Legion Post 114 "Bushmasters."
Commencement was an opportunity for students to get the royal treatment after putting in four years of hard work leading up to the day's celebration. "You've spent the majority of your life up to this point working toward your high school graduation," said ALA Principal Barbara Wilkinson.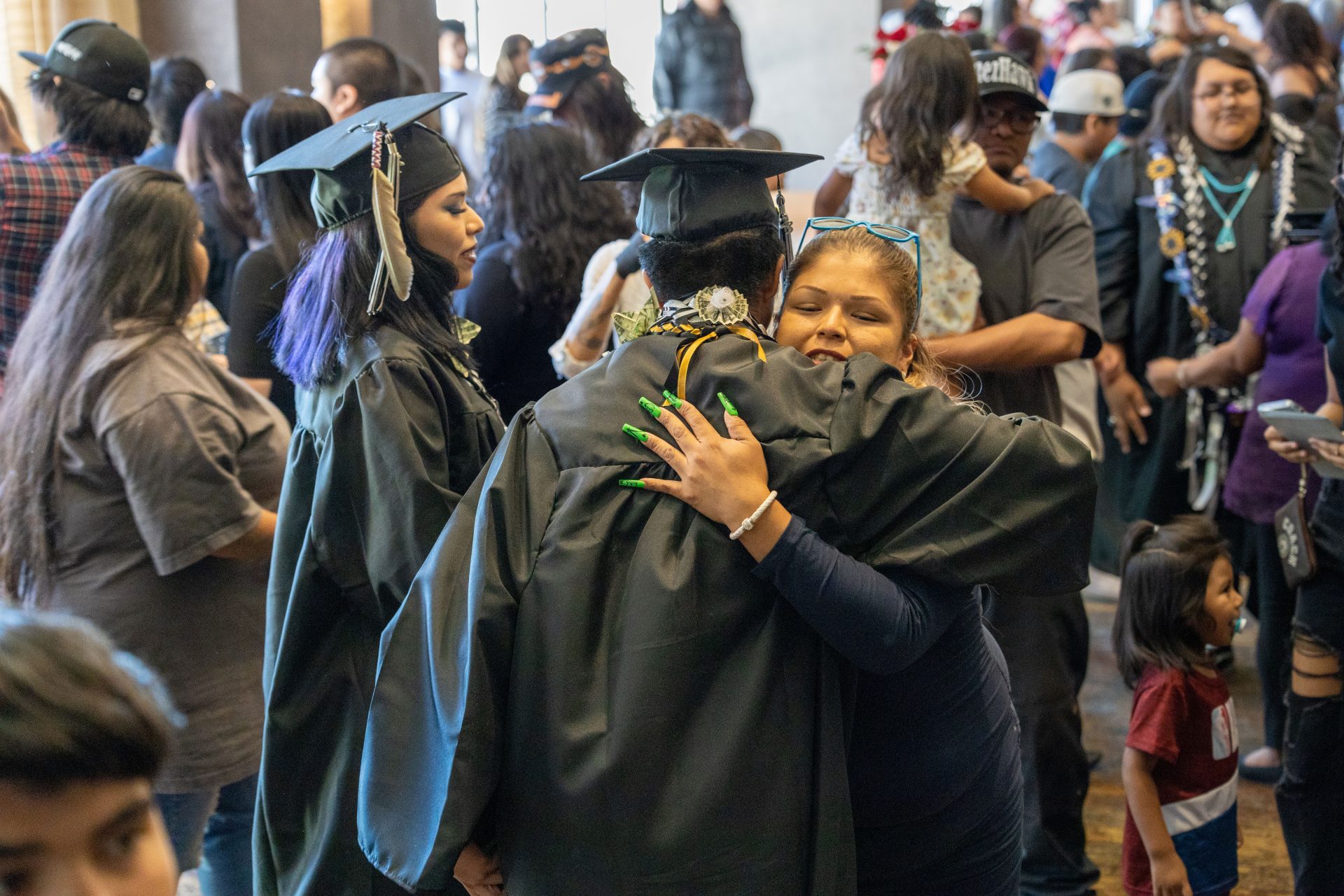 Wilkinson said the graduates should be proud of themselves for making the effort, preparing themselves for school each morning and all that comes with "making the grade."
"This is an opportunity for more doors than you could possibly ever open to an exciting pathway to your future," said Wilkinson.
Salt River Schools Superintendent Dr. Melody Herne said, "Thank you, ALA students, for your diligent and persistent work over this past year and in many years throughout your K-12 educational journey. [We also would like to thank the] families for your support of your graduate. For Salt River Schools, this moment and this recognition are 'years in the making.'"
She encouraged the students to look to the future and to know that their options are limitless. "You have every opportunity open to you," Herne said. No matter what their next endeavor is, she said that the students can be assured that Salt River Schools and all of its resources are available to them.
The commencement's keynote speaker was SRPMIC Council Representative Jacob Butler. "I want to congratulate you all for the work that you put in for quite some time," said Butler.
He said the path for each student going through high school is different, and that at times it can be hard and quitting school was possibly on their minds. But regardless of the circumstances, they persevered and are receiving their diplomas.
"As time goes by and you head to the next thing you do, [you'll be] doing something greater than you know you can do," said Butler. While he recommended students go on to college, he encouraged them to take time to reflect on the path ahead and "make sure you are doing 'right by you' in taking care of yourself.
"You are a representative of all these people," added Butler, with a gesture toward the many parents and grandparents in attendance, "all the people in our Community and those who came before you. Hopefully you will be leaders and [one day] be here were I am standing, possibly doing greater things."
After Butler's remarks, the students walked up to receive their diplomas, followed by a traditional turning of the tassels signifying the completion of high school. This was followed by a traditional going-home song performed by SRPMIC youth member Serenity Saunders. The graduates and family members then made their way out of the ballroom for hugs, congratulations and family photos.